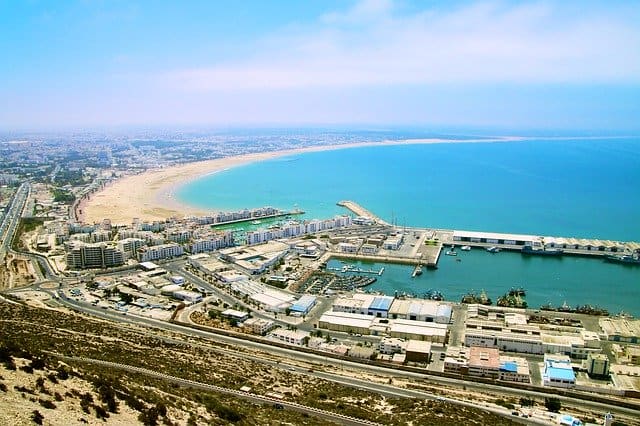 When the coronavirus pandemic ends and we are safe and life is somewhat normal again, we are all going to need a vacation. The fear of getting sick and possibly dying has the entire world filled with panic.
The stress and worry about money, and the fact that for many of us, our jobs have been put on hold temporarily, or permanently, and for so many business owners, the threat of not being able to recover from this world disaster and the recession has us terrified.
Even for those of us who may not be as greatly affected financially, most of us are going stir crazy being cooped up through mandatory or voluntary quarantine.
Of course, we are going to need a vacation.
But where should you go?
I write about travel around the world, so I have many favorite places I could recommend. I love the waterfalls of Jamaica, the quaint fishing villages and diving in Bali, and snorkeling in St. John. I love shopping in Paris at the famous antique market where I fell in love with vintage hats and French lace fabrics from hundreds of years ago.
Choosing a favorite place to recommend is extremely difficult for me, and that is probably the number one question I get from people when they learn I am a travel writer.
But I do indeed have a favorite. Morocco.
Below are 15 reasons I strongly suggest you choose to visit Morocco after the coronavirus pandemic ends.
1.We All Need a Damn Vacation
The stress has been increasing daily, and things seem to be getting worse. We are dealing with an unprecedented global pandemic, which is affecting us financially, mentally, emotionally, and of course, physically. Once this is over, it may take a while before we are ready to splurge on a vacation, but when things are somewhat back to normal, we could all use a trip someplace beautiful where we can relax and be pampered.
This pandemic has shocked us into the realization that life is precious and can end at any moment. Rather than to keep us in fear, we should try to live our lives to the fullest, and one way to do that is to start checking off items on our bucket lists, beginning with taking that dream trip to a place you've always wanted to go.
2. Luxury, but Affordable Accommodations
Morocco is a place you can visit with very little money, yet live like a baller. Accommodations at 3-5 star riads, kasbahs, hotels, and luxury desert camps are much more affordable than you would expect. Click here for some of my favorite budget accommodations.
3. Cheap Flights
Airlines are suffering right now. Prices are going to be rock bottom. However, flights to Morocco are often pretty affordable, and cheaper than you would think, particularly if you can be a bit flexible.
Although I have paid over $800 from NYC to Marrakech once for a direct flight because I wanted to go immediately, plus I had planned to bring my dog and needed a direct flight, many other times I have found tickets for $300-500.
If you can be flexible with dates, and you're willing to do a short (or longer layover) in places like Paris, London, Madrid or other amazing places to visit, I can show you how to get really good flights. Click here for more info.
4. The Tours
Before Morocco, I shunned tours.
Other than Hop-On, Hop-Off bus tours, I never thought I would enjoy group or private tours. I thought they were expensive and as a former backpacker, I needed to save money.
In Morocco, tours are probably the best way to go. The roads are insane for one, so having an expert driver who can navigate around the absurdly narrow, winding roads, particularly around steep mountains, and especially during the dangerous rainy season when sudden mudslides can cause any driver to have a heart attack is reason enough.
But the list of reasons why tours are the best way to go is an entire article in itself. (Click here to read why, and which companies I recommend.)
The biggest reason I recommend tours in Morocco is that you can actually save money by going on a tour. Tour operators negotiate hard to get you the best deals, so often your accommodations, some or all meals, transportation, and activities will be included for a much lower price than you could possibly get yourself.
5. The Architecture
The cultural diversity of Morocco and influences from France, Spain, Rome, and the Berbers is reflected in the exquisite architecture around the country. From majestic mosques to traditional riads and of course, the palaces and kasbahs, Morocco's buildings are stunning.
Here, you will find "zellige," traditional tilework, known as zellige, superb woodwork, elaborately carved doors, ceramics, marble, and plasterwork. Some of Morocco's most beautiful buildings include the Hassan II Mosque in Casablanca, the Saadian Tombs in Marrakesh, the Grand Mosque in Tangier, and the Mosque and the University of al Quaraouiyine in Fes.
6. The Hammams & Spas
The local hammams and spas are absurdly luxurious and decadent, and way cheaper than you will ever find back home.
You need, and deserve, some pampering right now.
The first time I ever went to a hammam and got a body scrub and massage, I fought back tears. I felt like a newborn infant being tenderly cared for. And the dirt-cheap prices are criminally low, so make sure you tip well.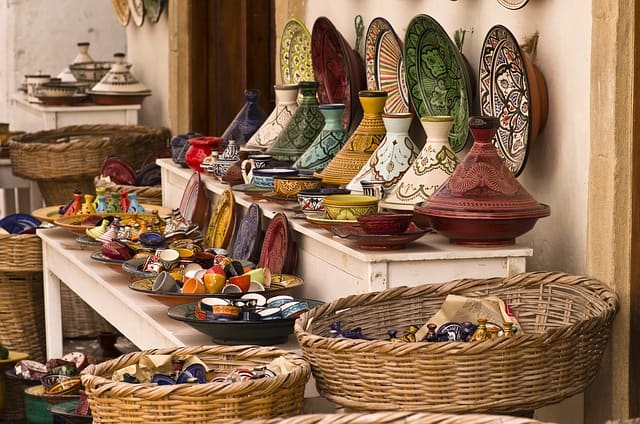 7. The Food
Food in Morocco is cheap and healthy. Whether you're looking to stick to a healthy diet to slim down, you're a vegetarian, or you're a carnivore looking to sample strange, but tasty meats, you'll find a huge array of fantastic choices.
Bread is common with every meal, and there are various types, such as khobz, msemen, and baghrir.
Lamb, mutton, beef, and chicken are common meats, but you can also find such delicacies as "brains" and other unusual meats. Seafood and fish are especially plentiful in coastal areas. Sardines are popular, and inexpensive in Morocco. The most well-known Moroccan dishes include couscous and tagine. Pastilla, Bishara, harira, and brochettes are delicious baked pastries that are common.
Almost every hotel, riad or camp offers an elaborately served breakfast, even at the cheapest hostels.
You can also find various types of ethnic foods, from 5 star, French cuisine to Italian restaurants to sushi spots. Local restaurants serve various ethnic dishes, from Chinese to Senegalese rice and fried fish meals, salad bars, and there are plenty of pizza spots.
If you're in Marrakech, the food market comes alive at night in Djemma al Fna, where you'll find hundreds of outdoor stalls with seafood, escargot, and fresh fruit juice vendors.
If you love Moroccan cuisine like couscous and tagines, you'll find a huge variety of places to choose from no matter what your budget. You might even consider taking a cooking class so you host dinner parties at home and show off to your friends.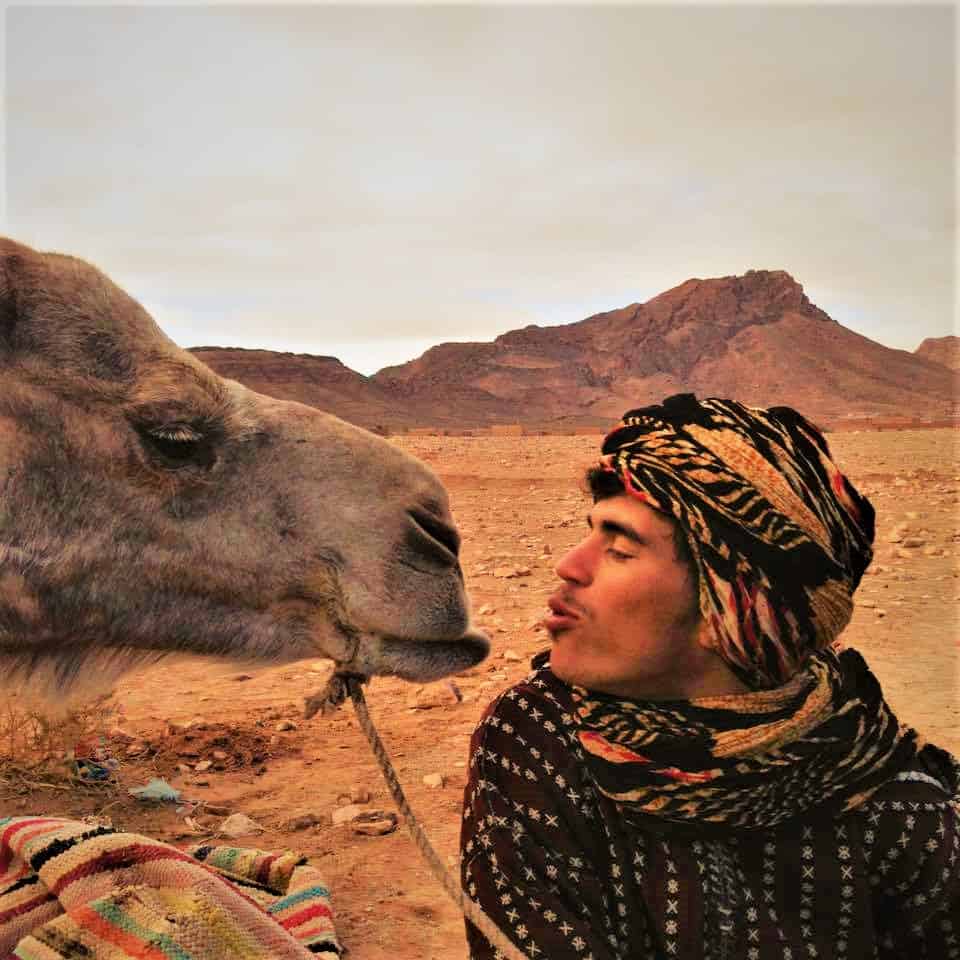 Said Hatuchi is one of the amazing tour guides I've met in Morocco. He absolutely loves showing visitors his country and watching them fall as much in love with his homeland as he is. Click here for more information on Morocco Daily Tours.
8. The People
You might know that the day after I arrived in Morocco (on my latest of many trips), the first coronavirus case was diagnosed. Immediately, the government shut down the borders, including all flights in or out of Morocco.
I was stuck, unable to go home, filled with fear, doubt, and insecurity.
All residents and foreigners have been forced indoors in a lockdown, forced to quarantine at home. And all hotels and hostels closed indefinitely.
So, you may be surprised at my continued love for this place where I have become a prisoner, of sorts.
Two reasons; one, it is because of the governments' swift action that the coronavirus epidemic has been somewhat contained, and its citizens and visitors much, much safer than in places like NYC, where I am from. There is a huge chance that I, one of the higher risks for death from the virus, is alive and healthy.
And two, the reaction from Moroccan people when foreigners cried out for help was also swift. Comment after comment in many Moroccan visitor groups on Facebook that I am in was from locals and ex-pats offering a free place to stay for stranded tourists. I cannot express the deepest gratitude and awe that I have at the incredible generosity and love and kindness shown by Moroccan people.
I have always been amazed at the Moroccan hospitality that I have seen in the tourism business. But a part of me never quite believed it was based on people being truly giving. I simply expected that level of high-quality service and hospitality was money-driven, service rendered for payment.
I know now without a doubt that Moroccan people sincerely care about others.
9. The Recession
We are in a world recession. The tourism industry has been particularly hit hard. When times are tough, people tend to hoard money, but the way we are able to get out of our recession will be when people are able to relax once again, spending a bit when possible.
10. The Trekking
Trekking in Morocco is pretty much the most amazing you will find, anywhere, ever.
From the High Atlas, the Middle Atlas, the Rif, to the Anti-Atlas Mountains trekking enthusiasts will be absolutely delighted with the peaks. You will be thrilled not only with the views, but your experience with nature will be filled with spectacular views of the forests, caves, snow-capped peaks, and the valleys below.
11. The Beaches
The beaches around the country will delight you. From the Atlantic to the Mediterranean coasts, whether you're seeking the laid back vibes of the hippy surf camps of Tagazhout or the chill, artistic flair of sleepy fishing villages like Essaouira where Bob Marley music is played by rastas as you watch the spectacular sunset behind the sea walls, you're going to love it here.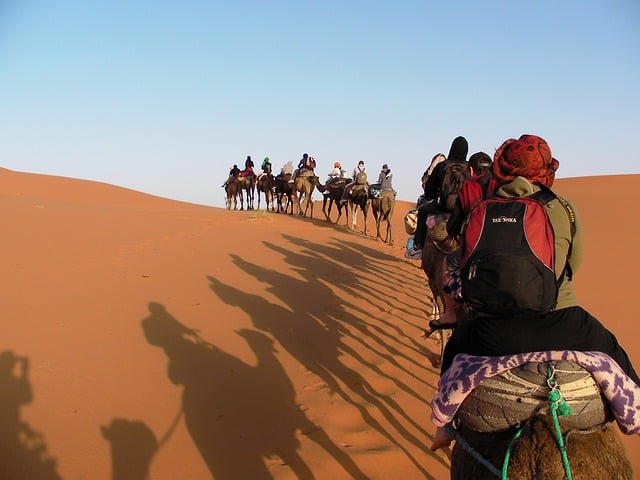 12. The Desert
If camping or glamping in the desert has always been on your bucket list, you can take a quick mini trip to Agafay, a weekend to Zagora, or explore a bit further, deeper into the Sahara where you can explore by 4×4, quad bike, or by camel.
Sand or rocky deserts await you, and you can choose to catch an amazing sunrise over the dunes first thing in the morning, or, if you prefer, sleep outside of your tent and stare up at the endless stars as you fall asleep. Either way, you will fall in love with the desert, as Amazigh nomads seduce you with simmered tagine meals, "Berber whiskey" or mint tea, and the sexy sounds of African drumbeats enticing you to dance.
Merzouga, M'hamid, Agafay, Erg Chebbi, Chegaga, and Zagora are some of your choices to explore the desert.
Ouarzazate, commonly referred to as the doorway to the desert, is a famous destination for both culture and film lovers. Be sure to stop by the famous movie studio in Ouarzazate on your way to the Sahara.
13. The History and Culture
The history, culture, and architecture of Morocco lure travelers from around the world, particularly the Imperial Cities of Marrakech, Fez, Rabat, and Meknes. The impressive palaces, kasbahs, mosques, and medinas each have a special charm and appeal and should not be missed.
Morocco's history encompasses influences from the Berbers, the Roman Empire and the French and Spanish settlers who tried to claim the country as their own, they left their influence on Morocco.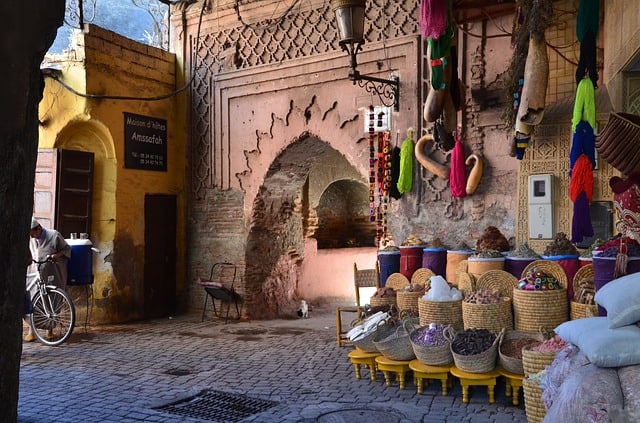 14. The Shopping
The souks of Morocco have attracted people from around the world for centuries. Drawn by the evocative colors and scents and the overall sense of the exotic, most visitors cannot ignore the exciting, noisy chaos of the souks and markets that make the cities irresistible.
The souks and medinas have something for everyone, from Argan oils and antique silver jewelry to brass lanterns and fine leather goods, the shopping addict will go crazy over Babs Khamiss, Djemma al Fna, and the endless maze of overwhelming alleys and streets of Fez, Agadir, and other markets refusing to let you go until you fall madly in love.
15. The Festivals
From the famous yearly music festival of Essaouira to the Rose Festival in Kalat Mguna, to the International Film Festival in Marrakech, tradition and culture come alive no matter which festival you attend, so check out the country's tourism board site to plan your trip around one or more of these exciting events.
Bonus reason #16; the guys are cute. Seriously. If you don't believe me, check this out.
Have you been to Morocco? What are your favorite reasons for visiting? If you've never been, which part of Morocco do you want to see first?
BEFORE YOU GO:
☑ Book your flight: My absolute favorite sites for cheap flights are Skiplagged and Kiwi.com. I also find really great deals on Skyscanner, Google Flights, and Momondo. The reason I've been able to get dirt cheap flights around the world is that I'm flexible, not only with travel dates but also with airlines, baggage, seat choices, etc.
☑ Book your accommodation: I always use Airbnb and Booking.com. If you're on a budget, consider using Hostelworld. If you click on the Airbnb link and you don't have an account yet – you'll get a $30 discount on your first booking.
☑ Protect yourself: Yes, I mean condoms, girl. But also, travel insurance. Travel insurance is a must, especially in a post coronavirus pandemic world. World Nomads and SafetyWing offer the best rates.
☑ Do you need a visa? If you aren't sure if you need a visa, it would be a smart idea to take a quick look before you go. You can use iVisa – it's super useful and easy to use.
SUPPORT US
Subscribe to the Tribe
If you think Love Lust or Bust is scandalous, you should join our Patraeon tribe. For those of you who really love getting great dating and travel advice but want more, like the juicy, personal stories I don't share here, you can subscribe for as little as $1 a month.
Your subscriptions mean I can keep my integrity and not have to fill up ad space here with all the shit people try to get me to post, like ads for Russian brides and female blow-up dolls.
Ok, let me be honest, I would consider taking their money, but 1. Google hates that so it's "illegal" and 2. The heffers only offer me between $25-100, and these hookers can afford so much more, so I just quote them "$22,222 per sponsored post.
Anyway, for all you guys from Morocco, Egypt, India and all you Nigerian Princes who tell me you love me and want to marry me before you even learn my name, y'all can pay for the $20 a month membership.
*If I get enough of you subscribing at that tier, I might even post some of my more scandalous photos. I'll even reply back to you once in a while.
**And any Zaddies in the house, yes, I am open to getting free flights. My Paypal is @travelriter.
Subscribe to the Newsletter
I rarely send newsletters. I'll be honest, I'm a lazy f*ck.
Alright, that's not really true. Actually, I don't send many emails (yet…I will one day) for the same reason I'm not good at being a "Fatal Attraction" type of stalker. I just do not have the damn time.
I prefer focusing on writing content rather than sending emails, but in the future, I intend to make more time, both for emails and stalking men who have ghosted me.
For now, I will send the rare email when there's such a damn good deal that I HAVE to let you guys know about it (like one penny flights, seriously)! So subscribe now and I promise; no spam shitty emails.
You can also follow us on Facebook 'cause that's where I rant about unsolicited dick pics and shit.
Disclaimer: This post may include affiliate links. If you click one of them, we may receive a small commission at no extra cost to you. It's a great way to show your support. Thank you!

For the best accommodations, and more tips & tricks when traveling to Morocco, check out these popular articles below:
For more travel tips and tricks, and to learn about the world's most romantic destinations, check out Love Lust or Bust!
This article was written by April Hope.
To learn more about her and her travels throughout Morocco and around the world, click here.