I hate bars. I don't drink, so I have little patience for drunk, obnoxious men trying to get off by grinding against my ass on the dance floor, as well as the inability to have a conversation over extremely loud Michael Jackson songs. 
But I love to dance.  And I have to admit, sometimes when I'm home on a Friday night and the weather is beautiful I wish there was someplace I could hang out without all of that meat market/ nightclub/pickup joint vibe that sums up the majority of bars, lounges, and clubs in NYC. 
I've put together a list of my favorite Brooklyn hot spots where you can grab a drink, hear some great music, and maybe even meet some cool people. Even bar haters wwill love these cool Brooklyn hot spots.
1. Outpost Cafe.
This appears to be a typical Brooklyn hipster cafe where the uber-cool gentrifiers in the hood come to hang. And it is, kinda'. But I love this place for a few reasons. Not only can you get funky lattes and other concoctions, if you love your liquor, they have a nice selection of spirits, as well as some pretty luscious dishes like chicken-curried salad with walnuts and cranberries, tomato eggplant soup, sandwiches, and smoothies.
They don't pressure you to constantly buy things, but that makes me want to patronize the place even more. There's an outdoor garden covered in hanging fairy lights with a ton of electrical outlets where you can work if you don't mind a few rats scurrying by, but that's just unavoidable in this city.
I don't always get any work done at Outpost, however, because I meet people every time I come. Cool as hell Erika Badu/ Maxwell types chill here. I've met Broadway actors, a famous photographer, and a well-known author I've had a girl-crush on for years who used to be a professional dominatrix. Students debate gentrification and racism while getting a contact high from second-hand whiffs of good quality ganja while relaxing outside in the garden.
I often just sit in front of my laptop with my dog at my feet (they're very dog-friendly) drooling over the twenty-something (mostly gay) male staff. Shoot, I sometimes stare at the stunning female staff even though I'm straight. They're all f-ing gorgeous here, how's a girl supposed to work?! I don't know if anyone who works here had to submit resumes; I think the one qualification to get hired is to be beautifully androgynous and look like you just woke up from having group sex after being on a photo shoot all day, they're that sexy. Seriously, some of the staff here would make Mother Teresa question her sexuality.
I don't know if anyone who works here had to submit resumes; I think the one qualification to get hired is to be beautifully androgynous and look like you just woke up from having group sex after being on a photo shoot all day, they're that sexy. Seriously, some of the staff here would make Mother Teresa question her sexuality.
2. Drink. I have danced my ass off here.  Luckily this has not gotten the hot owners fined since the ridiculous cabaret license laws have changed the party landscape in NYC. But the music at Drink is off the hook. Legishit. Last time I was there, every single song that came on had me ignoring the agony I was in from trying to look cute in black leather boots with sewing needle heels each time I hopped up to move my ass.
I had imagined those boots would make me look like a tough biker chick, but actually they make me resemble Lucille Ball on crack. I seriously tried to leave for at least an hour to meet up with friends, but each time another jam would come on and seduce my body back onto the "dance floor".
Unlike most drinking establishments, this place, (while filled with exceptionally pretty people,) doesn't have that sleazy, "Who am I going to screw tonight," vibe. It has a strange ambiance going on; the energy here is fun, upscale yet unpretentious, classy yet casual, and romantic. It's the kind of place you hang out with a group of friends. I've brought my laptop here when I wanted to hear some music but needed to work, (free wifi), but didn't feel weird being alone at a bar.
Since I don't drink, I'm prepared to get dirty looks at a lounge even though I tend to tip twice as much as whatever my drink costs. But the bartenders at Drink remind you of the 80's show Cheers, where everybody knows your name and you feel like you're home. Cool as hell. This is the best spot for a date. Probably the only place I can think of for a hot date in Crown Heights. But you can easily go alone and have a great time, too.
I think what I love most is that every guy who asked me to dance respected my space without rubbing up on me. People were just there to have a great time, including one regular I nicknamed Kid Dynomite because his slick dance moves reminded me of the geeky-dope JJ from "What's Happening". Hellufun.
I reluctantly left Drink on a crowded Saturday night after meeting more than half the patrons there, which is unusual because rarely do I meet women at a nighttime spot who are not cutting their eyes at the "competition"; (at least not at a straight bar). But the crowd here is pretty laid back and crazy cool.
3. Franklin Park. I have a love/hate relationship with this place. The twenty-something-year-olds annoy the shit out of me, it's too crowded, and most of the guys are too cheap to offer to buy girls a drink but will expect to hook up at the end of the night. And they play a lot of reggae which seems to cause a Pavlovian reaction in the dudes here who have no problem using their dicks as a divining rod like a dehydrated man in the desert believing he's going to find water in your ass.
And yet, there's something about this semi-hidden beer garden you have to enter from either a side street, (which passersby who have never been here might assume is someone's backyard,) or through Dutch Boy Burgers on Franklin Avenue, a tiny joint with overpriced but damn good burgers and sweet potato fries to die for.
But something keeps me coming back to this popular place, and it's more than just the dancing,(which seems to have everyone hopping every weekend regardless of whether the dj is playing old school r&b, hip hop, reggae, or salsa). And even though the dj seems moody as hell because you never know when he's going to switch it up. and doesn't seem to give a damn that more than half the patrons are Caribbean and prefer Bob Marley over Garth Brooks. He plays whatever the * he wants to. But when he's good, damn his music is dope. I'm not sure how these young kids know the words to all the classic Motown hits this guy mixes, but it's like one big dance-orgy here on a weekend.
I love that unlike many Brooklyn bars, which tend to have mostly all white or black patrons, at Franklin Park, you'll see an equal mix of black, white, Asian, Latin, Brazilian, straight, gay, (or on the d/l) partiers. You'll likely bump into kids with fake id's dancing alongside Wall Street, midlife crisis, white dudes trying to pick up their first black chick. And somehow the hipsters live here. Maybe the real reason I come here is because I'm too lazy to go into Manhattan and too cheap to pay a cover charge anywhere. Or possibly because young drunk boys hit on me and I can pretend to be offended.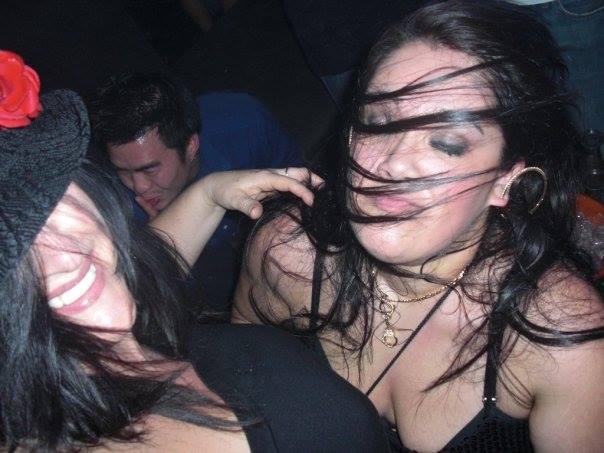 Secretly I love that I could still pull a fine boy who thinks I'm a mature older woman in my 30's, if I was so inclined. Just sayin'.n'.
Next time you're on a date and the person wants to get drinks, suggest these spots in NYC's hippest, coolest borough.
Do you have any favorite hot spots?