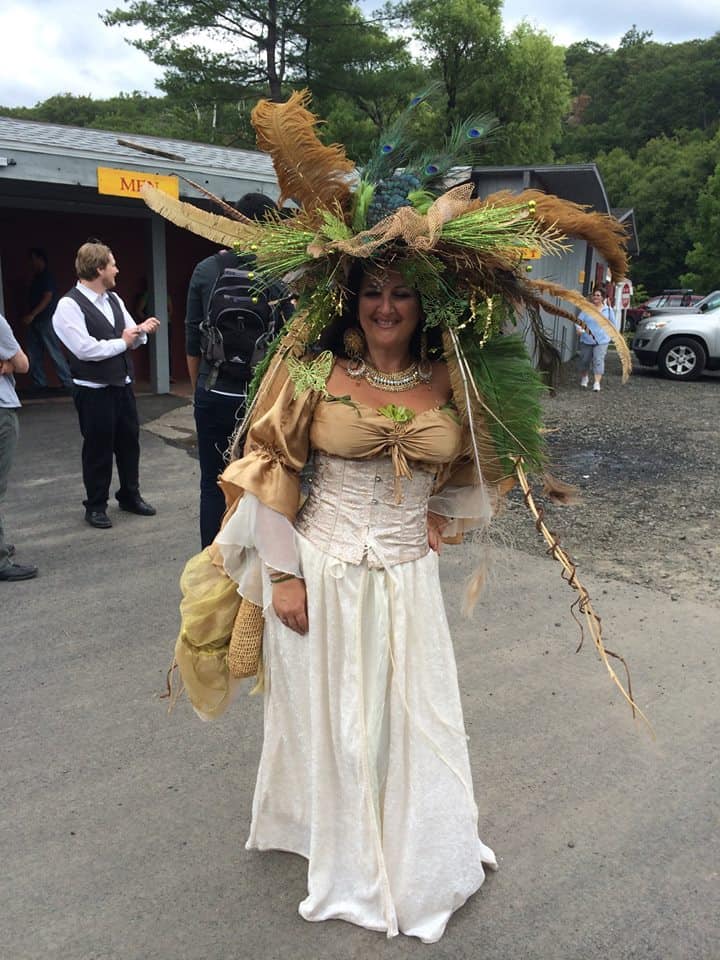 If you love history, magic, and mayhem, there are three annual faires that you can't miss if you're in the NYC area.
The New York Renaissance Faire is a must. Hands down, this is my favorite renfaire. First-time visitors will be surprised to find that except for once a year when children get in free, the
First-time visitors will be surprised to find that the faire is not just popular with children. Many adults wear elaborate costumes and play pretend for the day, and most regulars splurge on season passes.
Although you'll see plenty of single ladies attend dressed in fancy princess gowns and sexy wench corsets,  there are quite a few guys into role playing as well. There's something extremely appealing about a man who is dressed up as a furry barbarian, wearing a suit of armor, or a bad-ass, open-necked, pirate shirt, black boots and big, black eye patch. And every single time a man in a kilt walks by, women swoon. Whether you're single looking for love or a couple looking for a fun way to spend the afternoon, NYRF should be on your list.
And every single time a man in a kilt walks by me at the faire, I swoon. Whether you're single looking for love or a couple looking for a fun way to spend the afternoon, NYRF should be on your list.
The fairgrounds are huge (65 acres), so this is a fantastic way to get away from the crowded, hot city during the summer but it is especially beautiful during the fall. NYRF is about an hour away from the city located in Tuxedo, New York (New York State Route 17A,) but those who don't drive can hop on the bus (www.shortlinebus.com) which leaves from Port Authority once a day. It is open this year from August 1st to September 27th on Saturdays, Sundays and Labor Day from 10:00 am to 7:00 pm.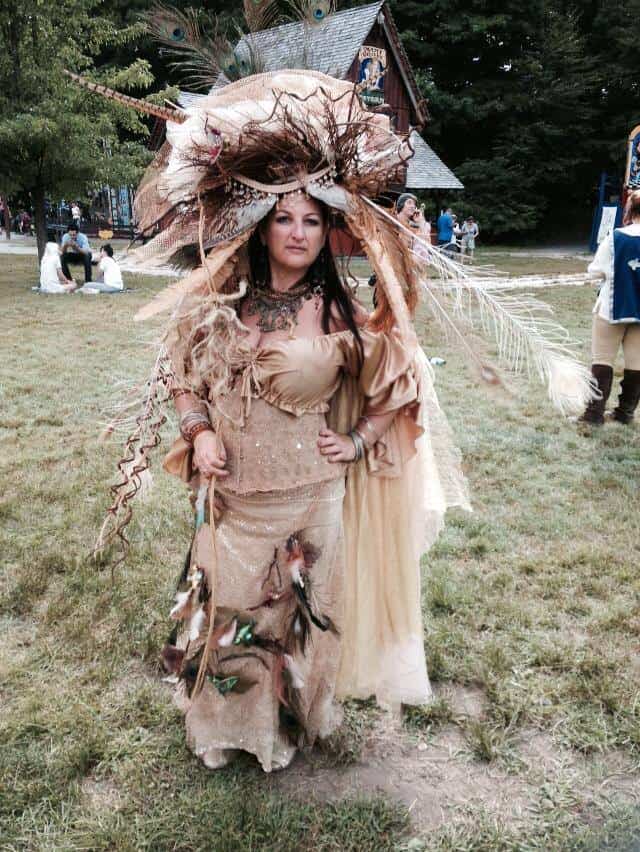 There are rotating themes (romance, time travelers, pirate weekend,) during the season and each year there is a different storyline. Employees, performers, vendors and many loyal faire-goers dress in costume but if you don't have one there are many vendors you can buy or rent authentic looking outfits from at the faire.
The forest transforms into a 16th-century village, including a barbarian camp, permanent structures and gypsy-like caravans and fairy-tale cottages. Whether you enjoy theater, music, magic, or comedy, there are performances for everyone, and some of them are surprisingly naughty and pretty funny. But those who prefer hanging out at the pubs and trying different types of mead or tasting food like dragon meat (turkey) or chowder in a bread bowl while people watching, you can relax and still have fun at this faire that has been popular for 38 years.
Various parades, wandering performers, surprise visits from fairies, and crafts makers and artists make visitors feel as if they've actually traveled through time. My favorite part of the day is gathering around the enormous jousting field in the evening and watching the knights battle.
There are several renaissance faires throughout the northeastern states, but the New York Renaissance Faire has become home to the Gotham Rennies Meetup.com group. The group is a great way to meet other singles and couples who love dressing in costume and attending various faires. Some members carpool and go to the faire several times each season.
The Pennsylvania Renaissance Faire is a bit of a hike for New Yorkers who are spoiled by having a subway in every borough. You can only get to this faire by car, but it is worth the trek.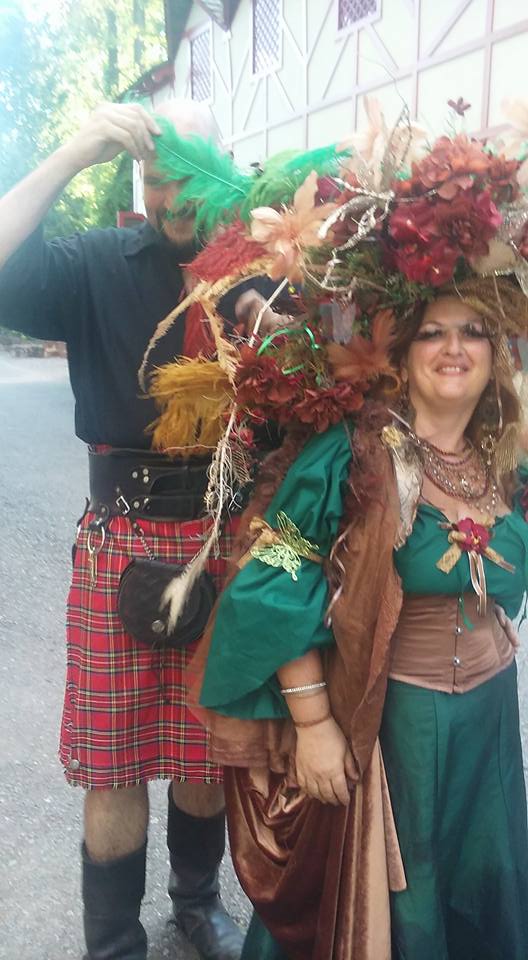 The Pa Renfaire is only a few years younger than NYRF, and a little more than half the size at 35 acres, but is just as impressive. There are 90 shows, 13 stages and more than 100 vendors, craftsmen, and artisans. This faire (2775 Lebanon Rd, Manheim, PA) also runs longer, ending in late-October. Tudor buildings and tiny houses covered in vines give an authentic feel to this English village.
I absolutely love the permanent structures at this faire; they look so authentic, and many of the shops and buildings have plants, ivy, and vines that have been growing around them for years. You really will feel as if you've time traveled to a village from hundreds of years ago. The grounds are truly magical. My friend Sarah took this picture of me in my homemade, wood nymph/ fairy outfit, and I love it so much I use it for all of my social media accounts and my business cards!
Like many other faires, the storyline here changes yearly and they also have themed weekends, but here you get $5.00 off if you wear a costume and you can often get a 2 for 1 special for you and your partner.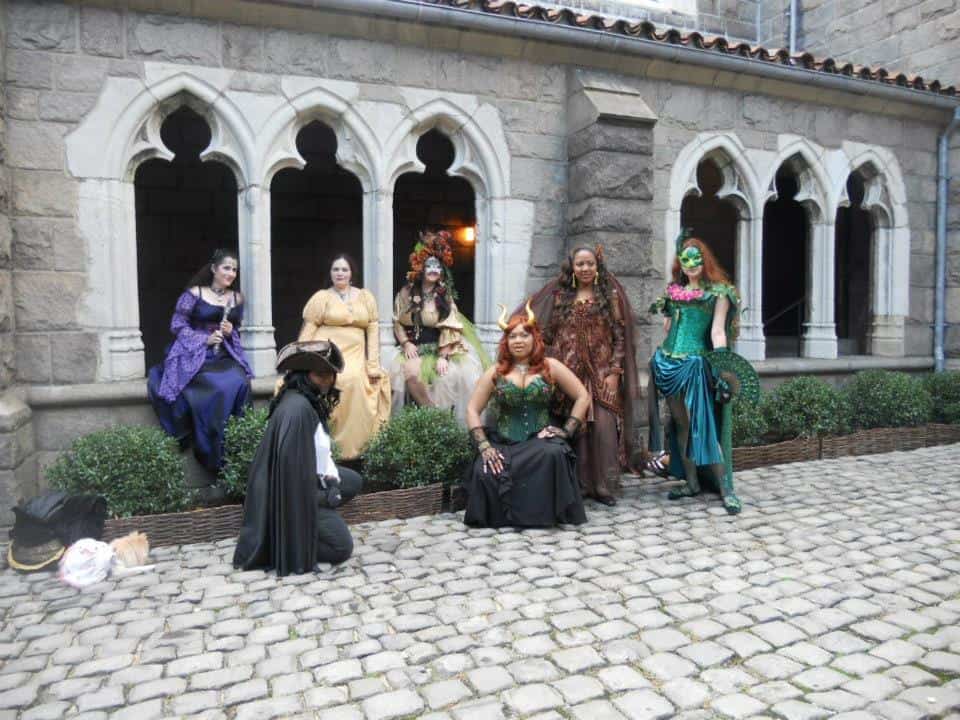 Looking for something you can get to on a subway? The Cloisters Medieval Faire (held each year around September or October) will surprise many long-time residents of NYC who aren't aware of this secret spot in Manhattan. The faire is held in Fort Tyron Park, which surrounds the Cloisters Museum, part of The Metropolitan Museum of Art.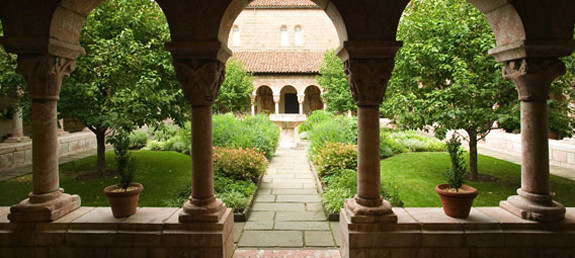 The gardens, the architecture, and the art here are exquisite replicas of medieval designs, and the winding road around the museum has a stunning view of the Hudson River. Unlike the other faires, The Cloisters Medieval Faire is free. But drop a buck or two into the donation bucket for good karma.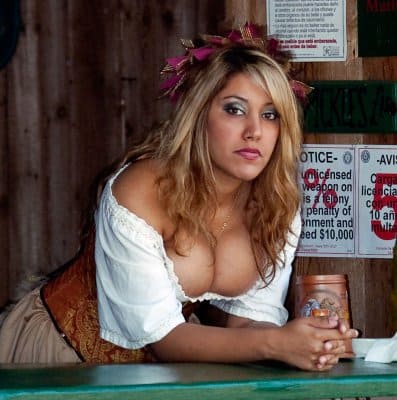 To get there, take the A to 190th street and follow the costumed crowd. There are parking lots, but it can be pricey and you will still need to walk a few blocks. Street parking will be difficult, if not impossible. Remember to bring cash to all of these faires because while many vendors take credit cards, some don't and the nearest ATM is pretty far.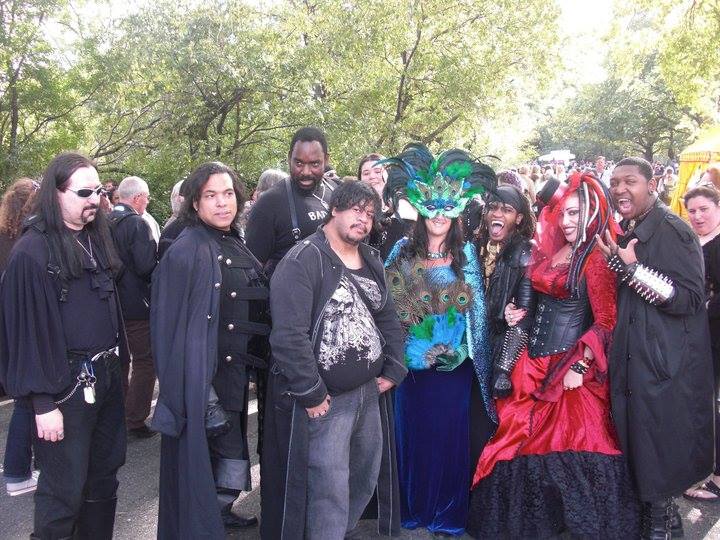 The food here is typical faire food, but while the other faires don't allow you to food or beverages in, if you're on a budget a romantic picnic meal is a lovely way to get to know your date while saving money. If you're looking for ideas on how to create a costume for you and your partner, click here.
Have you been to any of these faires? Which renaissance faire is your favorite?