By Rush
Everyone has different preferences for places and different reasons for traveling. There are 5 must see Indian destinations, no matter what your preference is.
Some people find beaches a perfect getaway destination while others like to explore the serenity of the mountains. Likewise, some people travel to explore culture and history while some travel for finding the meaning of life.
The most astonishing thing about traveling to India as a foreigner is that you will find anything and everything to suit your preference. Whatever may be your reason for traveling, you will find a place that serves your purpose very well.
You will find the best of the beaches in Goa to the highest of the mountains in the Himalayas. You can explore the rich cultural heritage of Rajasthan as well as find the true meaning of life in Buddhist monasteries located in Ladakh.
Here is a list of 5 best places in India you must visit as a foreigner.
Jaipur – The Pink City
Jaipur is the capital city of Rajasthan (The Dessert State). It is located approximately 250 kilometers from New Delhi. The city is surrounded by Aravali hills has a rich history and colorful past. You can find some of the Unesco world heritage sites s such as Amer Fort and Jantar Mantar. The city has many good bazaars for shopping for handicraft and Indian ethnic wear.
Goa – The Party Destination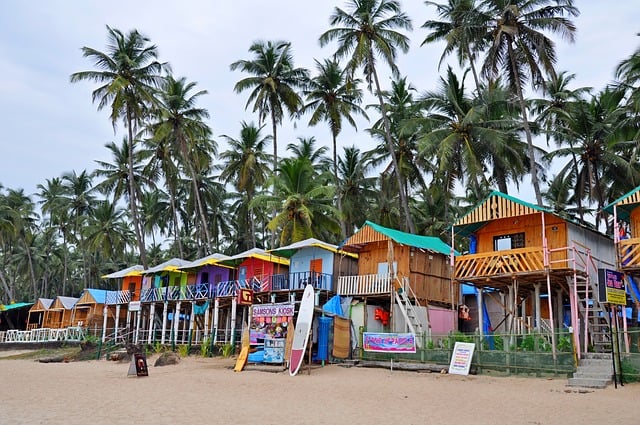 Goa is a beautiful state located on the West Coast of India. It is an internationally well-known party destination with white sand beaches and vibrant nightlife. Goa has a rich architecture as it was a Portuguese colony in the past. Some of the best beaches include Baga beach, Anjuna beach, Arambol beach, and Calangute beach. Explore some of the trendy bars and beautiful beach shacks during your Goa stay.
Manali – The Himalayan Resort Town
Manali lies in the Indian northern state of Himachal Pradesh. It is the high-altitude Himalayan resort town which is very popular with backpackers and honeymooners. Manali is located next to the fast flowing Beas River. The Solang Valley serves as a skiing destination in winters and jump-off point for paragliders in summers.
You can also go on trekking in the Parvati Valley. The Pir Panjal Mountains, with 4,000m-high Rohtang Pass, become a tourist hotspot during summers.
Kerela – God's Own Country
Kerala is well-known for its backwater and exotic beaches located on the Arabian Sea shoreline. The backwaters have a network of canals which are best explored on houseboats. Along with beaches, you will find picturesque mountains with slopes that support tea, coffee and spice plantations as well as wildlife. You will find wildlife sanctuaries in Eravikulam and Periyar, and Wayanad that is home to elephants, monkeys, and tigers.
Andaman & Nicobar – The Divers' Heaven
Andaman & Nicobar Islands are a total of 572 islands which are 1,400 km away from the east coast of India. Only 37 islands are inhabited and very few are open to the tourists.
Havelock and Neil offer some of the best places for scuba diving and exploring the coral reefs. These coral reefs are home to sharks and stingrays which make them popular diving and snorkeling sites.
Andaman and Nicobar are also home one of the last uncontacted tribes (Sentinelese) of the world.
This is just the tip of the iceberg. There are many other exciting places to explore in India. Once you travel and explore India, you will find many reasons to return to this majestic land.
What about you; have you ever been to India? Share your favorite places or, if you've never been, feel free to ask questions in the comment section below.