by Junaid Aamir
If you are planning a vacation and wondering about places to visit in Pakistan, other than the typical tourist attractions like the historic buildings and food streets, consider checking out the 'Shaadi halls' (marriage halls) where you'll find a stunning blend of different cultures which is marriage in Pakistan.
If you pass outside an ongoing 'Pakistani' wedding, you may wonder what's going inside the hall or even those colorful tents in parks with all that loud music. You may also get attracted to them, but don't go in there uninvited, although you may, that's also a 'fun run.'
But if you were brave enough to venture inside, you would find an amazing blend of cultures that is the gorgeous marriage tradition of Pakistan.
It would be all wrong to say that Pakistani marriage developed on its own. Pakistani marriage costumes and Pakistani wedding traditions developed from a combination of several civilizations.
Marriages in Pakistan started with the Arabs performing a simple nikkah concerning Islam, the religion of this country. Then Arabs came to Bharat (now India) and took some traditions from Hindus.
Pakistani weddings are almost always filled with brilliant, bold shades of red, orange, and yellow colors, all of which came from Hindus.
This is different from the favored Islamic colors of white and green. There are far more similarities than typical colors, but this is a big difference.
Lastly, the cultures and traditions that Pakistanis adopted also come from western culture. That is, of course, due to the notion of the twentieth-century for the wealthy class of Pakistan; the more they adopt western things the more they are considered members of the 'elite,' class.
Marriage in Pakistan
It's true that marriage in Pakistan is made up from a blend of different cultures, but believe me, you would enjoy every one of the exciting traditions and events, whether you are a new friend, a relative who is close to the groom or bride and especially if you are female.
Following are the series of traditional rituals that occur at a Pakistani wedding.
Pakistani Engagement
The family arranges most Pakistani weddings. The process begins with the exchange of photos between the two families (usually done by an aunt having connections on both sides). After this, it is up to the family if they wanted to perform nikkah or wait directly with an engagement. Then finally, one day date is set for the events, and sweets are eaten with joy and excitement.
Dholak
I wrote that "if you are female, you will enjoy more," because women, mostly cousins, gather together around a 'dholak' and sing various old, traditional songs and celebrate together.
Mehndi
As the name says, the bride and her female family members and friends apply mehndi on their hands. Songs are played, and dances are performed. Traditional themes are decided on both sides of the bride and groom that make this blend of different cultures an unforgettable marriage ceremony in Pakistan.
Mayun
This event is usually the same as 'dholak' and 'mehndi' with the traditional Pakistani clothes, mehndi and 'performing dholak' etc. The color of this day is usually yellow, and a yellow paste mixed in oil is applied on the bride's skin.
Nikkah, Barat and Ruksati
These two events may be performed together or separately as some families like to perform "Nikkah" at the mosque. Nikkah is the Islamic way of binding the two together. Islamic verses are recited, and the marriage is done with 'qabool hai,' which means I accept you as my life partner, three times, both the groom and bride say it.
In 'Barat' the bride usually dresses in a massive red dress. Gourmet dishes of a high standard in Pakistan like "biryani, chicken karahi, kebabs," and other expensive Pakistani dishes are presented. Finally 'Ruksati' is performed and the groom is departed towards her new house.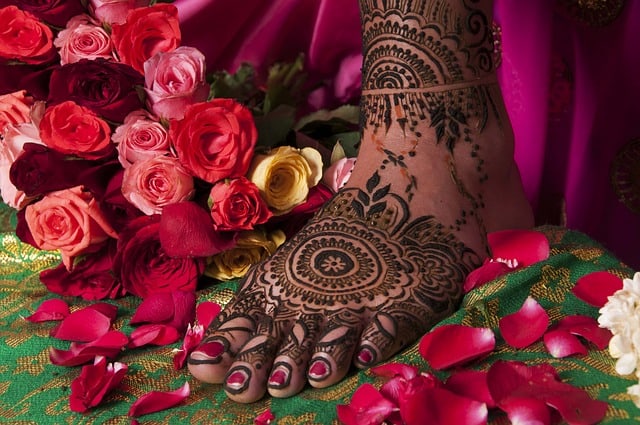 Walima
Walima is mostly the last event in which the two families regroups as a gesture of saying thanks that all activities were intended peacefully. Again traditional foods are presented.
I often visit Pakistan, and the best memories I carry with my self are the memories of marriage. The colors, food, the laughter and the blend of different cultures make the Pakistani wedding so memorable and better by marriages elsewhere.
Pakistan has many beautiful places to visit on your honeymoon, but for a list of some of the most romantic places in the world, check out this article.
Have you ever been to a wedding in Pakistan?
Comment below!
BEFORE YOU GO:
☑ Book your flight: My absolute favorite sites for cheap flights are Skiplagged and Kiwi.com. I also find really great deals on Skyscanner, Google Flights, and Momondo. The reason I've been able to get dirt cheap flights around the world is that I'm flexible, not only with travel dates but also with airlines, baggage, seat choices, etc.
☑ Book your accommodation: I always use Airbnb and Booking.com. If you're on a budget, consider using Hostelworld. If you click on the Airbnb link and you don't have an account yet – you'll get a $30 discount on your first booking.
☑ Protect yourself: Yes, I mean condoms, girl. But also, travel insurance. Travel insurance is a must, especially in a post coronavirus pandemic world. World Nomads and SafetyWing offer the best rates.
☑ Do you need a visa? If you aren't sure if you need a visa, it would be a smart idea to take a quick look before you go. You can use iVisa – it's super useful and easy to use.
SUPPORT US
Subscribe to the Tribe
If you think Love Lust or Bust is scandalous, you should join our mailing list for special exclusives and previews and sometimes secret confessions I don't share here where my mama can read it.
And ps, for all you guys from Morocco, Egypt, India, and all you Nigerian Princes who tell me you love me and want to marry me before you even learn my name, y'all can pay $20 a month for a special Zaddie membership.
*If I get enough of you subscribing at that tier, I might even post some of my more scandalous photos. I'll even reply back to you once in a while.
**And any Zaddies in the house, yes, I am open to getting free flights. My Paypal is @travelriter.
I rarely send newsletters. I'll be honest, I'm a lazy f*ck.
Alright, that's not really true. Actually, I don't send many emails (yet…I will one day) for the same reason I'm not good at being a "Fatal Attraction" type of stalker. I just do not have the damn time.
I prefer focusing on writing content rather than sending emails, but in the future, I intend to make more time, both for emails and stalking men who have ghosted me.
For now, I will send the rare email when there's such a damn good deal that I HAVE to let you guys know about it (like one penny flights, seriously)! So subscribe now and I promise; no spam shitty emails.
You can also follow us on Facebook 'cause that's where I rant about unsolicited dick pics and shit.
Disclaimer: This post may include affiliate links. If you click one of them, we may receive a small commission at no extra cost to you. It's a great way to show your support. Thank you!