Photo/ video credit: Dale Wilson.
Watch the Barbetta video here!
Barbetta is a stunning and romantic restaurant located in the heart of New York City in the theater district.
From the moment you step inside, you are transported to a world of elegance and sophistication. The ambiance is warm and inviting, with intimate lighting and beautiful décor that sets the perfect mood for a romantic evening.
In addition to its outstanding food and service, Barbetta is also renowned for its beautiful decor. The dining room is adorned with elegant chandeliers that cast a warm, romantic glow over the entire space. The tables are dressed with crisp white linens, and the walls are adorned with beautiful works of art that add to the overall ambiance of the restaurant.
Small antique-looking lamps that give a candle-lit glow are placed on each table, creating a warm and intimate setting that is perfect for a romantic evening.
The attention to detail in the decor is evident in every aspect of the restaurant, from the plush velvet seating to the sparkling crystal glasses.
Whether you're looking for a cozy corner booth or a more spacious table, the decor at Barbetta is sure to provide the perfect backdrop for a truly memorable dining experience.
The menu at Barbetta is nothing short of extraordinary, featuring a mouth-watering selection of authentic Italian cuisine that is sure to tantalize your taste buds.
The ingredients are fresh and of the highest quality, and the dishes are expertly prepared to bring out the full flavor and aroma of each and every dish.
Whether you're in the mood for a light pasta dish, a hearty meat entrée, or a delicious seafood special, you're sure to find something that will satisfy your cravings.
One of the highlights of dining at Barbetta is the exceptional service provided by the staff. They are friendly and knowledgeable and always go above and beyond to ensure that your dining experience is truly unforgettable.
They are always on hand to answer any questions you may have about the menu and are always willing to offer suggestions and recommendations to help you choose the perfect dish.
If you think an elegant, upscale dining establishment like this is probably expensive, well this is true, although not as pricey as one may expect. However, you can do what my friend and I did; go during Restaurant Week when the appetizer, entree, and dessert cost only $45 (prices fluctuate so be sure to call ahead). Barbetta is a popular destination during New York City's Restaurant Week, offering a special menu featuring some of their most popular dishes.
During this event, diners can enjoy a three-course meal at a fixed price, allowing them to sample a variety of dishes from the menu at an affordable cost.
The Restaurant Week menu at Barbetta typically includes a variety of starters, such as a classic antipasto platter or a fresh salad.
For the main course, diners can choose from dishes such as pasta carbonara, chicken parmesan, or a succulent seafood dish.
Desserts are equally as decadent, with options such as tiramisu, cannolis, or a rich chocolate cake.
The specials offered during Restaurant Week at Barbetta are a great way to experience the restaurant's renowned cuisine without breaking the bank.
With a focus on fresh ingredients and traditional Italian recipes, the dishes served during Restaurant Week are sure to please even the most discerning palate.
Whether you're a first-time visitor or a regular, be sure to take advantage of the Restaurant Week specials and indulge in the delicious cuisine at Barbetta.
After a delicious meal at Barbetta, why not take a romantic stroll with your date to nearby Times Square?
This iconic New York City landmark is just a short walk away and offers a unique and exciting experience that is sure to create lasting memories.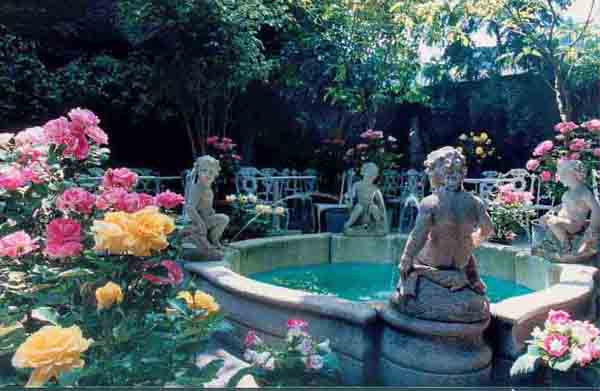 As you walk hand in hand, you'll be surrounded by the bright lights and excitement of one of the world's most famous entertainment destinations.
Times Square is a hub of activity, with street performers, billboards, and towering video screens that create a vibrant and energetic atmosphere.
You and your date can take in a Broadway show, explore the numerous shops and restaurants, or simply stroll through the crowds and soak up the electric atmosphere.
With so much to see and do, a visit to Times Square is the perfect way to cap off a romantic evening at Barbetta.
Whether you're a local or a visitor, a romantic stroll through Times Square is a must-do experience that is sure to create memories that will last a lifetime.
Barbetta was the perfect place for a special evening for my friend and I. We had such a lovely, romantic meal followed by a stroll through Times Square, a place I (and most New Yorkers) rarely ever visit. It was fun playing tourist for a night in my hometown.
In conclusion, if you're looking for a romantic dining experience in New York City, look no further than Barbetta. The elegant atmosphere, delicious food, and exceptional service make this restaurant the perfect choice for a memorable evening with that special someone. Whether you're celebrating a special occasion or simply looking for a night out on the town, Barbetta is sure to exceed your expectations.
For more ideas on fun, romantic things to do in NYC for Valentine's Day, click here.