Are you dreaming of a romantic vacation but think you can't afford it?
I've gathered a few of the most amazing, romantic riads in Marrakech (all under $100 a night) to inspire you and your honey to plan your next trip…maybe sooner than you think!
Morocco is one of the most romantic countries in the world. You can spend the day wandering the souks and markets, have a decadent lunch overlooking a stunning waterfall, and a few hours later, drive past spectacular mountains and villages and spend the evening at a seaside resort where you can watch the sunset.
It's no surprise that you'll find centuries of rich history and exotic locales in Morocco. But what is unexpected is just how affordable Morocco getaway can be. Below you'll find some of the best budget, romantic, accommodations available in Marrakech.
Riad Le J is located in the heart of the medina behind the Mouassine mosque. Djemaa el-Fna square is minutes away, so the location is perfect for shoppers and those seeking the more well-known historical monuments, mosques, and sites of Marrakech. Some of the best medina restaurants and shops are a short walk away.
Palais Blanc is not a typical hotel, but more like a secret palace somewhat hidden away in the enchanting, exotic medina.
Morocco itself is incredibly romantic and seductive, and Palais Blanc is located right in the middle of all the action. At the same time, this quiet, secluded, secret oasis is nestled in the midst of all the excitement. The exclusive access to this private, picturesque property behind its high walls will make you feel like a VIP celebrity as you enjoy the view of the Medina, just steps away.
Palais Blanc blends Morocco's rich history with contemporary amenities, but never loses the tradition of offering the best hospitality and service you might expect with 5-star accommodations. The high ceilings, marble columns, huge salons, and luxurious rooms will make you feel like a princess in a dreamy fairy tale, and outside of the rooms, you'll find a meticulously maintained center courtyard with lovely plants and orange trees. This secret sanctuary is your own private paradise, a magical oasis that will seduce you into considering lengthening your stay just a bit longer on your exotic, mysterious adventure.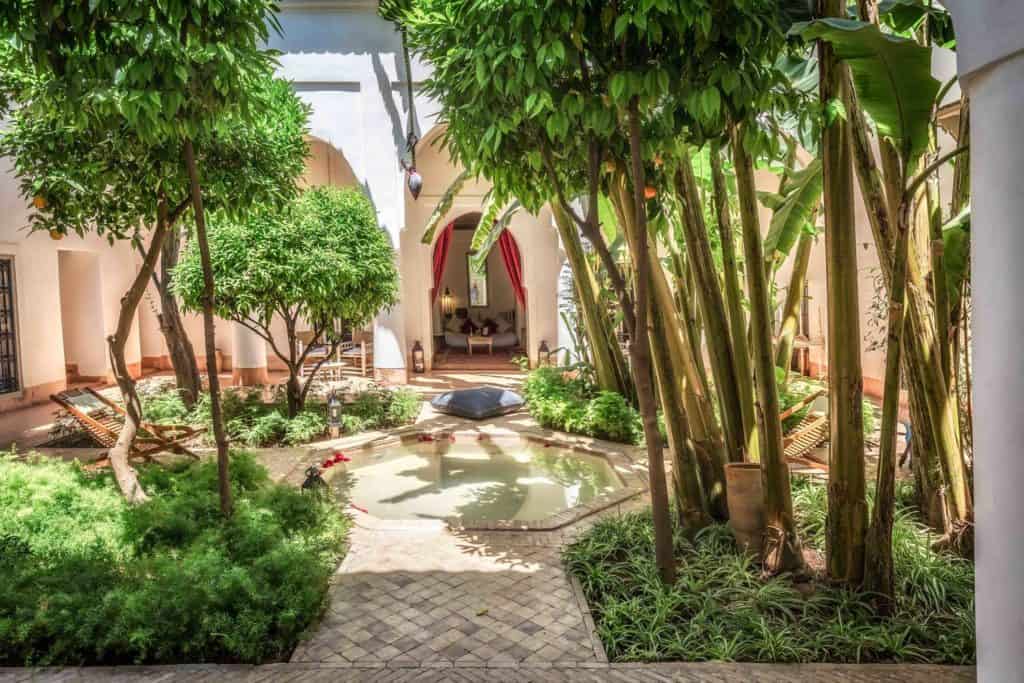 Le Riad Berbere is a stunning 17th-century riad with a lush garden and five gorgeous, minimalist rooms showcasing the period craftsmanship and design of the house. Three of the rooms have balconies over the garden. A Moroccan breakfast of fruit and pancakes is served on the roof terrace and is included.
Riad Ciel d'Orient features a restaurant, outdoor swimming pool, a simple, yet luxurious lounge and a garden in the heart of Marrakesh. The roof features a beautiful sun terrace. The property provides a 24-hour front desk, airport transportation, valet parking and free WiFi throughout the property.
Each room is complete with a private bathroom and air conditioning, and selected rooms here have a private seating area.
Riad Ciel de Orient is in a fabulous location. Bahia Palace is a 9-minute walk from the riad, while Koutoubia is 1.2 miles away. The nearest airport is Marrakech-Menara Airport, 4.2 miles from Riad Ciel d'Orient.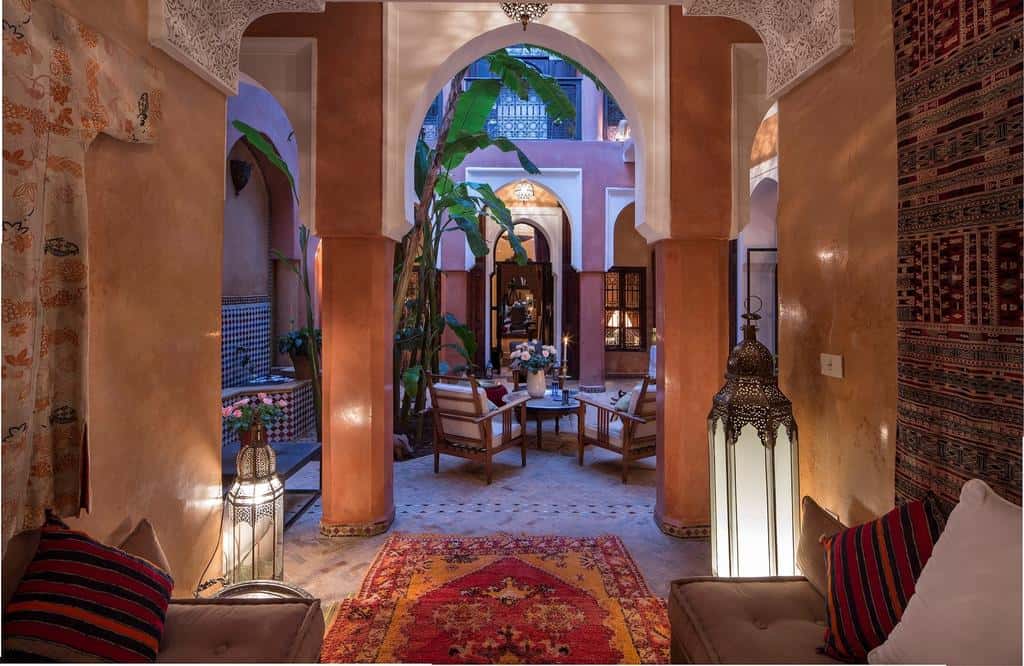 Dar Attajmil is exquisite. Once you enter, you fall in love with the decor; authentic Berber rugs, comfy lounge chairs, and small, cozy little areas wait for you to relax, read a book, or enjoy Moroccan tea. Beautiful plants and art surround you, and the roof terrace oasis beckons you, all offering plenty of space to unwind from the exciting chaos of the city.
Located minutes away from Djemaa El Fna square in the heart of the medina, Riad Mabrouk is absolutely perfect for those wanting to be in the center of the action and walking distance from the hottest cafes, restaurants, and shops, yet seeking the exotic ambiance and atmosphere that will add some spice to your vacation.
Carved doors and archways, and blue mosaics that conjure up images of ancient Andulusian towns, Mabrouk has been expertly restored and is the only riad in the medina with an elevator. It's rooftop bar, restaurant, and pool, give you a spectacular view of the city below.
If you're seeking an authentic, exotic traditional riad that offers all of the comfort of modern amenities and hedonistic pleasures like good food, good wine, and an opportunity to escape the chaotic madness of the sexy Medina where you can indulge in the passionate embrace of your lover in the privacy of your own secret "harem" bed-chamber, this riad is perfect.
Riad UP is a combination of modern comforts mixed with the charm of a vintage Arab-Andalusian Palace. Each part of the house – the patio, pool, terraces, fountain, is absolutely exquisite. Minute details and excellent craftsmanship of the house lend a sense of grandeur and enhance the spirit of Riad UP. The decor is simple yet elegant.
Looking for more romantic hotels and riads around the world? Check out 50 top travel blogger's picks for the world's most romantic destinations here.
For Moroccan honeymoon or romantic getaways, click here and here.
Have you been to Morocco? What did you love most about it?
BEFORE YOU GO:
☑ Book your flight: My absolute favorite sites for cheap flights are Skiplagged and Kiwi.com. I also find really great deals on Skyscanner, Google Flights, and Momondo. The reason I've been able to get dirt cheap flights around the world is that I'm flexible, not only with travel dates but also with airlines, baggage, seat choices, etc.
☑ Book your accommodation: I always use Airbnb and Booking.com. If you're on a budget, consider using Hostelworld. If you click on the Airbnb link and you don't have an account yet – you'll get a $30 discount on your first booking.
☑ Protect yourself: Yes, I mean condoms, girl. But also, travel insurance. Travel insurance is a must, especially in a post coronavirus pandemic world. World Nomads and SafetyWing offer the best rates.
☑ Do you need a visa? If you aren't sure if you need a visa, it would be a smart idea to take a quick look before you go. You can use iVisa – it's super useful and easy to use.
SUPPORT US
Subscribe to the Tribe
If you think Love Lust or Bust is scandalous, you should join our Patraeon tribe. For those of you who really love getting great dating and travel advice but want more, like the juicy, personal stories I don't share here, you can subscribe for as little as $1 a month.
Your subscriptions mean I can keep my integrity and not have to fill up ad space here with all the shit people try to get me to post, like ads for Russian brides and female blow-up dolls.
Ok, let me be honest, I would consider taking their money, but 1. Google hates that so it's "illegal" and 2. The heffers only offer me between $25-100, and these hookers can afford so much more, so I just quote them "$22,222 per sponsored post.
Anyway, for all you guys from Morocco, Egypt, India and all you Nigerian Princes who tell me you love me and want to marry me before you even learn my name, y'all can pay for the $20 a month membership.
*If I get enough of you subscribing at that tier, I might even post some of my more scandalous photos. I'll even reply back to you once in a while.
**And any Zaddies in the house, yes, I am open to getting free flights. My Paypal is @travelriter.
Subscribe to the Newsletter
I rarely send newsletters. I'll be honest, I'm a lazy f*ck.
Alright, that's not really true. Actually, I don't send many emails (yet…I will one day) for the same reason I'm not good at being a "Fatal Attraction" type of stalker. I just do not have the damn time.
I prefer focusing on writing content rather than sending emails, but in the future, I intend to make more time, both for emails and stalking men who have ghosted me.
For now, I will send the rare email when there's such a damn good deal that I HAVE to let you guys know about it (like one penny flights, seriously)! So subscribe now and I promise; no spam shitty emails.
You can also follow us on Facebook 'cause that's where I rant about unsolicited dick pics and shit.
Disclaimer: This post may include affiliate links. If you click one of them, we may receive a small commission at no extra cost to you. It's a great way to show your support. Thank you!

For the best accommodations, and more tips & tricks when traveling to Morocco, check out these popular articles below:
For more travel tips and tricks, and to learn about the world's most romantic destinations, check out Love Lust or Bust!
This article was written by April Hope.
To learn more about her and her travels throughout Morocco and around the world, click here.