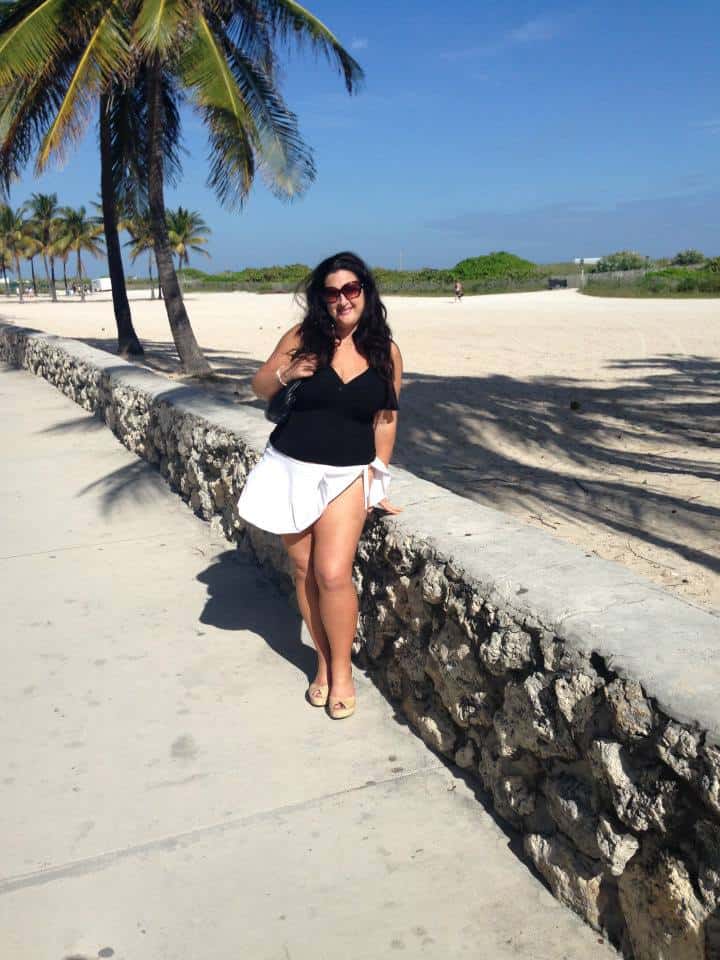 Are you a good girl who sometimes wants to be just a little bad?
Being bad can be fun, especially when your definition of fun includes a hottie you just met while on vacation.
(If you're looking for the most beautiful, sexiest men in the world, click here!)
But far too many girls have ended up in tragic situations while away.
So how do you stay safe while hooking up when you want to be a little bit bad without ending up like Natalie Holloway on that fateful spring break trip to Aruba 15 years ago?
It's easy to throw all common sense out the window when you're on a sunny beach in paradise and you take risks and do things you'd never do normally.
I've had many crazy, thrilling, fun experiences while traveling. But so did Natalie Hollaway. People shook their heads and wondered how this young college co-ed could have gotten drunk during spring break in Aruba and left a party with strangers.
Let's be real; that boy she left with was fine.
Typical boy next door; handsome, athletic, smooth, from a prominent, affluent family. Living on an exotic island and driving a sexy sports car, offering her a tour of the local hot spots…okay. I'm exaggerating. I don't know what that boy said or did to entice her to leave with him, but after a few drinks and a sweet kiss, men like that can be irresistible.
Which one of you has never done that? Ever?
Well, for Natalie Holloway, it was the biggest mistake she ever made.
What about meeting someone from an online dating site?
I met my best friend, and a man I thought I was going to marry from Craigslist; two amazing guys, so you never know who you're going to meet.
But several years ago, women were thrilled to meet up with Philip Markoff, a gorgeous med student they chatted with on Craigslist.
They didn't live to tell about it.
I'm not saying you can't meet someone amazing while traveling or through online dating. This entire site is focused on romance and dating and travel.
I'm saying; be careful.
Here are ten tips on staying safe while having fun.
(If you missed part one of this series on Staying Safe While Hooking Up and Having Foreign Flings, click here.
Fake diamonds are a girl's best friend.
A few more common sense precautions before we move on to the sex stuff; don't wear flashy clothing or expensive jewelry, carry excessive amounts of money or unnecessary credit cards. Bring cute costume jewelry with you and leave them behind as gifts for local friends you meet. I wore a cheap rhinestone set to a wedding in Egypt and gave them as a gift to my host after the party. She was from a poor family and thrilled with the gift.
DO NOT buy money on the black market.
I know, I know, when you're a backpacker on a budget, every penny counts, but it just isn't worth it. Almost always dealers on the black market are slick. They're doing illegal activities; there is a very good chance you'll be swindled if not robbed. These guys are professionals. They aren't just shady; they're magicians who could outdo Houdini when it comes to making cash disappear without you even knowing it until hours later. Just use ATM's, money changing spots and banks.
Register with the Embassy.
Always register with the nearest US Embassy when you arrive in case of emergency.
Borrow some bucks.
If you do get robbed and have no family or friends to help you, contact your nearest Embassy. This isn't exactly advertised, but in a pinch they will give you a one-time loan and a return ticket which you will have to pay back once you return home.
Sleep with new friends.
(No, we are NOT at the sexy section yet.)
I strongly suggest joining one of the online hospitality and travel groups such as Hospitality Club, Global Freeloaders and Couchsurfing.com. Not only can you find free accommodations with fellow travelers, you'll meet locals who can offer to host you or just show you around. Having a host can be particularly helpful for women traveling in hot tourist spots like Mexico and Jamaica with high crime ratings as well as in Muslim countries where having a local friend can make a huge difference.
Find another woman to travel with.
If you aren't able to travel with a buddy or often travel alone like I do, meet up with other female travelers at hostels, or through one of the hospitality clubs like Couchsurfing. You can find new friends who may be interested in the same activities or travel plans as you, and can be temporary travel partners who you can separate from if they get on your nerves. Girls Love Travel and Wanderlove are two Facebook Groups where you can meet potential travel partners.
Take a self-defense, and/or martial arts course. Check with a domestic violence organization or hotline to find one near you that specifically offers courses for women. The Brooklyn, NY offers self-defense and martial arts classes at a sliding scale, and they are free for survivors of any act of violence or abuse.
Center For Anti-Violence Education
Brooklyn Women's Martial Arts 421 Fifth Ave. Brooklyn, NY 11215 (718) 788-1775
Lie.
My first time in Jamaica I arrived in Kingston and was lonely and lost. I met a guy who said he was a reggae artist who seemed cool, so when he invited me to go to hear him perform that night I agreed to go.
I live in NYC so there are lots of small lounges where you can hear live music. I didn't realize though that Jamaicans don't go out until after 1:00 or 2:00 am, and as we hung around at his friend's studio, more and more men arrived. The only two other women basically ignored me, and by the time we started off for the party it was late. I had only taken enough cash for a taxi back to my guesthouse, just in case.
As we drove about 20 other cars filled with men joined us. I was really nervous, especially as we drove for at least an hour through a dark, deserted mountain.
Nervous once I realized my foolish mistake of hopping in a car with a stranger, I pretended to call the "friend" I was staying with and said, "She's so protective of me. Her husband is head of security at the American Embassy, so they made me give them your name, the address, and license plate of your car."
Actually, you should always do that when going out with new friends.
I realized that I wasn't going to be murdered that night as we drove into a parking lot filled with thousands of cars, and at least 20,000 people for a "Reggae Sunsplash" concert.
It turned out that I was with Capleton, Beanie Man, Yellowman, Elephant Man, and a bunch of other famous reggae stars.
I was in the VIP area and had a great time, but it could have turned out to be a dangerous, fatal mistake. Now I get the address of the venue I'll be going to and take a taxi or local transportation.
"Chata" a taxi.
Many places I've traveled to have "route taxis" (also called "gypsy cabs") that cost less than a dollar, but they fill up with people along the route, sometimes up to eight other passengers. You don't tell them where you're going; they yell out to you what their route is, and if you're going that way you hop in. It's not always comfortable, but dirt cheap. At night, however, it's best to pay more and get the name of a "charter" ("chata" or "drop") taxi from a hotel employee who will drive you alone to whatever your destination is.
In Jamaica last year there was a gang who pretended to be legitimate taxi drivers. A woman would get into a route taxi and after a mile or so the driver would pick up two men. The men would then drive to an isolated spot and rob and rape the women. One was murdered. I have at times (when I'm really low on cash) take a chance on a route taxi, but the one time I was alone and the driver stopped to pick up other men I immediately got out and paid him, and waited for the next taxi. Be safe.
Meet ex-pats.
I always try to meet ex-patriats before I go to a new place. This was especially important for me in Trinidad and Jamaica where there is a large community of "Rent-a-Dreads." So many women have been scammed by men they meet on holiday, and the local ex-pats I met warned me about some of the worst characters. Try to find websites for ex-pats before traveling.
In Jamaica, Negril.com is a great source where you can meet local female business owners from the states who love to share the local gossip about all of the scams some of the locals are running.
Sue's Easy Internet Cafe in the West End in Negril (where many ex-pats hang out) has written a mini-book which describes the horrific ordeal she endured when she married one of the most infamous and evil Rent-a-Dreads ("Clever Trevor") who ended up taking half of her house and beating her severely. Really. She built a house and when she found out that he actually had SEVEN other women who fell in love with him, and were tricked into building him houses, buying him cars and starting businesses for him, she divorced him.
However, a judge ordered her to give him half of the house. So he cut it in half, literally, and took it to another plot of land. She and other ex-pats created a website where they have listed the names and dirty deeds of the local scams.
Women are warned about men who are prostitutes, who are abusive, who rob women, who tell women they can build them a house, dirt cheap if the only buy the materials, only to end up not having any legal rights to the houses or businesses. (Sue now owns the first hostel in Negril, so be sure to look her up.)
Do some research and try to find out where ex-pats hang out or chat online. You can find plenty of Facebook groups for ex-pats.
Also, check out the hospitality clubs listed above to meet local friends and fellow travelers.
There are so many great blogs online, many written by solo female travelers who give great tips. Check out some of these blogs and sites.