By Ean
There are a LOT of articles for the solo female traveler about safety and how to avoid unwanted attention from men, but barely anything about meeting them. I'm not talking about meeting men to hook up, and I'm not talking about Couchsurfing or travel dating sites where a "sponsor" pays for your trip in exchange for things that may potentially happen. I'm talking about meeting other travelers (men in particular) and striking up organic, genuine, authentic conversations with them.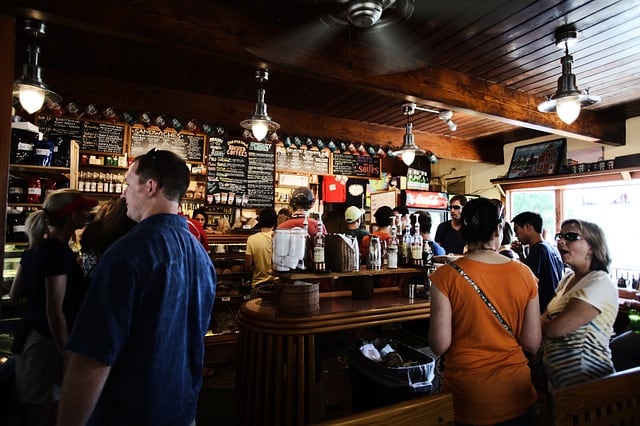 I used to travel fairly often by myself for business and whenever I traveled to a new place, I'd always try to tack on some time for sightseeing after my meetings. I remember traveling alone to be quite challenging at first as I would often feel lonely wandering about on my own seeing families and groups of friends and couples making memories. Often I struggled to even take a decent photo without a dreaded selfie stick. It was difficult enough to not just hide in my hotel room and order room service, but to try and meet people and talk to them in an unfamiliar country and culture? Back home, I even dreaded eating in a restaurant alone, but somehow when I was in a different place, armed with the guise of being a woman out on assignment, completely out of her element, traveling alone, I felt like I could be myself. In fact, I felt like I could be anyone I wanted to be! I've had a lot of fun with this and used different personas for meeting people and having one-evening conversations with them. Not only was it exhilarating, but it really helped me build confidence and practice the art of storytelling.
It's mostly the same as striking up a conversation at home, but nonetheless here are a few tips I found useful: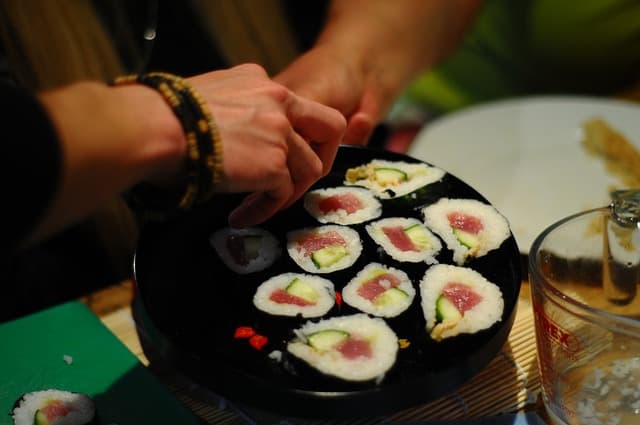 Share
Sit at the bar and order too many 'shareables' because you want to sample as much of the local cuisine as possible. Offer to share your olive medley and taramasalata dip with the gentleman next to you who is only having a drink. I've had some of the most amazing conversations this way.
Cute outfits
By no means am I saying you should dress up to meet men, but do this for YOU so that you feel confident and good about yourself. On a recent golf trip, I brought 5 outfits and only played 2 rounds of golf. I ended up having drinks with not only my foursome but the foursome in front and after us on the 19th hole.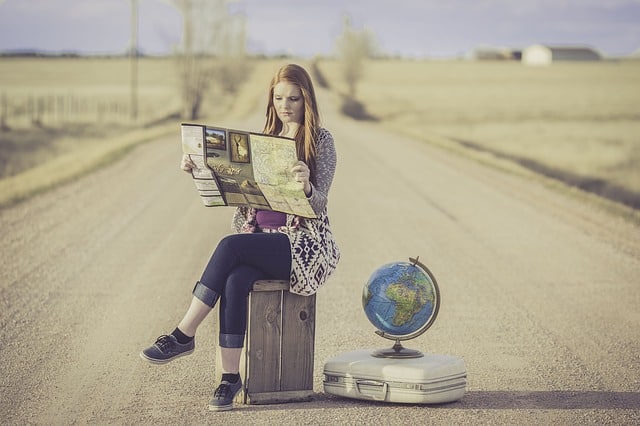 Stand out
Wear a backpack, look somewhat lost, take lots of selfies, and maybe carry a travel book. OK, you probably don't even need to do anything to stand out. Depending on where you go, you most likely already inadvertently stand out. When I was in Morocco, I met a local man at the riad who was a DJ/bartender. We really hit it off and he offered me a lovely tour of Marrakesh on his motorcycle.
Join a tour
Please, not a bus tour. I hate herd mentality. I hate big group tours. I used to work for one. No offense to those who enjoy them, it's just not my travel style. OK, done my rant. *ahem* Join a tour – I'm talking about a local walking tour, foodie tour, or bike tour. When I was in Salzburg, I did a Sound of Music bike tour where I met a bunch of fellow Canadians and friendly Australians. I also fell off my bike (not on purpose) and was attended to by the cutest male nurse ever. Not my proudest moment, but men just want to help sometimes. Let them.
Find a travel buddy
I usually don't plan out my entire trip and when I'm traveling for work, my schedule can be a bit unpredictable. I know there are a number of websites for finding other solo travelers to meet up with, but if you're like me and want to play it by ear, you can often spontaneously find a travel buddy by staying in the right place. After the business portion of my trip, I ditch the 4-star hotel (and my work outfits) and look for a room in an Airbnb. I don't do hostels (no privacy and I'm getting a tad too old for that), but I'll look for an Airbnb with several rooms sharing a common kitchen/lounge. It's fun to connect with the host or other travelers. Occasionally I'll meet another solo traveler and we'll spend an afternoon getting lost together or we'll venture out in search of a culinary experience.
Safety
There is no shortage of articles on safety so I won't cover that topic here, but I will just say one thing as I believe it's important enough. Don't ever be afraid to say NO for fear of being rude. It is absolutely pertinent if you have any reservation about a situation or a person, to back out, say no, run; whatever it takes. It's not worth the risk. I've been very fortunate not to have been in any dangerous situations, but I have on occasion, just left situations where I didn't have a good feeling. Trust your instincts and be safe!
What are some of your tips on meeting men while traveling?
This guest post was brought to you by Ean from 43km, a cool place to read (and share) travel stories. To read more about meeting men and other adventures while traveling,
check out 43km. 
BEFORE YOU GO:
☑ Book your flight: My absolute favorite sites for cheap flights are Skiplagged and Kiwi.com. I also find really great deals on Skyscanner, Google Flights, and Momondo. The reason I've been able to get dirt cheap flights around the world is that I'm flexible, not only with travel dates but also with airlines, baggage, seat choices, etc.
☑ Book your accommodation: I always use Airbnb and Booking.com. If you're on a budget, consider using Hostelworld. If you click on the Airbnb link and you don't have an account yet – you'll get a $30 discount on your first booking.
☑ Protect yourself: Yes, I mean condoms, girl. But also, travel insurance. Travel insurance is a must, especially in a post coronavirus pandemic world. World Nomads and SafetyWing offer the best rates.
☑  Do you need a visa? If you aren't sure if you need a visa, it would be a smart idea to take a quick look before you go. You can use iVisa – it's super useful and easy to use.
SUPPORT US
Subscribe to the Tribe
If you think Love Lust or Bust is scandalous, you should join our Patraeon tribe. For those of you who really love getting great dating and travel advice but want more, like the juicy, personal stories I don't share here, you can subscribe for as little as $1 a month.
Your subscriptions mean I can keep my integrity and not have to fill up ad space here with all the shit people try to get me to post, like ads for Russian brides and female blow-up dolls.
Ok, let me be honest, I would consider taking their money, but 1. Google hates that so it's "illegal" and 2. The heffers only offer me between $25-100, and these hookers can afford so much more, so I just quote them "$22,222 per sponsored post.
Anyway, for all you guys from Morocco, Egypt, India and all you Nigerian Princes who tell me you love me and want to marry me before you even learn my name, y'all can pay for the $20 a month membership.
*If I get enough of you subscribing at that tier, I might even post some of my more scandalous photos. I'll even reply back to you once in a while.
**And any Zaddies in the house, yes, I am open to getting free flights. My Paypal is @travelriter.
Subscribe to the Newsletter
I rarely send newsletters. I'll be honest, I'm a lazy f*ck.
Alright, that's not really true. Actually, I don't send many emails (yet…I will one day) for the same reason I'm not good at being a "Fatal Attraction" type of stalker. I just do not have the damn time.
I prefer focusing on writing content rather than sending emails, but in the future, I intend to make more time, both for emails and stalking men who have ghosted me.
For now, I will send the rare email when there's such a damn good deal that I HAVE to let you guys know about it (like one penny flights, seriously)! So subscribe now and I promise; no spam shitty emails.
You can also follow us on Facebook 'cause that's where I rant about unsolicited dick pics and shit.
Disclaimer: This post may include affiliate links. If you click one of them, we may receive a small commission at no extra cost to you. It's a great way to show your support. Thank you!
For the best accommodations, and more tips & tricks when traveling to Morocco, check out these popular articles below:
For more travel tips and tricks, and to learn about the world's most romantic destinations, check out Love Lust or Bust!
To learn more about April Hope and her travels throughout Morocco and around the world, click here.
Disclaimer: This post may include affiliate links. If you click one of them, we may receive a small commission at no extra cost to you. It's a great way to show your support. Thank you!