Sometimes a short weekend getaway can be just as fabulous as a week-long trip, especially if you go to a charming seaside town like Newport, Rhode Island where you can imagine yourself a wealthy Vanderbilt (at least for a day).
Last week I got to "live like a Vanderbilt" when I visited Newport, just a 4-hour drive from New York.
There are quaint shops, fantastic fine dining establishments, live jazz performances, and lovely hotels with views of the harbor filled with boats and yachts of all sizes.
Whether you dine at one of Newport's seafood, Italian, French, or other fancy restaurants, go sailing or take a yacht cruise, go shopping at one of the charming boutiques along the main street, or just rub elbows with some of the locals while listening to live jazz, you can see what it feels like to be one of the monied jet setters who summer here rather than in The Hamptons.
First of all, let me just say that Newport is a place that takes its history seriously. Everywhere you turn, there are buildings from the colonial era, cobblestone streets, and more museums than you might expect in such a small place. If you're a history buff, you'll be in heaven.
As a lover of all things luxurious, although the restaurants with their decadent dishes were spectacular, my favorite part of this trip was my visit to Marble House Mansion.
I was naturally drawn to the opulent mansions that line the streets of this quaint coastal town, but of all the magnificent estates in Newport, none captured my heart quite like the Marble House.
Upon approaching the mansion, I was immediately struck by the sheer grandeur of its architecture. The elegant white marble facade was adorned with intricate details and embellishments that spoke to the extravagance of the Gilded Age.
The property was commissioned by Alva Vanderbilt, one of the wealthiest women of her time, and it is easy to see why she chose this particular location to build her dream home.
Stepping inside, I was transported to another time and place. The interior of the mansion was nothing short of stunning, with each room more lavish than the last. From the ornate woodwork to the intricate ceiling designs, every detail was crafted with meticulous attention to detail.
One of the highlights of the Marble House Mansion was undoubtedly the Great Hall. This soaring space was designed to impress, with a ceiling height of over 45 feet and walls adorned with imported Italian marble. The grand staircase, made of white marble and embellished with gilded bronze, was particularly breathtaking.
Everything from the candelabras to the chandeliers, the paintings, and the furniture; every single item in the mansion was absolutely stunning.
Another standout feature of the mansion was the Chinese Tea House, a small building on the property that was inspired by the Pavillon de la Lanterne at Versailles. The Tea House was a place for Alva Vanderbilt to entertain her guests, and it was easy to see why she chose this picturesque spot overlooking the Atlantic Ocean.
Of course, no trip to the Marble House Mansion would be complete without a visit to the luxurious bedrooms. Each room was more extravagant than the last, with ornate furnishings, intricate woodwork, and sumptuous fabrics.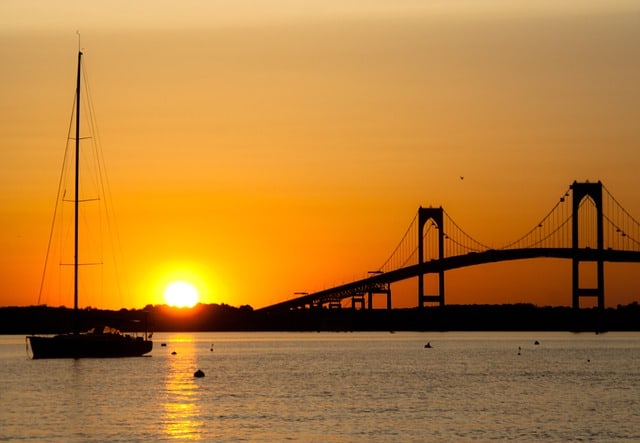 I couldn't help but imagine what it would be like to wake up each morning in such a decadent setting, sipping tea and being served breakfast served in bed, and admiring the stunning sunsets at night.
As I left the Marble House Mansion, I couldn't help but feel a twinge of envy for the Vanderbilt family and their life of luxury.
I do not own a mansion (yet), but after my trip to Newport, it is now at the top of my bucket list. I am grateful for the opportunity to experience it vicariously through this magnificent estate to inspire me and show me what is possible.
So if you find yourself in Newport, RI, do yourself a favor and pay a visit to the Marble House Mansion. It is a true marvel of architectural and decorative arts and an experience that you will not soon forget.
There is a lovely gift shop where you can buy cute souvenirs on the grounds, and there are a few small antique shops in town.
But if you're really a fashionista who is obsessed with fine jewels and antique pieces, you might want to acquire a few estate pieces of exquisite jewelry to feel like a Vanderbilt through My Grace Estate Jewelry where you can find fabulous pieces at surprisingly affordable prices. 
Have you been to Newport, Rhode Island to visit some of the opulent mansions? Comment below and tell us your favorite place to visit in Rhode Island.