The number one question I get from people is "Where is the most luxurious, romantic destination we can go on a small budget?"
That's like asking me, "What should I eat for dinner next week?" The possibilities are endless! There are so many factors to consider; do you prefer skiing, mountain climbing, lying on a beach at an all-inclusive nude resort, or shopping? Is money your number one concern, and if so, are you willing to stay in a private room at a hostel or an AirBnB, or are you okay with splurging a little to stay at a 3-star bed and breakfast in a less touristy place with amazing antique markets nearby?
Before you decide where to go, think about your travel styles and what your priorities are, and then check out my tips on how to visit your dream destination while on a budget because if you're willing to sacrifice a bit, I think even the more expensive cities like Paris or St. Thomas can be done on a budget (check out my No/ Low Budget Travel Tips). However, there are a few amazing, romantic places where your dollar will go much further
Below is a list of some of the most beautiful places in the world where you can have a luxurious vacation for less.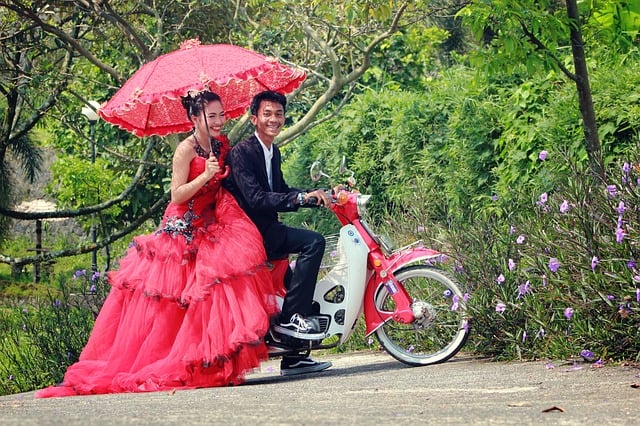 Bali
I hesitated to include Bali on my list because I know people are freaked out by the potential eruption of Mt. Agung. In fact, when I heard about the eruption last November I canceled my ticket, but after doing more research I ended up getting another flight. I loved Bali so much that I completely blew off my flight to Kuala Lumpur and stayed a few weeks more.
While I'm not sure a bigger, more powerful potential eruption could cause much danger to tourists since the beaches, airport and more touristy areas are hours away from the 12 km exclusion zone, but it could cause travelers to be inconvenienced. It will have a devastating impact on locals, however, if this natural disaster does occur.
Travelers who were stranded on the island last November were stuck there because of the level of threat from volcanic ash, which caused flights to be stopped for several days. Supposedly, if (or when) another eruption occurs, visitors will be able to go to nearby islands via boat or ferry and get flights home from there.
So, why do I recommend Bali as a great destination in spite of the potential volcano eruption? Well, doesn't a little danger add excitement to a relationship? Okay, that's not funny, in fact, the situation is extremely serious and has already caused plenty of suffering for the Balinese people who have their homes and their farms (which for most is their sole source of income), within the exclusion area and were forced to evacuate. To be really transparent, that is one of the reasons I think more tourists should visit Bali now. Tourism is a major source of income for the island, especially around Christmas and New Year's Eve each year. The dramatic decline of tourists over the past few months has had a devastating impact, and tourism is desperately needed to help their economy.
Before the eruption last year, Bali was not considered a really cheap destination, but you could still get by on a budget. However, since November, the businesses that were not forced to close have barely scraped by, which means crazy cheap prices. While I don't feel comfortable advising tourists to take advantage of people suffering, at the same time they desperately need business to survive.
I visited several places in Bali where gorgeous hotels and guest houses cost about $10-$20 a night, restaurants charged between $3-$7 for a meal, and scooters cost between $3-$6 a day to rent. If you're on a really small budget, plenty of hostels were $1-$3 a night, and street food cost $1-$2 for a nasi garang, or rice and chicken with vegetables.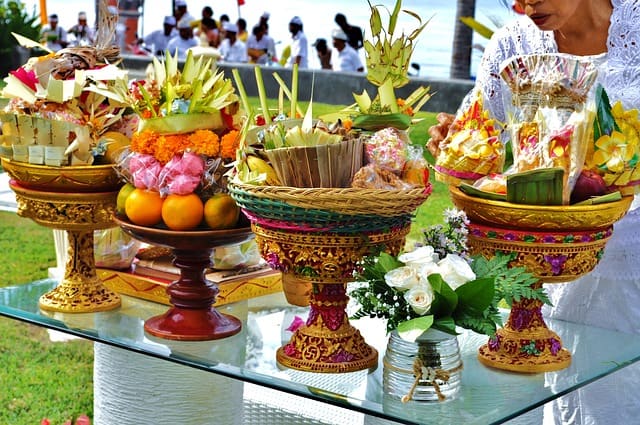 I splurged and stayed at an amazing hotel (Tegal Sari) in Ubud for about $35 a night. It had two pools, an outdoor gym, and an outdoor "spa" with massage tables with a stunning view of the rice paddies. The honeymoon suite is absolutely stunning. Only after I'd been there a few days did an employee admit to me that they were not making one bit of profit, and were only accepting guests in order to not be forced to lay off their employees.
I have been to very few places in the world as beautiful as Bali, so I strongly recommend this as my number one destination pick. But please, if you go, please do not haggle to get dirt cheap prices. You giving an extra dollar or two might really help out a family who is seriously struggling.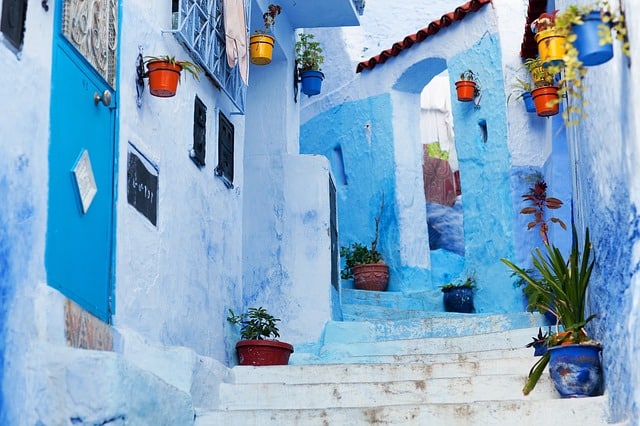 Marrakech
Oh, how I love this city! I've been here several times, and each time I fall in love with it even more. There are lovely hostels here, too, where you can pay $5-$15 a night, but this is one place I strongly suggest you "splurge" on and stay at one of the many gorgeous riads around the medina.
Riad prices range anywhere from $30 to $200 a night, and you may never find accommodations so beautiful anywhere else in the world. If you're a Hilton Honors or Marriot Rewards loyal customer, you probably won't enjoy riads as much as I do. But if you're a romantic soul who loves being transported back in time,  these hotels, each built around courtyards with pools and lush gardens, believe me, you will never want to leave.
And I cannot even describe the food. Breakfast at many of the riads (which is often included) will be served with such pomp and circumstance, each item and delightful condiment and various types of bread are served in the most exquisite little containers.
Lunch or dinner menus usually consist of tagine dishes, but couples should definitely stroll through the night market where plenty of food stalls offer you strange and delicious items like roasted chicken and vegetable skewers. If you're feeling really adventurous, you can try escargot, or sheep's brains, or any of the other unusual items sold in the medina. My favorite stands are the fresh juice stalls where you can get mango, orange, pineapple, and other blended smoothies and juices for about one dollar.
You can take a tour around the city, to the desert where you'll ride camels or use jeeps and sleep in tents, or you can go into the mountains, or even take a trip to Essaouira if you prefer the beach.
My favorite activity is shopping at Jemma el Fnaa.
One thing you should experience in Marrakech is a Hammam, or bathhouse. You can get pampered all day for very little, but if you decide to splurge on one of the fancier spas you'll pay about $20 for a massage.
Thailand
I read plenty of travel guides and blogs before going to Thailand so I knew it was a good place to go on a budget, but my idea of a budget is a lot different from most people's. My plan was to go to Thailand at the end of a journey around South East Asia that included 8 countries, so to say I was nervous about money before this trip was an understatement.
Once I got there, I wished I had gone a lot sooner. I stayed in hostels, AirBnB's, hotels, and a charming private bungalow right on the beach, I ate (a lot), trying a new restaurant for every meal, "splurging" at fancy places overlooking the ocean that cost less than $5, and I got massages almost daily.
And, I had enough money left to go shopping. If I can explore this country on a tiny budget and have the luxurious trip I promised myself for my birthday, imagine how lovely your trip will be?
My hostel (where I booked a double bed inside of a private pod in a dorm room also offers private rooms for couples) was incredible. I could hear the waves as I slept, and loved waking up to a spectacular sunrise right outside of my window. I paid $6 a night.
For my birthday, though, I moved to New Hut where I upgraded to a perfect little bungalow that had two twin beds, but nothing else. I only paid $15 a night, but if I had a partner I would have splurged for the garden bungalows for $30 which had a/c and private bathrooms. The shared bathroom didn't matter to me because it was clean, and I opened my door to the ocean each morning which was about 10 feet away.
I ate at the New Hut Restaurant a few times, but I preferred to ride my scooter ($6 a day) to the main road where there were plenty of restaurants, spas, and shops. My favorite places to eat, however, were the night markets where I tried pigeon eggs, fried insects, and other strange delicacies, and I could get my daily Thai coffee smoothie fix.
Dominican Republic
I rarely go to all-inclusive resorts. I say it's because I believe tourists should spend their dollars at local businesses, and many all-inclusives don't benefit local people, but the truth is I secretly love them and just have not always had the budget. I spend in one month what the average person spends in one week when I travel. But I have to admit, my stay at an all-inclusive resort in Punta Cana was loooooovely!
The pool was enormous, the food fabulous, and the shows were hysterical. My favorite part of my stay here was having my meals in the open air restaurant while peacocks strutted around a few feet away.
If you want to lie on the beach while employees sweep away the seaweed to make everything perfect for the guests, eat gourmet meals 'til your heart's content, and drink unlimited alcohol non-stop, check prices on sites like Groupon. A round-trip ticket from NY, (including a 5-night stay with everything included) will cost about $500 per person.
I have hundreds of "favorite" places I could add to this list, but I'll stop here for now. I'm working on an e-book about the most romantic destinations in the world, but this is just a small list to give you an idea of how much you need to budget to be able to take your next dream vacation.
For tips on getting cheap flights and accommodations, click here.
Where are your favorite romantic destinations?