I'm embarrassed to admit this, but here goes…
People often ask me which country is my favorite. That's a tough one. As a travel writer, I've been blessed to have the opportunity to live and visit many places like Egypt, India, France, and so many other incredible countries. But if you ask me which hotel I would choose, I don't even have to think about it for a minute.
I've stayed in charming bed and breakfast guesthouses, hotels located on stunning beaches, and once in a while, I've been lucky enough to stay at some pretty opulent, swanky places like the Taj Mahal Palace in Mumbai. But without a doubt, my favorite place to stay in the world is Traveller's Beach Resort in Negril.
I love Travellers Beach Resort for many reasons. The sunken lobby is luxurious and has a piano played by a "Bob Marley" mannequin with dreadlocks during happy hours. The friendly staff is attentive and make sure you're treated like family members who happen to be royalty. The rooms are spotless and most have romantic views of the spectacular sunsets over the ocean. But what impressed me most about this place is to see just how much the owner Winston Wellington (now retired) and his family give back.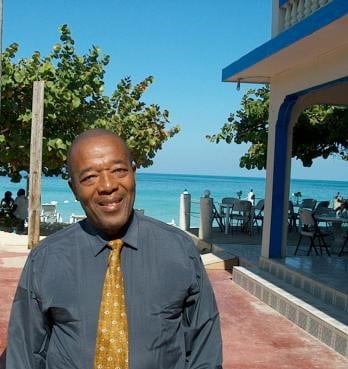 Many in the hospitality industry focus on profit from tourists, while locals rarely benefit from the tourism industry. But the Wellington family truly cares about their community. They've invested in schools, built libraries, and helped many students, artists, musicians and business owners.
In 2003 Wellington Founded the Negril Education Environment Trust (NEET) in order to provide "a book in every child's hand and a computer in every classroom", and he successfully created free libraries and changed school's in Jamaica through his tireless efforts and fundraising.
Two years later, his dream of opening a hospital which would provide free health care was finally a reality. NEET, together with the Caribbean Medical Mission began offering health care services in Negril.
Every single time I was around Winston Wellington I watched him introduce people to others, helping them to network and inspiring them with new ideas. His passion for helping others is contagious. He gets people excited about wanting to be involved in fundraising projects, not just donating money for a tax write-off.
Meeting Mr. Wellngton had a lasting impression on me. I admit I've had a crush on this man from the moment I met him. He's in his mid-seventies now, but I barely even noticed his three extremely handsome sons. Nor was I interested in his charming, funny, male employees that work hard at making guests feel like family. And I completely ignored the sexy beach boys who are always waiting for single female visitors to leave the safe haven and sanctuary of the hotel. I only had eyes for Mr. Wellington, and I'll tell you why.
When I first met Mr. Wellington I had a dream of becoming a travel writer. I had just started working on my degree, and my writing skills were not exactly on the level of Hemingway or Woolf. I had no writing credentials to speak of, little experience, and no money; all things a novice travel writer needs to make it in such a very competitive field.
Mr.Wellington didn't care about any of that. He saw my passion, and he not only offered me an extremely generous stay at his hotel, he introduced me to movers and shakers from around the world, from successful business people who returned to his hotel year after year, to important people in the tourism industry who also made a big impact on me by introducing me to the "law of attraction' and positive thinking. He inspired me to follow my dream.
I had no idea at the time just how admired and respected Mr. Wellington was throughout Jamaica, nor did I realize just how successful his businesses were in New York and around the world.
But it wasn't his financial success or the stellar resume of this man 25 years my senior that captured my heart.
Winston's constant smile and charisma, his sincere desire to bring about change in his country through education and health care, and the way he treated poor children who could not afford to go to school the same way he treated the wealthy doctors and business owners who contributed to his efforts inspired my fantasies of what it would be like to find a man who was so dedicated to helping others. And of course, living in a beach paradise setting like Negril with this charming man would just be icing on the cake.
But it was the first morning I woke up in this luxurious resort and wandered toward the beach when my heart truly flipped for this hotelier.
I walked toward the hotel restaurant to order some ackee and saltfish and to get what would become my daily fix- Blue Mountain coffee with Betty milk.
As I walked along the path I saw Winston gathering his entire staff for their morning meeting. I couldn't help eavesdropping. I was floored when he asked them to hold hands and then led them in prayer, asking God to guide them throughout the day in order to give the best service, attention, and love to their guests.
For the rest of my stay, I tried unsuccessfully to cover my bright red, quite unflattering sunburn, to tame my crazy mane the sea did it's best to turn into straw, to try to appear 20 pounds slimmer while spilling out of my much too small bikini, and to get the attention of this distinguished, dapper gentleman, but to no avail.
But in spite of the fact that my Lucille Ball antics failed to get him to notice me in a romantic way, Mr. Wellington made me feel special, respected and loved. As a sister. Perhaps his respect made me fall for him even more.
I have been approached many times by men in Jamaica and other countries looking for sex, love, money and green cards. But my unrequited love for Mr. Wellington has made me smile many, many times over the years as I remember the lessons in hospitality and humanity that I learned from this man and his hotel in paradise.
I think I read somewhere during my cyber stalking of Mr. Wellington over the years that he is now married. After the initial pang of jealousy, I couldn't help smiling and admiring this mystery wife of Wellington. She must be a remarkable woman to have captured his heart, and I am filled with happiness for this man who deserves love more than anyone I know.
Someday perhaps I'll meet someone special. But he's going to have to bring some pretty wonderful qualities to the table now that I know men like Mr. Wellington exist.
Do you know Winston Wellington and his family? Have you ever stayed at Traveller's Resort? Share your stories with us at www.LoveLustorBust.com, Love Lust or Bust, a guide to romance & travel for those with insatiable wanderlust!