The Good the Bad and the Ugly
Imagine yourself in Belize at a luxurious beachside resort for couples. Close your eyes. Sink your toes into the silky golden sand, and exhale.
Exquisite relaxation, romance, and a unique coastal experience await you. Your gorgeous wood and bamboo cabana is merely a few feet away from the ocean, singing a lullaby that will serenade you, easing you into a deep, restful sleep the minute your head hits the pillow.
But before we go on, I want to take a moment to address the number one question readers have been asking; is it actually safe to travel now?
Safety
Before I traveled to Belize, I did extensive research, first, on whether I should travel at all, and then, whether or not Belize is a safe country to visit.
Long before the pandemic, I tend to be extremely anxious when it comes to travel. I often worry about whether or not a country is safe in general for solo female travelers, whether I'll be able to find accommodations that are clean and safe and if I can afford it, whether I'm going to like the food, and most importantly, whether the men will be hot. (I've got my priorities.)
I was nervous about planning my first trip before the world has gotten back to "normal."
Although I've visited many countries that have a reputation for being "too dangerous," especially for solo females traveling alone like Nigeria, Jamaica, Morocco, and many others, I don't usually let that stop me from going. Yes, I'd heard some warnings about Belize, so I was hesitant, but I did plenty of research and decided to go ahead with my plan.
According to the U.S. Dept. of State Travel Advisory website, U.S. citizens should avoid traveling to Belize City. The crime that occurs in Belize is not so much in the more tourist areas such as the islands (the "cayes") and Placencia, but mainly in South Belize City.
But for this trip, my first trip abroad since the pandemic began, I was mainly concerned with COVID-19 issues.
For weeks I watched Youtube and read many articles about Belize, especially the detailed information on the CDC's website about which countries in the world are the safest to visit during and post-pandemic. Belize was among the countries included in "Level 1," the safest countries based on the low numbers of COVID-19 cases.
Since July 1, Belize is now at Level 2 due to an increase in COVID-19 cases. However, the Belizean government has put some strict requirements in place, including the Gold Standard policies for those in the tourism industry.
Here are a few tips from the U.S. Embassy website if you're planning to travel to Belize:
Be aware of your surroundings.
Avoid walking or driving at night.
Do not physically resist any robbery attempt. Be extra vigilant when visiting banks or ATMs.
Enroll in the Smart Traveler Enrollment Program (STEP) to receive Alerts and make it easier to locate you in an emergency.
Review the Crime and Safety Report for Belize.
U.S. citizens who travel abroad should always have a contingency plan for emergency situations. Review the Traveler's Checklist.
There are different guidelines depending on whether or not you've been vaccinated, but overall, I felt pretty safe and followed the usual advice of constant hand washing, sanitizing, and social distancing. And, of course, I brought several cute, colorful lace masks to match different outfits. Hey, a girl can still be cute during a pandemic.
Let's get back to the hotel review.
The Good
Close your eyes and return to the special beachside resort I'm dying to share with you.
While it may feel like you're on an uninhabited island here, there are actually 6 cabanas and 2 larger rooms attached to the main lobby. You'll find plenty of isolated places to explore with your lover where you can admire the stunning views of nearby islands, reefs, and the natural beauty of Placencia. The cabanas at Singing Sands Inn were designed with couples in mind.
Decadent, delicious dining options entice you, and you'll have your choice of enjoying your meal at the open-air restaurant, (Bonefish Grill, one of the more upscale, fine dining establishments in Placencia) while listening to soft jazz, on your veranda, or poolside.
And of course, you'll love the sunsets. Who can accurately describe some of the most spectacular sunsets in the world and do it justice when even photos cannot capture the exquisite beauty of this place?
Think this place is simply a dream far beyond your budget? Think again. Singing Sands Inn is surprisingly affordable. Believe me; I know. I do the digging and extensive research so you don't have to. I pride myself on finding the most amazing hidden gems around the world, and Singing Sands Inn is one of the most romantic and charming places I've found yet.
It's easy to find luxurious accommodations when you're a jet-setting socialite. And backpackers can always find cheap budget accommodations. But for those of us desperately seeking the holy grail; elegance, class, and even opulence while on a budget, well finding this combination is a rare find indeed.
I was absolutely thrilled when I arrived at Singing Sands Inn located on Maya Beach in Placencia. In fact, it was thanks to one of our contributing writers, Rosanna who insisted I check out the place she fell madly in love with and ended up living in for several months. Check out Rosanna's article From Holiday Fling to Lifelong Love here, her video on Belize here, and her post on the best restaurants in Placencia here.
The instant you walk into Singing Sands Inn, you'll fall in love.
You'll feel as if you've been transported back in time to a magical, fairy-tale garden located in the middle of a lush, tropical jungle that caresses the edge of the sea.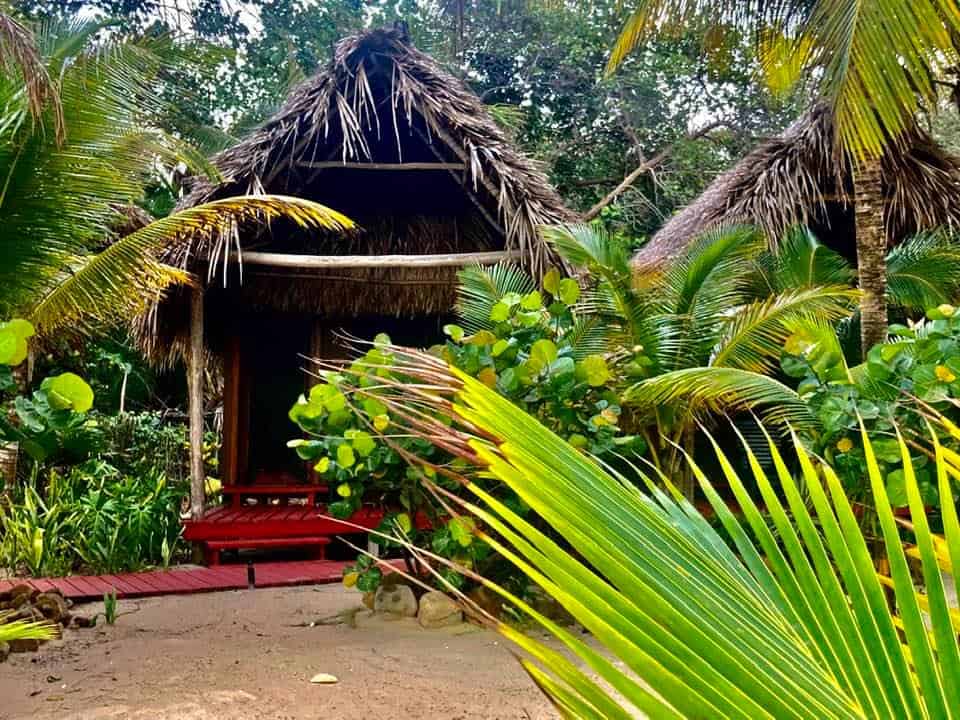 A nice variety of flowers, native plants, ivy, and gorgeous palm trees surround you as you sit in the open-air Bonefish Restaurant (immensely popular with locals, ex-pats, and tourists) and enjoy local dishes like grilled lobster tail with a mustard, mushroom sauce, or choose from the fantastic selection of Korean entrees.
I loved writing each morning in my favorite spot, enjoying the wood and bamboo furniture, sculptures, and artwork while the sounds of the ocean a few feet away relaxed me, helping me to focus and get into the groove.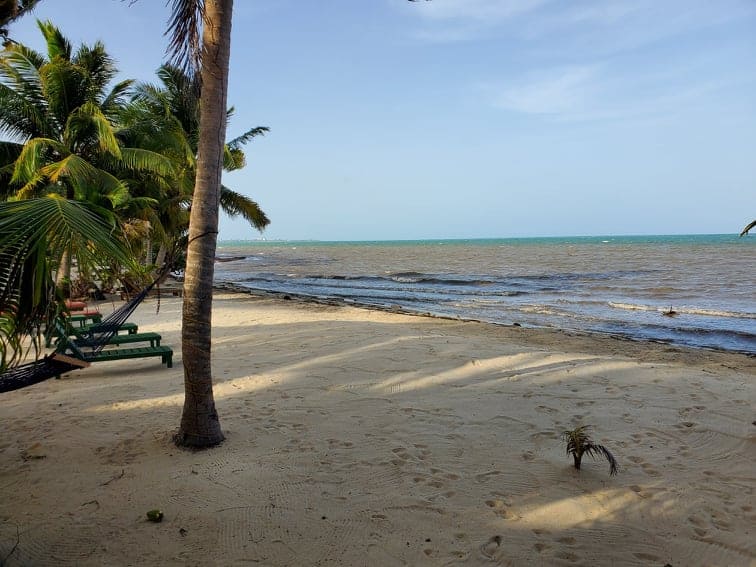 Unlike many hotels in town where the noise and distractions make it almost impossible to find some peace and solitude, Singing Sands Inn has a private beach where you can relax without being interrupted.
At night, couples will be enchanted by the soft lights and candles in the garden and enjoy mojitos or Pina Coladas by the pool, at the restaurant, or lounging on bamboo chairs on private verandas.
I felt more comfortable at Singing Sands Inn when the staff informed me that they've been vaccinated, and I watched them washing their hands frequently.
I love that there are so many activities you can do; snorkeling, diving, ziplining, river tubing, and exploring caves. But you can also simply chill on the beach or wander through the town and check out the gift shops.
I work while I'm traveling, so I enjoyed listening to the soft jazz playing in the background alongside the sound of the waves as I typed away sitting at Bonefish Grill in the evenings.
I think one of the best features of Singing Sands Inn (besides its lovely name) is that, unlike many places I've stayed at, local beach boys tend to avoid this place. In fact, I didn't really see the type of hustler looking for solo female travelers that I often encounter in other countries. That doesn't mean they don't exist. But Singing Sands Inn is a quiet place that appeals mostly to couples, so I enjoyed being able to work in peace.
The Bad
Do sand flies count? It was difficult for me to find something to nitpick about when it comes to Singing Sands, but I make it a point to include the cons as well as the pros in every review, so I will list the few minor drawbacks I could come up with.
Placencia is about 16 miles long and a half-mile wide in some spots, and Maya Beach is on the fancy side. The center of town where there are gift shops and more affordable restaurants is on the opposite end of Placencia Village. However, you might find this a huge plus as I did, especially if you have a car, golf cart, or scooter rental. This way, you get the best of both worlds; seclusion and privacy in a serene atmosphere, but easy access to town when you want it.
I visited Belize during the low season when it can get rainy, so the beach was fairly windy and there was a bit of seaweed on the shore, but the staff assured me that most of the year the sea is calm, and beachgoers swim and snorkel happily.
The Ugly
There are bugs around, which is to be expected when you love being in nature. Sandflies, mosquitos, and beetles will join you in paradise, so bring mosquito repellant for the evenings. If you're adventurous, you might try eating a few termites. I didn't see any in Placencia, but they are a delicacy in Belize, and the tour guide who brought us to the spectacular caves in the jungle insisted they taste like mint.
There is only one thing I disliked about the cabana.
Overall, the room is absolutely lovely. (You can read below for more highlights of what I loved about the room.) But the one thing that made me uncomfortable is that the bathroom was not separated by a door or located in a private room, but simply partitioned off with a semi-wall. In other words, if you are on a romantic getaway with a lover, there will be very little privacy when one of you is sitting on the throne in the morning.
That trick all female travelers know and love of turning on the shower a few minutes early in an attempt to hide the less than sexy sounds and smells of our morning ritual is simply not possible at Singing Sands, so be prepared to bring your intimacy to a whole other level on this romantic rendevous.
Maybe bring some Poo-Pourri spray in your carry-on and you'll be fine. Well, some music to mask any farting noises might also help.
Another option (if you're on a sexy getaway trip with your lover) is to use the public restroom in the Bonefish Grill. It's located in the center of the compound just steps away from the cabana, and it's actually a lovely, enclosed toilet so you'll get some privacy.
If all else fails, simply bring a few sexy thong bikinis, and your partner will quickly forget anything he heard or smelled in the morning.
Update; I had a lovely talk with one of the brand new owners who shared with me some of the exciting changes and renovations they are planning for Singing Sands, and guess what's on top of the list? Not only are they going to make the toilet areas private and add doors, but the showers are going to be outdoors!
Just when I thought Singing Sands Inn couldn't get more perfect. I cannot wait to come back again on my next trip to Belize.
The Room
I loved the simple, plain walls and bed in my room, especially because the room cannot possibly compete with the stunning beauty of the nature of the trees and gardens and of course, the waterfall outside. Instead, the simple, elegant decor blends and emphasizes the natural theme of the resort.
I was delighted to find that the extra plush, large towels and toilet paper were decorated with tiny, fresh flowers. This is something you might find in a really upscale, high-end resort.
Oh, and the bathroom sink was divine. The brightly colored Mextiso mosaic tiles and a brass water spout made me feel like a Garifuna princess.
The room was spotless and the large, Queen bed was really comfortable. The lack of a/c was not at all a problem once the ceiling fan was turned on and the ocean breeze lulled me to sleep. In fact, the second fan had to be turned off because was completely unnecessary.
There was a fire extinguisher and a smoke detector close to the door, but I was relieved when I saw the door locks. Not only was there a secure Yale key lock on the knob, but there was also a dedbolt. Plus, on the inside, there was yet another third latch lock for additional security.
The Amenities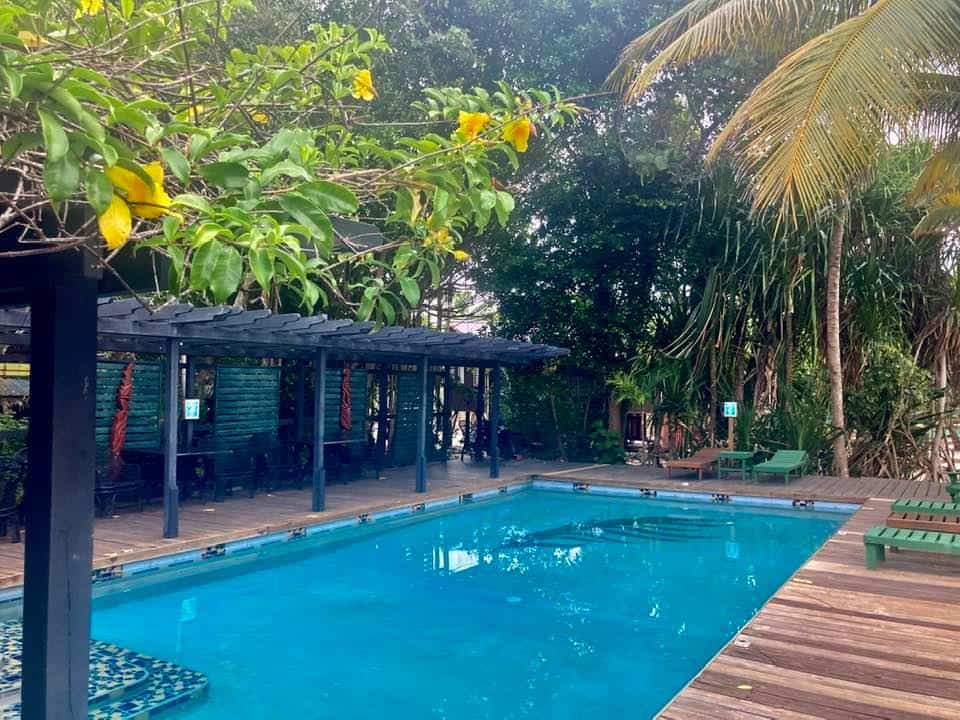 There was no blow dryer or safe box in the room, and there's no television, but I didn't realize that until I sat down to write this because there were so many things to keep me occupied. There was pretty good complimentary wifi though.
And the pool is amazing! But you might not have time to enjoy it if you're busy using the clear bottomed kayaks or out snorkeling. There are plenty of activities to do and tours in the area. Whether you're looking for adventure or you prefer chilling on the beach, you have plenty of options. Ziplining, hiking, exploring caves, or going on a tour at a Belizian chocolate factory are just a few fun things to do. If you're a foodie, you'll find plenty of
Summary
I fell in love with Singing Sands Inn the moment I arrived. The mini waterfall, the pool, the dock you can stroll on or snorkel around, and the exotic jungle garden leading to the ocean make this place appealing enough, but the price is shockingly low for a place so perfect for a romantic, destination wedding.
Take a trip to Placencia, Belize, and book a private cabana at Singing Sands Inn and you'll find out why I cannot wait to visit this enchanting place again.
Have you been to Belize? What's stopped you from going if you haven't been yet? Comment below, and if you have been, share your experience with us!
BEFORE YOU GO:
☑ Book your flight: My absolute favorite sites for cheap flights are Skiplagged and Kiwi.com. I also find really great deals on Skyscanner, Google Flights, and Momondo. The reason I've been able to get dirt cheap flights around the world is that I'm flexible, not only with travel dates but also with airlines, baggage, seat choices, etc.
☑ Book your accommodation: I always use Airbnb and Booking.com. If you're on a budget, consider using Hostelworld. If you click on the Airbnb link and you don't have an account yet – you'll get a $30 discount on your first booking.
☑ Protect yourself: Yes, I mean condoms, girl. But also, travel insurance. Travel insurance is a must, especially in a post coronavirus pandemic world. World Nomads and SafetyWing offer the best rates.
☑ Do you need a visa? If you aren't sure if you need a visa, it would be a smart idea to take a quick look before you go. You can use iVisa – it's super useful and easy to use.
SUPPORT US
**And any Zaddies in the house, yes, I am open to getting free flights. My Paypal is @travelriter.
Subscribe to the Newsletter
I rarely send newsletters. I'll be honest, I'm a lazy f*ck.
Alright, that's not really true. Actually, I don't send many emails (yet…I will one day) for the same reason I'm not good at being a "Fatal Attraction" type of stalker. I just do not have the damn time.
I prefer focusing on writing content rather than sending emails, but in the future, I intend to make more time, both for emails and stalking men who have ghosted me.
For now, I will send the rare email when there's such a damn good deal that I HAVE to let you guys know about it (like one penny flights, seriously)! So subscribe now and I promise; no spam shitty emails.
You can also follow us on Facebook 'cause that's where I rant about unsolicited dick pics and shit.
Disclaimer: This post may include affiliate links. If you click one of them, we may receive a small commission at no extra cost to you. It's a great way to show your support. Thank you!

For the best accommodations, and more tips & tricks when traveling, check out these popular articles below:
For more travel tips and tricks, and to learn about the world's most romantic destinations, check out Love Lust or Bust!
This article was written by April Hope.
To learn more about her and her travels around the world, click here.
Disclaimer: This post may include affiliate links. If you click one of them, we may receive a small commission at no extra cost to you. It's a great way to show your support. Thank you!