From the moment you arrive, you will see why Palais Blanc is at the top of many travelers' lists of favorite hotels around the world. Before you're even checked in you'll be escorted past the lobby and led beyond the pool to the edge of the courtyard where you'll be able to relax and unwind from your journey. Sitting in the garden under the shade of orange trees that are so perfect you'll swear they're not real as you sip Moroccan mint tea and nibble on fresh pastries the staff has prepared for you, you'll never want to leave.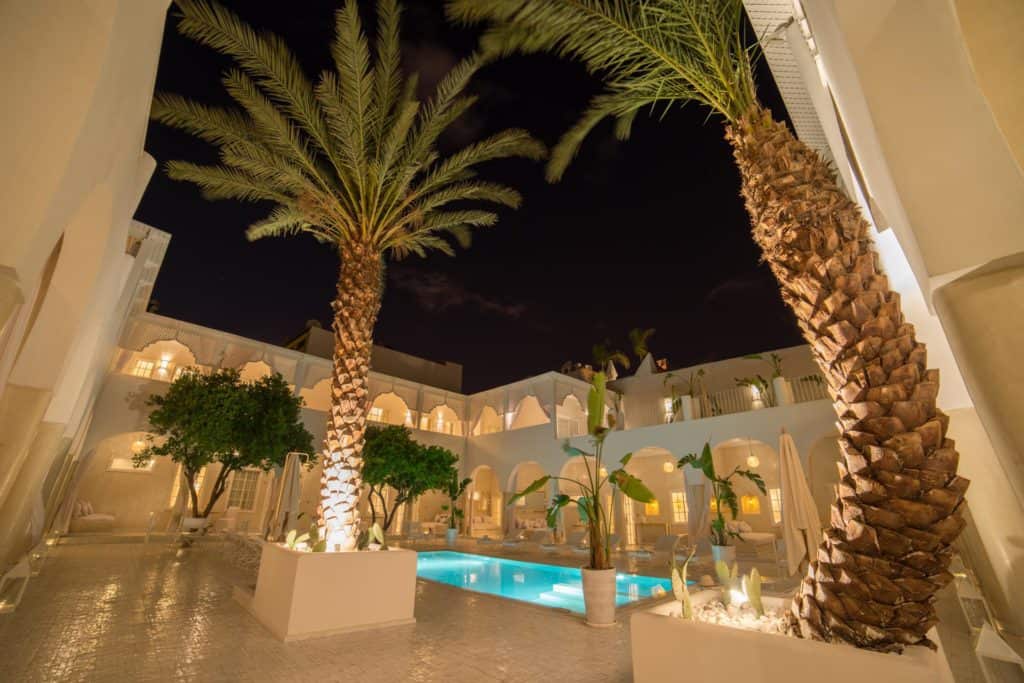 Morocco itself is incredibly romantic and seductive, and Palais Blanc is located right in the middle of all the action. At the same time, this quiet, secluded, secret oasis is nestled in the midst of all the excitement. The exclusive access to this private, picturesque property behind its high walls will make you feel like a VIP celebrity as you enjoy the view of the Medina, just steps away.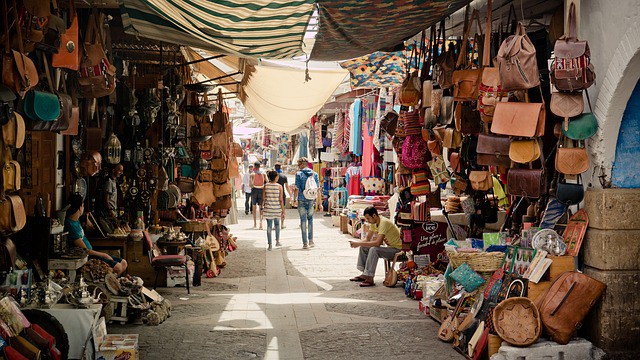 Like the snake charmers of Jemaa al Fna Square, there's something hypnotic and sexy about this city. The medina can be overwhelming for sure. Your senses will be assaulted at once as you try to navigate your way through the small, winding streets, past the shops filled with bright, colorful scarves, lanterns, and exquisite glass and silver tea sets.
Turquoise and pink Berber jewelry from The Sahara desert will beckon you. And, it will be difficult to resist the funny comedian hawkers as they try to persuade you to dine at the outdoor, open-air, night stalls where barbecued meats, chicken and vegetable shish-kabobs tempt you to choose between delicacies like simmered sheep's brains or freshly steamed escargot.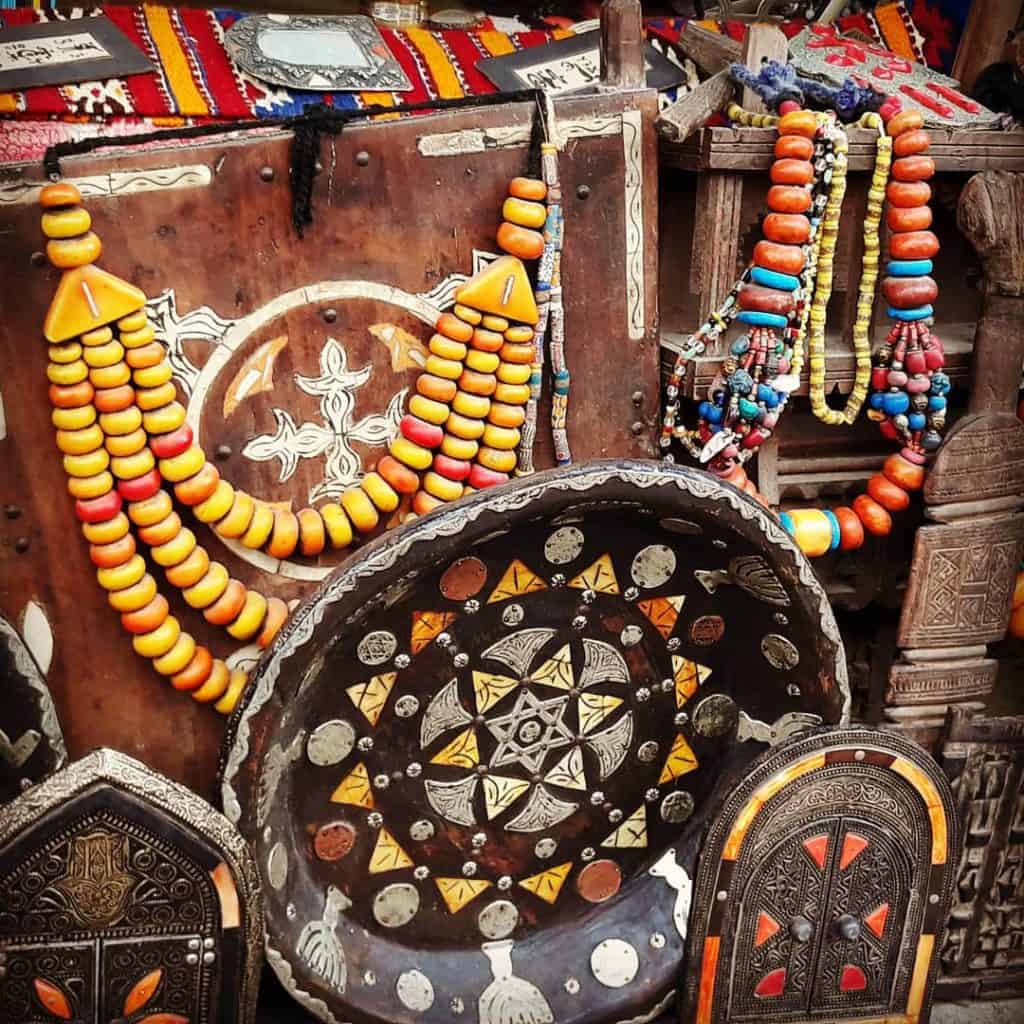 Live drumming and traditional music compete with Michael Jackson tunes as Berber guides wearing ankle-length tunics or "haiks" and "chalwars", their heads wrapped in miles of bold, brilliant turbans, attempt to seduce you with stories of luxury desert camps and camel treks. Be prepared; once they describe the beauty of the stars, you'll have no choice but to plan an excursion. But don't be too hasty. The staff at Palais Blanc can organize everything for you, from transportation to luxury tents to the best places to stop for the best Instagram shots along the way.
This secret, hidden palatial riad is an oasis from the excitement and sexiness of "The Big Square". Once you're finished wandering around the square, you'll be able to relax and escape the madness of the medina and find some serenity. You can shop until late hours of the night, or choose to simply stay within the high walls and secluded, quiet grounds of Palais Blanc for some privacy.
The heated pool (a rare find at Moroccan riads) and the beautiful courtyard are lovely, but it's actually the gorgeous rooms that make this place perfect, not just for Valentine's Day, but for anyone looking for a luxurious place to spend a vacation.
Unlike the vibrant, bold colors and textiles you'll see everywhere in the Medina, Palais Blanc (as its name suggests) is bathed in crisp, clean shades of white, with soft, golden hues in the background.
Your private accommodation is simply described as a "room" on the website, but that doesn't quite sum up the vast living space, or suite of rooms that you'll have booked. You will first enter a veranda where many people would be perfectly content to spend their entire vacation. But check out the rest of your temporary home away from home.
The long, flowing, breezy curtains separate the veranda from the courtyard should you choose to maintain some privacy. But should you want to meet other guests, have a private candlelight dinner at your table, or lounge on the enormous, overstuffed white sofa where you can view the courtyard, you can keep the curtains wide open and enjoy the view.
Feel free to enjoy a glass of Moroccan rose on your little terrace, sample locally grown olives, or taste another local delicacy; lamb tagine simmered for hours and hours. Or, if you prefer, try an Italian dish like spaghetti bolognese while you become entranced by the sounds of birds playing in the orange trees as the call to prayer from the mosque echoes at the end of each day.
Your delight will intensify the moment you entered your room. You'll fall in love with the enormous, upholstered bed, the perfect, crisp linens, and the fluffy pillows. Whether it's Valentine's Day or not, you'll find your bed, and other highlights of the room, covered in rose petals. The rose petals and the welcome snacks and tea are just a few of the many ways the staff is ultra-attentive to the needs of the guests.
In each corner of the room, there are little surprises. Each room has a lovely desk where you can set up a laptop and do some writing, if you're so inclined. But hopefully, you'll be busy with more pleasurable, intimate activities. Each room also has a huge closet with a private safe inside. Rose petals will probably be scattered around the room, and soft, gold lighting from various lamps just add to the seductive ambiance of the space.
Each bed table offers individual light switches and extra plugs so you can use your phone while relaxing in bed. One of the many special details about the rooms is that they include water for guests. But don't simply expect an ugly plastic water bottle.  In these rooms, you'll find vintage-looking, gold water bottle holders.
I have never wanted to steal a hotel robe, but oh, did I wish I could sneak that baby into my bags when I was leaving! I am a "voluptuous" lady. I prefer that word. But it is absolutely impossible for me to find a robe that fits me in Morocco. So it was wonderful to see that my robe not only fit, it was incredibly comfortable and plush and soft, and honestly I just wanted to stay naked my entire time there. Since the rooms are all equipped with personal air conditioning/ heaters, you can easily adjust the temperature, should you, too, want to be naked during your stay as a guest of Palais Blanc.
Whatever you need to feel comfortable, the hospitality is above par here, so of course, there is a telephone to communicate all your needs, whether you prefer room service (at no extra charge), you want to discuss organizing an adventure tour or trek, or you want to schedule a day at Palais Blanc's Hammam and Spa where you will be pampered and spoiled endlessly with traditional scrubs, masks, or massages with Eucalyptus, Neroli, Argan or rose oil.
This magnificent riad is a must for stylish couples with a discerning eye for upscale ambiance and décor.
With its imposing fireplaces and pristine, smooth walls, the rooftop terrace sets the scene for intimate candlelit, whispered conversations.
Whether you're a vegetarian or a meat lover, a breakfast person, or a snacker, you will absolutely love the choices on the menu at Palais Blanc.
At night, cocktails or 'hor dueves by the fire or around the pool before dining on some of the most delicious local Moroccan, French, or Italian dishes. Whether you're hungry for a snack or a delicious meal, there are plenty of options to choose from.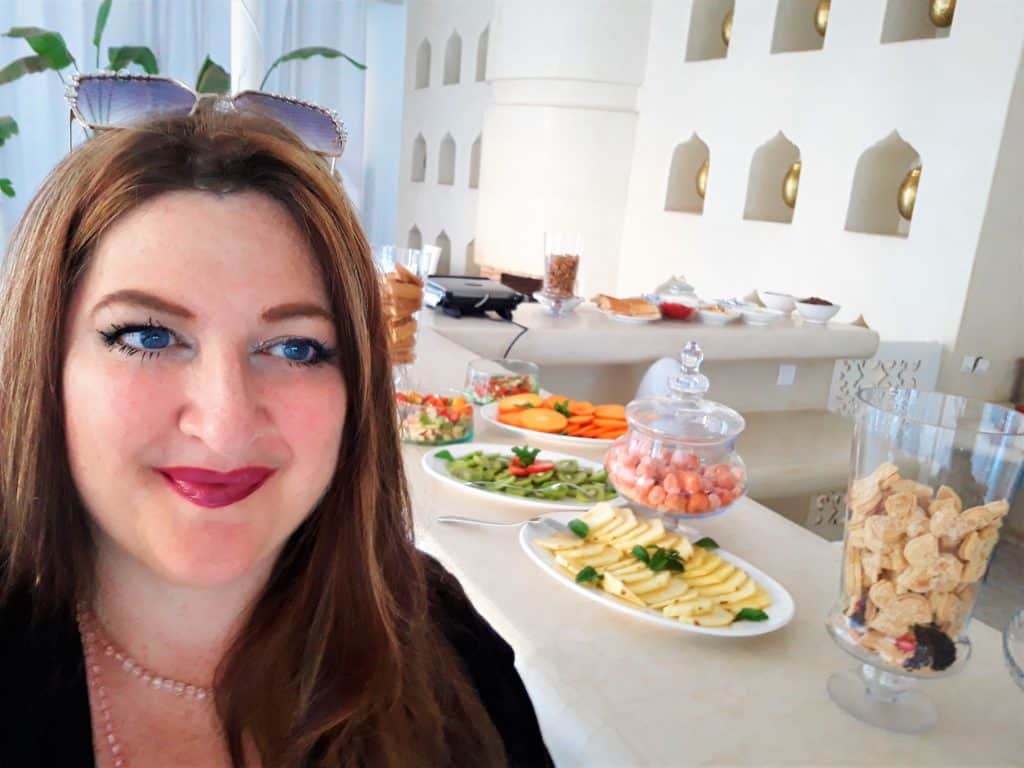 If the decadent rooms aren't enough to convince you, the breakfast buffet surely will. I've been to some pretty amazing breakfast buffet spots, but nothing as sumptuous as the one at Palais Blanc.
The choices are endless; fresh, exotic fruit, cakes, croissants, pastries, eggs any way you like them, and tagines cooked in front of you over the fireplace. Yum, what a tasty feast!
Unlike many family-friendly hotels and riads in Marrakech, this one (although family-friendly) seems to have been designed to inspire romance with amorous couples in mind. Whether you're seeking a relaxing getaway for Valentine's Day, the perfect setting to propose, or you're planning a honeymoon or even a private, lavish wedding, Palais Blanc caters to every need. The staff is eager to make sure your every desire and whim is attended to, from couples' spa days to excursions, and Sahara desert tours under the stars. They can make your dream of an extraordinary vacation unforgettable.
Palais Blanc blends Morocco's rich history with contemporary amenities, but never loses the tradition of offering the best hospitality and service you might expect with 5-star accommodations. The high ceilings, marble columns, huge salons, and luxurious rooms will make you feel like a princess in a dreamy fairy tale, and outside of the rooms, you'll find a meticulously maintained center courtyard with lovely plants and orange trees. This secret sanctuary is your own private paradise, a magical oasis that will seduce you into considering lengthening your stay just a bit longer on your exotic, mysterious adventure. Call now to book your next romantic getaway. Where is the most romantic place you've ever been to for Valentine's Day? Please tell us in the comments below.
BEFORE YOU GO:
☑ Book your flight: 
 My absolute favorite sites for cheap flights are 
Skiplagged
 and 
Kiwi.com
. I also find really great deals on Skyscanner, Google Flights, and Momondo. The reason I've been able to get dirt cheap flights around the world is that I'm flexible, not only with travel dates but also with airlines, baggage, seat choices, etc.
☑ Book your accommodation: 
I always use 
Airbnb
 and 
Booking.com
. If you're on a budget, consider using  
Hostelworld
. If you click on the Airbnb link and you don't have an account yet – you'll get a $30 discount on your first booking.
☑ Protect yourself: 
Yes, I mean condoms, girl. But also, travel insurance. Travel insurance is a must, especially in a post coronavirus pandemic world. 
World Nomads
 and 
SafetyWing
 offer the best rates.
☑  Do you need a visa? 
If you aren't sure if you need a visa, it would be a smart idea to take a quick look before you go. You can use 
iVisa 
– it's super useful and easy to use.
SUPPORT US
Subscribe to the Tribe
If you think Love Lust or Bust is scandalous, you should join our Patraeon tribe. For those of you who really love getting great dating and travel advice but want more, like the juicy, personal stories I don't share here, you can subscribe for as little as $1 a month. Your subscriptions mean I can keep my integrity and not have to fill up ad space here with all the shit people try to get me to post, like ads for Russian brides and female blow-up dolls. Ok, let me be honest, I would consider taking their money, but 1. Google hates that so it's "illegal" and 2. The heffers only offer me between $25-100, and these hookers can afford so much more, so I just quote them "$22,222 per sponsored post. Anyway, for all you guys from Morocco, Egypt, India and all you Nigerian Princes who tell me you love me and want to marry me before you even learn my name, y'all can pay for the $20 a month membership. *If I get enough of you subscribing at that tier, I might even post some of my more scandalous photos. I'll even reply back to you once in a while. **And any Zaddies in the house, yes, I am open to getting free flights. My Paypal is @travelriter.
Subscribe to the Newsletter
I rarely send newsletters. I'll be honest, I'm a lazy f*ck. Alright, that's not really true. Actually, I don't send many emails (yet…I will one day) for the same reason I'm not good at being a "Fatal Attraction" type of stalker. I just do not have the damn time. I prefer focusing on writing content rather than sending emails, but in the future, I intend to make more time, both for emails and stalking men who have ghosted me. For now, I will send the rare email when there's such a damn good deal that I HAVE to let you guys know about it (like one penny flights, seriously)! So subscribe now and I promise; no spam shitty emails. You can also follow us on 
Facebook
 'cause that's where I rant about unsolicited dick pics and shit.
Disclaimer: This post may include affiliate links. If you click one of them, we may receive a small commission at no extra cost to you. It's a great way to show your support. Thank you
!
For the best accommodations, and more tips & tricks when traveling to Morocco, check out these popular articles below:
For more travel tips and tricks, and to learn about the 

world's most romantic destinations

, check out 

Love Lust or Bust

! This article was written by 

April Hope

. To learn more about her and her travels throughout Morocco and around the world, 

click here

.

Disclaimer: This post may include affiliate links. If you click one of them, we may receive a small commission at no extra cost to you. It's a great way to show your support. Thank you

!

If you're looking for the most romantic Valentine's Day getaway, I've found the perfect spot for you. But it's not a typical hotel. More like…a palace. Actually, it's a stunningly beautiful riad called Palais Blanc, and it's tucked away in the most enchanting, exotic Medina in Marrakech. It doesn't get any more romantic than Morocco.