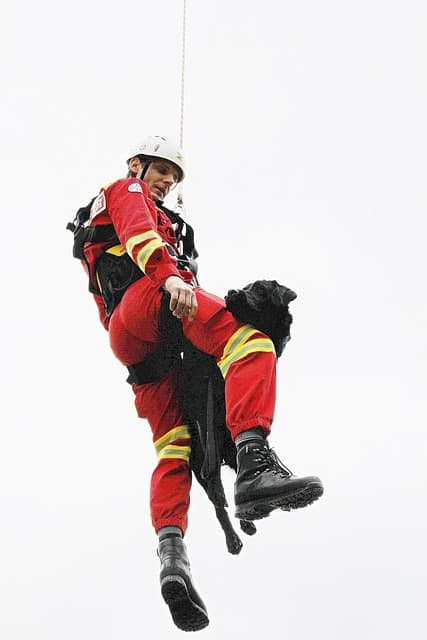 Ok, before you accuse me of clickbait, hear me out. Solo female travel can be risky business. And while the word "sexy" may not be the first thing that comes to mind when you think about travel insurance, I'm on a mission to prove to you why I think it can be incredibly exciting, even sexy, to have it before you embark on your next trip. Preparing for your trip in advance can make or break your trip, and can help to eliminate the majority of pitfalls that could occur.
Now, I know what you're thinking: travel insurance is about as exciting as watching paint dry. But fear not my fellow adventurers – I'm here to spice things up!
Let's start with health treatment and evacuation coverage. You know, just in case you get food poisoning from that cheap cafe your hot new local friend took you to for dinner, or fall off a cliff while trying to get the perfect Instagram shot. This type of coverage will pay for emergency medical treatment and even evacuation if needed. And if you're lucky enough to have a travel companion, they'll get a free ride too!
Next up, we have trip cancellation coverage. This is the superhero sidekick you need when life throws a wrench in your plans. It'll reimburse you for non-refundable trip expenses like flights and hotels, and even cover missed connections. So go ahead, plan that hot weekend getaway with your new online lover who turns out to be a catfish- if something unexpected happens, you're covered!
Now, let's talk about lost or stolen belongings coverage. As a solo female traveler, you'll want to keep your valuables close. But even the most vigilant traveler can fall victim to theft or a pickpocket. That's why this type of coverage can provide you with financial assistance to replace your stolen items. Plus, you'll still have some cash to splurge on a shopping spree for a new wardrobe in Italy.
And last but not least, there's lost document coverage. Losing your passport or other important documents can be a total nightmare, but with this type of coverage, you'll get help replacing them and even get assistance with getting home if needed. And let's be real, even if you've had the most incredible, unexpected holiday romance and you're dying to cancel your flight and extend your trip another week or so, losing your passport can put a real damper on your adventure – but with this coverage, you'll still be able to have a blast and perhaps plan another trip asap.
Travel Insurance Companies for Solo Female Travelers
here are five travel insurance companies that are great for solo female travelers:
World Nomads: This company specializes in travel insurance for adventurers, including solo female travelers. They offer comprehensive coverage that includes emergency medical and evacuation, trip cancellation, and lost or stolen belongings. They also have 24/7 assistance and a helpful online community for travelers.
Allianz Global Assistance: This is a great choice for solo female travelers who are looking for affordable travel insurance. They offer a range of plans with coverage for emergency medical and evacuation, trip cancellation, and lost or stolen belongings. They also have a mobile app that makes it easy to manage your policy on the go.
Travelex Insurance: This company offers a variety of plans with coverage for emergency medical and evacuation, trip cancellation, and lost or stolen belongings. They also offer a 24-hour hotline for assistance with emergencies and a concierge service that can help with everything from travel planning to restaurant recommendations.
Seven Corners: This travel insurance provider offers comprehensive coverage for solo female travelers, including emergency medical and evacuation, trip cancellation, and lost or stolen belongings. They also have a variety of add-ons, such as adventure sports coverage and pre-existing medical condition coverage.
InsureandGo: This company offers a range of travel insurance plans that are perfect for solo female travelers. They offer coverage for emergency medical and evacuation, trip cancellation, and lost or stolen belongings. They also have a 24-hour emergency assistance hotline and a handy online claims system. Plus, their plans are affordable and customizable to suit your specific travel needs.
Okay; still not convinced travel insurance is sexy? Here are 10 reasons why getting travel insurance is exciting and sexy.
10 Sexy Reasons to Get Travel Insurance
It's like having a safety net under your tightrope of adventure – you can take all the risks you want, knowing you've got your back covered (literally).
If you get sick or injured, you'll have a medical team at your beck and call. Think of it like having a personal physician and nurse on speed dial – it's kind of like Grey's Anatomy, but without the drama.
It's a great excuse to show off your savvy financial skills to your hot travel companions. They'll be so impressed with your responsible adulting, they might just propose on the spot.
Travel insurance covers lost or stolen items, which means you can take your most expensive jewelry and electronics with you on your trip. And we all know there's nothing sexier than a woman with her bling on.
With trip cancellation coverage, you can cancel your plans on a whim and get reimbursed. So, if you're not feeling the vibe in your current destination, you can pack your bags and head to a new location in search of better vibes (and maybe even better company).
Travel insurance can cover you in case of a natural disaster or political unrest. And let's be real, nothing gets the heart racing like a little danger and adventure.
If you're planning on doing some extreme sports or activities, travel insurance can cover any injuries or accidents that may occur. Who knows, maybe your insurance will even pay for the hunky EMT to give you mouth-to-mouth resuscitation (a girl can dream, right?).
It's a great way to impress your parents, who will be so proud of your responsible decision-making that they'll start showing your travel photos to all their friends (and their friends' hot, single sons).
With travel insurance, you'll have access to 24/7 assistance, which means you can travel with total peace of mind. And let's face it, confidence is the sexiest accessory of all.
It's a great way to make new friends on your travels. Just imagine striking up a conversation with a cute stranger about your awesome travel insurance coverage. Who knows, they might just offer to buy you a drink (or two, or three).
So there you have it, my adventurous and sexy friends – travel insurance can add a whole new level of excitement and allure to your travels. Travel insurance isn't just about being prepared for the worst – it's about having the freedom to fully enjoy your adventure. With the right coverage, you can dance in the eddies and whirlpools of infinity without a care in the world. So go ahead, pack your bags, and hit the road! Life is eternal, but your adventure doesn't have to be!