I have taken many tours in Morocco, so I can be pretty hard to impress. Also, I strongly prefer a beach vacation any day over visiting the desert, someplace like Essaouira, a popular seaside fishing village where there are plenty of charming, romantic riads.
I have stayed at some of the best luxury hotels, kasbahs, and riads in the country, so it was not easy for Ismael from Gateway to Marrakech to convince me to go on a tour to the Sahara.
But, I have to admit, Ismael's photos on social media and on the website looked incredible, so when a few friends told me they'd never been to Merzouga and wanted to go glamping for the first time, I reluctantly agreed.
As a travel blogger, I owe it to my readers to give an objective review of the tours and accommodations. I tend to be a pretty high maintenance traveler, so I use a formula to help readers know what to expect when they're making travel plans. My special formula for reviews is to highlight "The good, the bad, and the ugly" in every review.
It was extremely difficult to find anything during this trip to complain about other than the sunrise was too damn early. I can't believe I'm saying this, but our 5-day tour ended much too soon, and I fell madly in love with Merzouga.
Below are some of the highlights of the ultimate Sahara Desert luxury tour that made me fall in love with glamping again.
The Ultimate Sahara Desert Luxury Tour
Choosing a Tour Guide
There are budget options, but here is my most important tip for you; avoid Medina touts!
I have heard horror stories from many friends who have booked cheapie group trips with some sleazy guy in the medina in Marrakech or another city, and they never seemed to be happy with their experience. You may have to pay a bit more, but try booking with Ismael from Gateway to Marrakech and you are guaranteed to have an unforgettable trip of a lifetime.
If you're okay with being herded like cows, and finding unexpected extra fees and costs along the way that add up quickly, and staying in a cheap, flimsy tent and having to share a public bathroom and shower with other men and women, you may not mind a group trip. Personally, I don't want to have to run to the toilet in the middle of the night, praying I won't encounter a venomous snake or scorpion in the pitch black night.
Also, solo female travelers have complained about being harrassed nonstop. I don't want to deal with that shit. I was glad to have Ismael around to protect me; not that he needed to. He knows exactly which luxury camps and kasbahs have the most professional staff that will ensure that all guests will be safe.
One of the biggest reasons I also hate budget group tours is because the buses are usually older and pretty crappy, and you're crammed together like sardines in busses made for skinnier Moroccans whose asses are nowhere near as "voluptuous" as mine. Mind you, rarely/ never will the bus have air-conditioning.
Ismael picked me up in a luxury Mercedes van with plenty of room for all of my bags. I love that he has an amazing playlist; from soft, relaxing classics to traditional Moroccan and Arabic singers, but he also asked if I wanted to Bluetooth my own favorites. We left the city just after breakfast so we could enjoy the three hour scenic drive to Tagazhout, close to Agadir to pick up my friends.
The drive between Marrakech and Erg Chebbi can take 9m or10 hours, so bring snacks if you prefer something special, but don't worry, there will be plenty of stops along the way. You'll pass through the aw-inspiring Atlas Mountains, and most likely you'll spend the night along the way.
Getting to The Sahara
There are many ways to get to Merzouga. Some people believe they will save money by taking a public bus or taxi or by renting a car and driving themselves. I strongly recommend that you don't do that. I have been to Merzouga, Ourzazate, Boumalne Dades, and Zagora many times using various forms of transportation, and let me tell you; taking public transportation can be extremely dangerous. Driving yourself in many countries can be a beautiful, relaxed experience. Not so in Morocco.
I once did a live video when I was in a taxi and I seriously prayed that he would not kill us. Taxi and bus drivers that drive like Tazmanian devils are common in Morocco. During the 9 hour trip from Marrakech, your journey will take you through narrow, twisting roads through steep mountains. One second could be life-altering.
You could fly into Ourzazate to save some time, but once there, you still have quite a distance and would need to get ground transportation to Merzouga.
I strongly recommend choosing a reliable, responsible tour company with a guide and driver whose priority and concern is your safety and comfort. A safe driver will navigate the insane roads, allowing you to relax and enjoy the breathtaking views of the gorgeous mountains, valleys, and palmeries.
Tagazhout
I was absolutely thrilled that we were able to spend the night in Tagazout as it's one of my favorite places in Morocco. Normally people do not know anything about this small fishing village, unless they're surfing enthusiasts. Tourists tend to gravitate toward Essaouira or Agadir. But believe me, if you're looking for a charming place to have a romantic seafood dinner overlooking the ocean, you'll fall madly in love with Tagazhout as I have.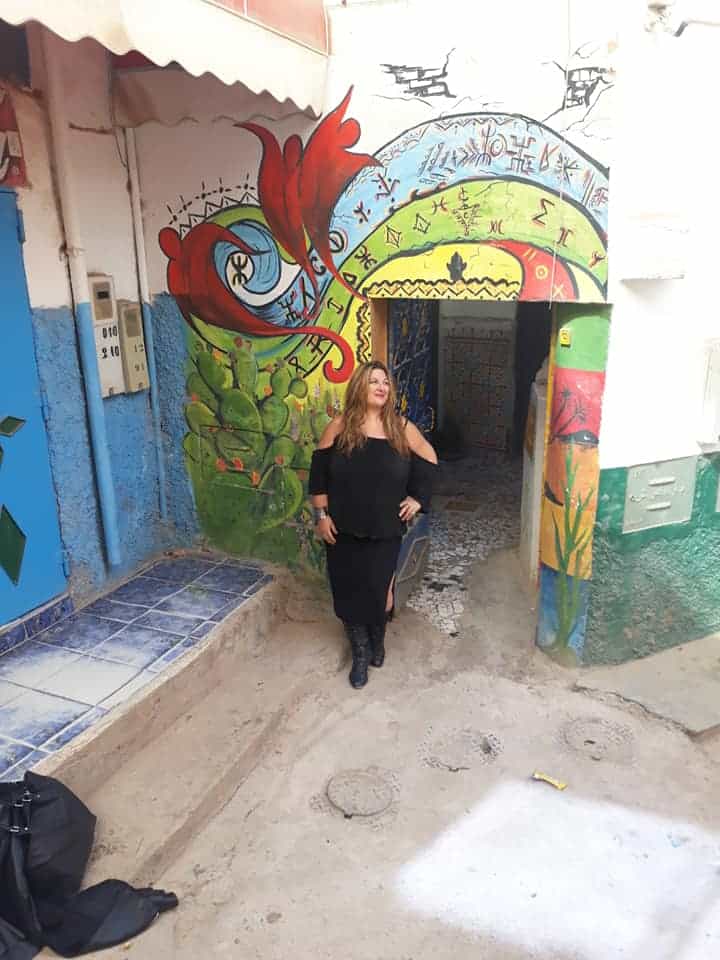 Merzouga is a long way from Marrakech, so we started our journey at the ungodly hour of 6 am. But the vehicle was so comfortable and of course, air conditioned, so the trip was quite enjoyable. Ismael knows exactly where to stop along the way for breaks, selecting places with Western toilets and clean establishments for us to dine at.
Lunches
One of the things that impressed me most about Ismael was that unlike almost every tour guide I know, he did not take us to over priced touristy restaurants along the way. I understand that guides often get commission, and when you're taking a huge group, that can add up. But every place Ismael took us to was extremely affordable, and best of all, the food was actually much better than the more expensive, tourist traps.
Just a note, breakfasts and dinners are usually included with tours, but you're on your own for lunches. Restaurants usually offer tagines, (a slow simmered, Moroccan chicken or beef stew), or grilled chicken or fish, sandwiches or pizza. We were lucky that Ismael knew some great places that had good salads.
Ourzazate
The drive through the High Atlas Mountains took a few hours, but we were able to get some great shots for Instagram. Ouarzazate is the popular town located at the entrance to the desert. Tourists often stop here for site-seeing, shopping, dinner and to spend the evening at a riad or boutique hotel, but we had a surprise in store for us.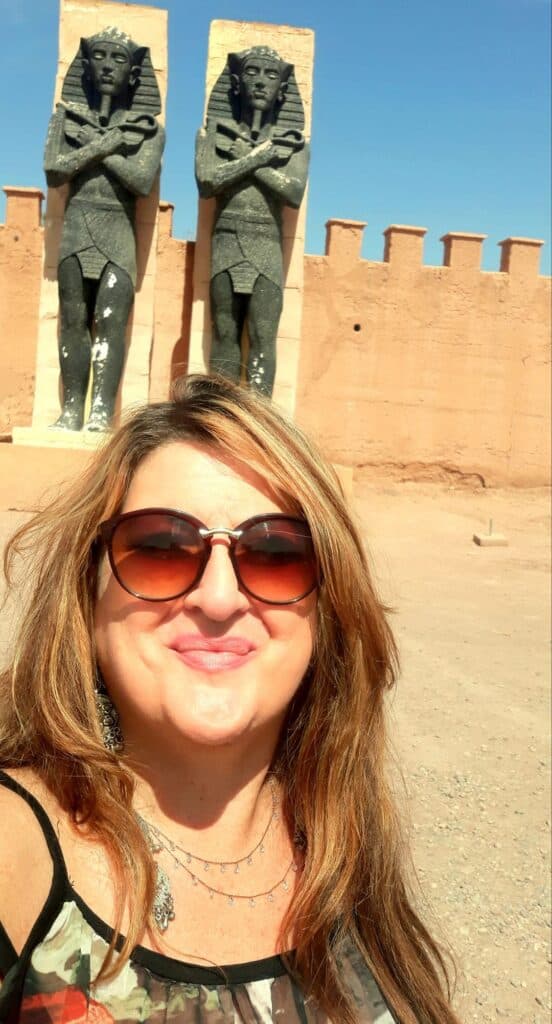 Oscar Studios
First, we stopped at the famous Oscar Studios in Ouarzazate where movies like 'Lawrence of of Arabia','Gladiator', The Mummy, Game of Thrones, Cleopatra, The Passion of the Christ and more were filmed here.
Ait Ben Haddou
Next on the list of attractions was the incredible Ksar of Ait-Ben-Haddou for a quick tour. Aït Benhaddou is an ancient village and was awarded UNESCO World Heritage status because of its well preserved structure featuring Moroccan earthen clay architecture. It's a good idea to get a local guide because they're filled with knowledge about the history of the famous monument and Moroccan history in general.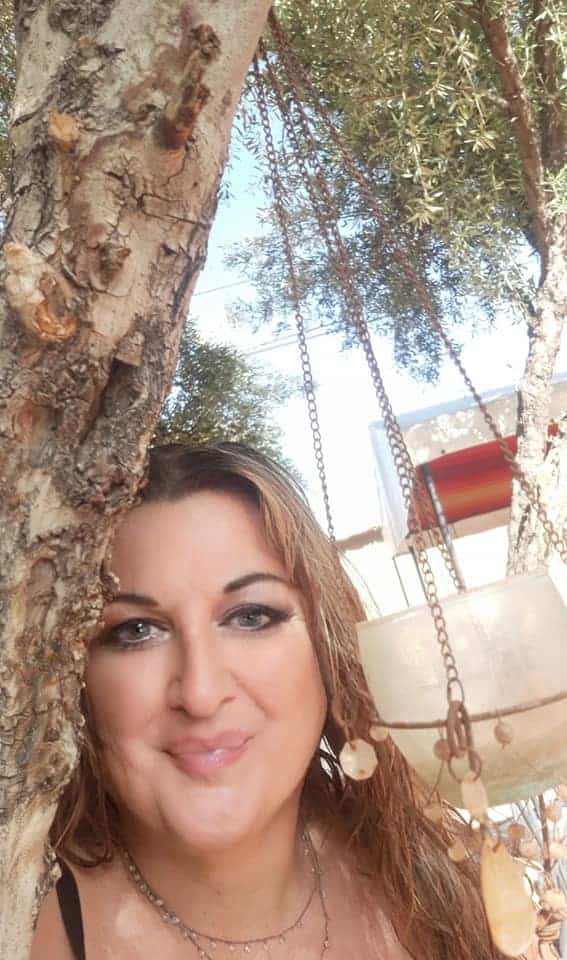 Chez Laila
Ismael had a surprise for us was that he was not bringing us to one of the common riads or hotels in Ourzzate that most tour companies book for their clients.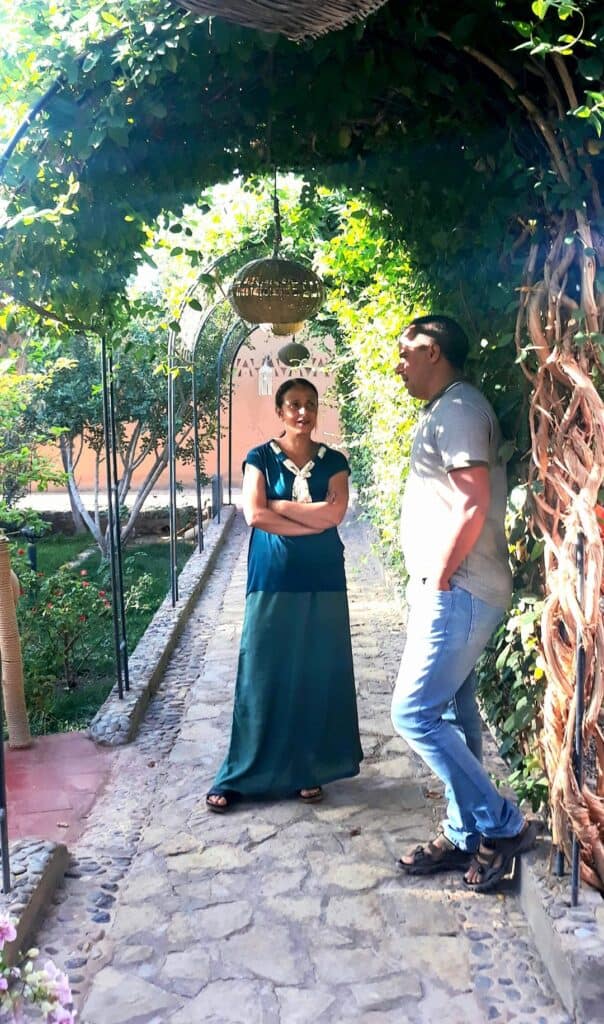 Instead, we continued driving another 40 km to the heart of the Skoura palm grove where we met Laila is the delightful owner of Chez Laila, the family home that she transformed into the most charming, intimate guest house.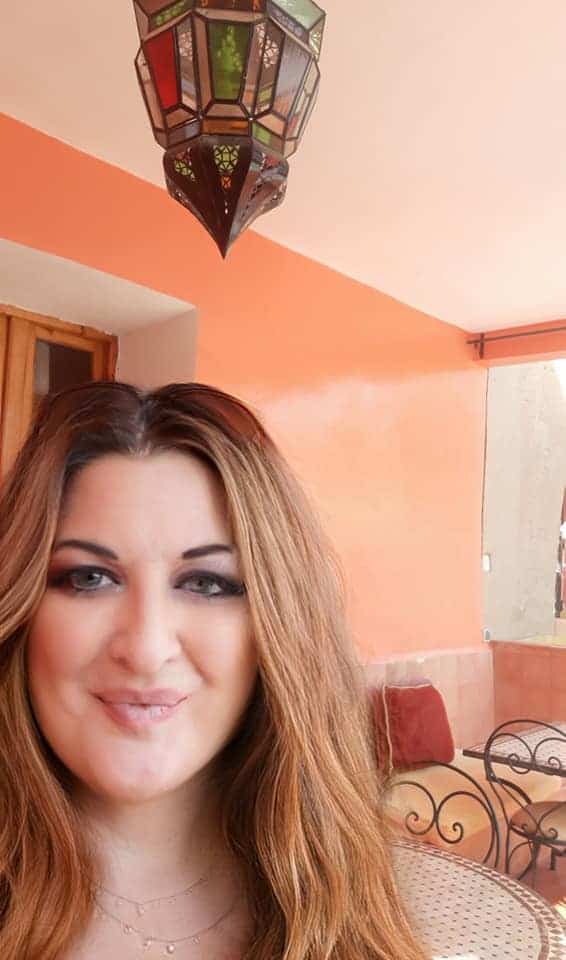 Skoura is a beautiful oasis located in Dades Valley, the Valley of One Thousand Kasbahs.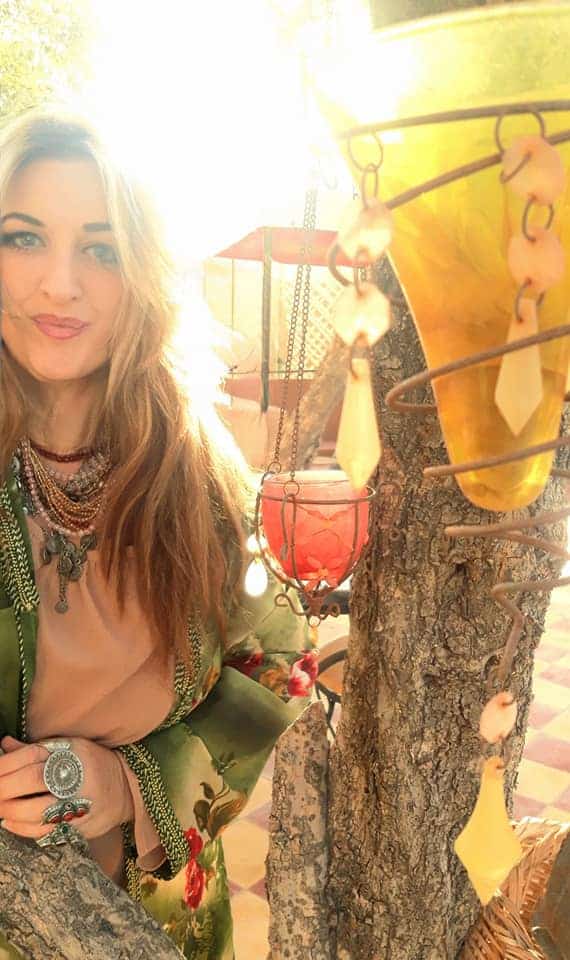 Laila's adobe home is hidden within a gorgeous, fairytale garden, perfect for a romantic getaway, or perhaps even a wedding. The rooms are clean, spacious and filled with vividly colored Moroccan textiles.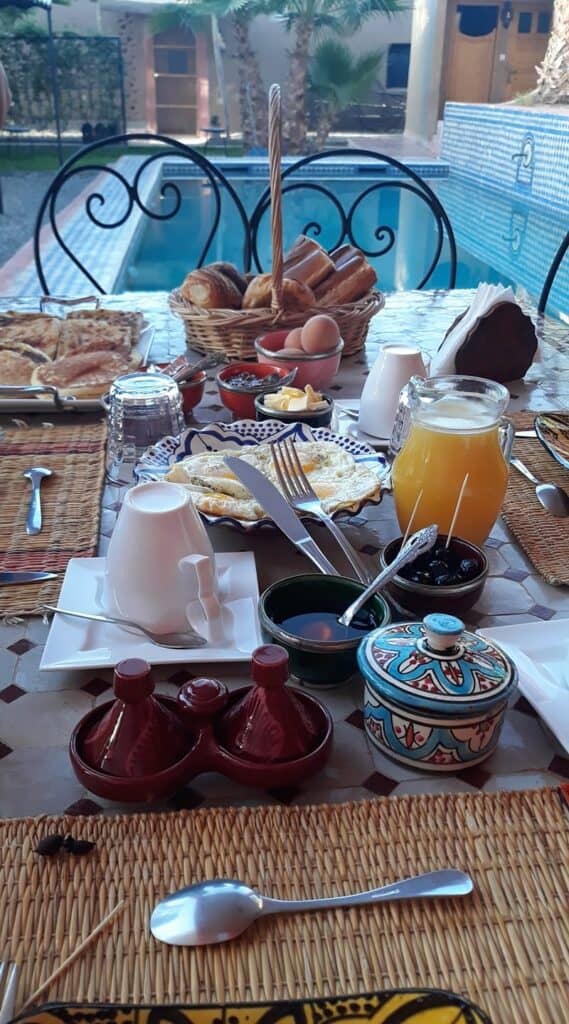 And the food; oh my God, it was unbelievable. Never have a had a salad that was so incredible we thought it was our entire meal, only to find out that our fantastic meal had just begun! The breakfast was just as amazing. The view of the pool and the gardens while we enjoyed our meals made it even more lovely. Our goal was to get to the desert, but none of us was in a hurry to leave!
Todghra Gorges
Todgha Gorges is an immense oasis in the middle of the desert. If you have the opportunity to view the stunning blue river in Todra Valley, you'll fall in love with this beautiful landscape filled with canyons and gorges. About thirty miles from the sublime Dades gorges, the valley is a lovely surprise on your way to the desert. The enormous split between the burnt orange limestone is a gateway for the gushing river to flow through between the limestone entranceway.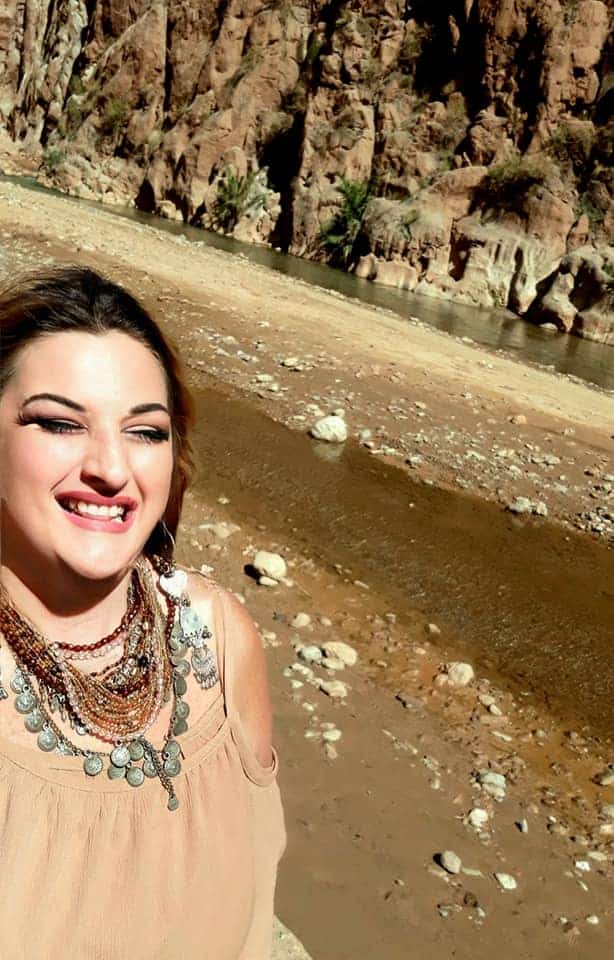 Be sure to stop taking photos for just a moment, and you might be rewarded by sighting any number of rare species of rare birds that soar in this area, including eagles and doves.
The lush palm groves lead you from one Berber village to another, and you'll be thrilled at the scenery, the landscape, and the architecture as you pass on the road of 1,000 kasbahs.
Kelat Mguna
Your tour driver will allow you plenty of stops along the way for food, snacks, and bathroom breaks, but not all will let you shop on the way in Kelat Mguna. Luckily, Ismael gave our group the chance to browse a perfect little shop for rose oil, lotion, soap, and perfume. Kelat Mguna is famous for its annual celebration and parade that surprisingly, very few tourists are aware of. But locals flock here each year for the annual Rose Festival, an event I highly recommend.
Caravanserai Luxury Camp
A seemingly endless wave of golden sand dunes, Merzouga is definitely worth the long drive.
The desert backdrop at Caravanserai Luxury Desert Camp is surreal. The camp is located in the exquisite Erg Chegagga; its mixture of gold, rose, orange, pink and red immediately surrounds you in a warm hug, inviting you to relax and unwind, leaving all of the stress of everyday life behind. The sight of camels ambling along the horizon leading up to the desert edge only adds to the dramatic view.
The Erg Chegagga dunes are the largest and most beautiful in Morocco, stretching for over 24 long and almost 10 miles wide. They're only accessible by 4×4, camel or on foot.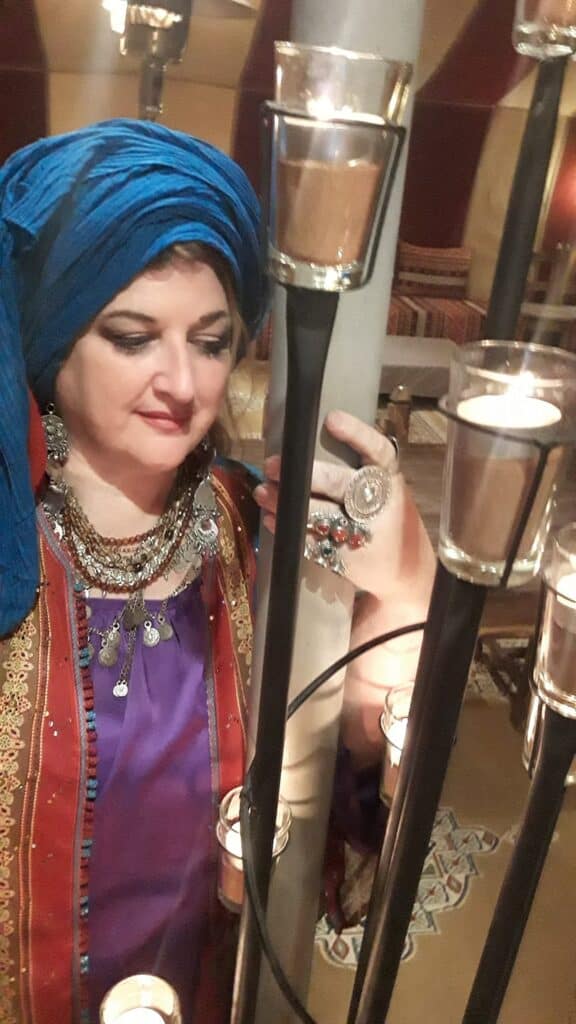 An overnight trip almost always includes a welcome ceremony of cookies and mint tea, followed by a traditional tagine dinner and fruit, served by authentic nomadic people, Berbers who grew up in the dunes and know the desert well.
Our evening at Caravanserai Luxury Desert Camp gave us a true "glamping" Morocco experience. Our private tents were spacious, luxurious rooms, with enormous, super comfortable beds, high-end private bathrooms, and the ultimate level of hospitality.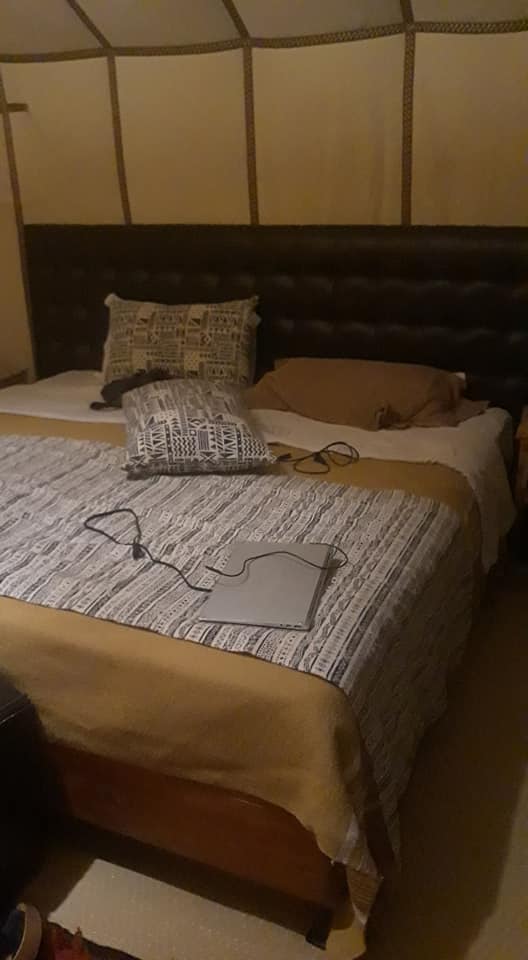 My room had typical 5-star hotel amenities like a shower with hot water and luxurious little toiletries in a gorgeous glass and pewter dispensers, and luxurious Moroccan furniture and decor that had me feeling like a desert princess.
I was disappointed to find that there were no electrical outlets inside of my tent to charge my laptop, but there were USB charging ports for phones. I was able to charge my laptop in the main dining tent, but I wish I had known that when I arrived, as we had to leave soon after breakfast the next morning.
I have to admit, not being able to work on my laptop meant that I was forced to relax and enjoy my surroundings, which was exactly what I needed to feel a profound sense of peace and more in tune with nature and the earth around me.
I never wanted to leave this place.
Whether you stay one or more nights in the desert, you might be surprised at the various types of activities you can do. You can try sandboarding, an ATV or quad ride, a healing sand bath, yoga, or a cooking class where you can learn to make traditional Moroccan dishes like tajine. And of course, you can ride camels at sunrise or sunset. If you like hiking, try hiking the highest dune near you for unforgettable views and badass Instagram shots. Click here for more activities to do in the desert.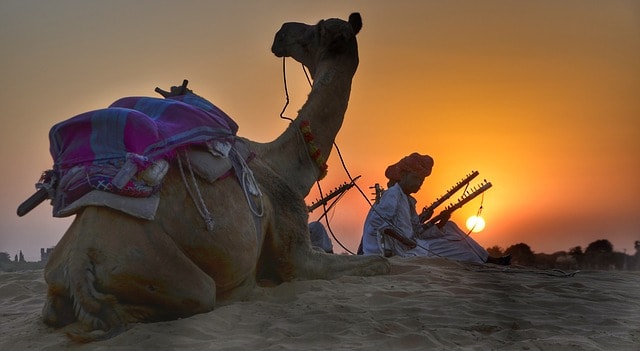 One of the highlights of a luxury desert trip is the sunrises and sunsets. I have gotten some amazing photos around the world, but there's nothing quite as breathtaking as the sunsets in the Sahara. I reluctantly took a camel ride over the dunes to get some shots, only because there was some miscommunication and the driver with the 4 wheel drive vehicle was not at the camp to drive me.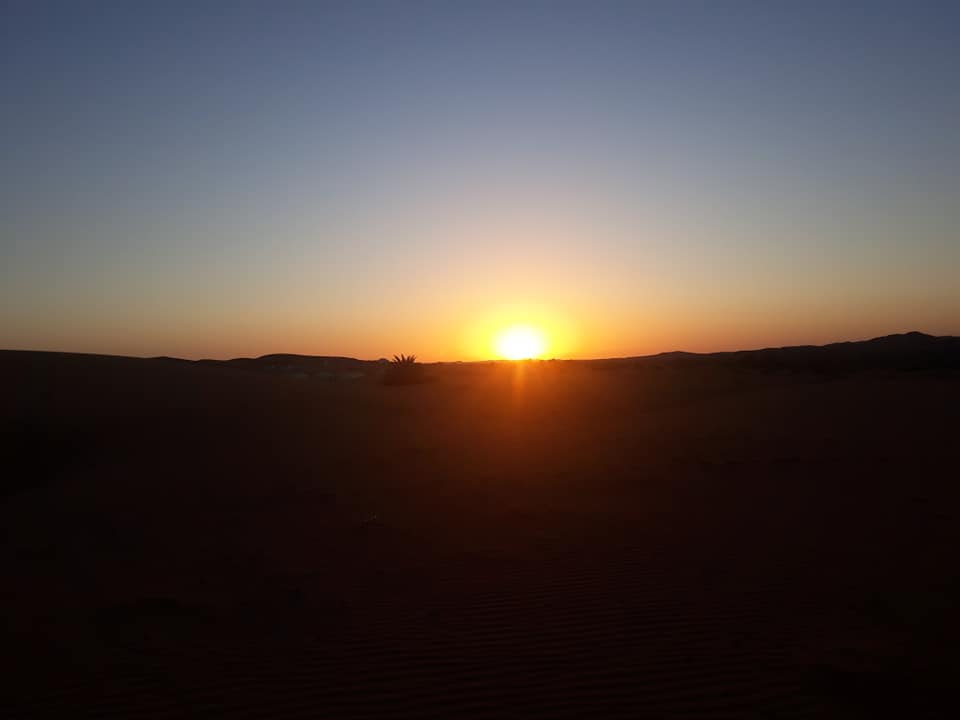 Riding a camel is not the glamorous, smooth ride over the silky sand that people might fantasize about. I've you have back problems or had an accident, or if you're a sexy senior, you might struggle if you're on a camel trek that lasts for an hour or so and might consider requesting the 4 wheel drive. I grudgingly had to admit that the short ride I took was definitely worth it, and I laughed my ass off trying to get some cool shots of my kissing my "new bae".
The evening was what made this experience one I will never forget. The camp had been closed for 7 months due to the corona pandemic and we were the first tourists there. Because of this, the camp only had a skeleton crew but they were even more attentive and treated us like VIP guests.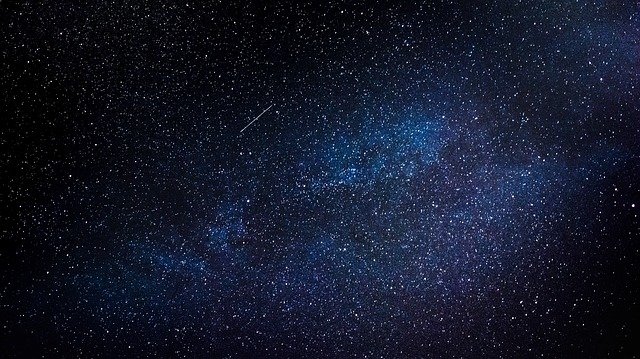 Later, the same men who had prepared our meals, and set us up at the camp sat around a campfire and played drums, singing and chanting for us as we danced under the stars in the powdery sand. The sky was filled with so many stars that we were sure we spotted the Milky Way, clearly visible because of the lack of light pollution.
It's important to note that while amazing dinners and breakfasts are usually included in tours, lunches and snacks are not, and very rarely will you find alcohol for sale at camps, so you might want to bring your own.
If you're planning a trip to the desert, check out this article with plenty of tips and things I wish I knew before my first desert trip.
Kasbah Hotel Timbouctou
Our second night in the desert was spent at Kasbah Hotel Timboctou just on the edge of the dunes of Erg Chebbi, a 10-minute drive from the property.
Kasbah Hotel Tombouctou is a stunning Moroccan castle made from childhood fairytale fantasies. The majestic mock citadel hotel is considered one of the most luxurious, prestigious accommodations in the Erg Chebi Desert. This luxury hotel is situated at the foot of the dunes of the Erg Chebi.
Timbouctou is exquisitely constructed in a palatial manner, and every one of the 72 rooms is designed with natural materials taken from the region. The colors are muted, soft, and beautiful, adding to the allure. The walls resemble a smooth marble but are actually covered with "tadalaket" a typical Moroccan lime plaster coating.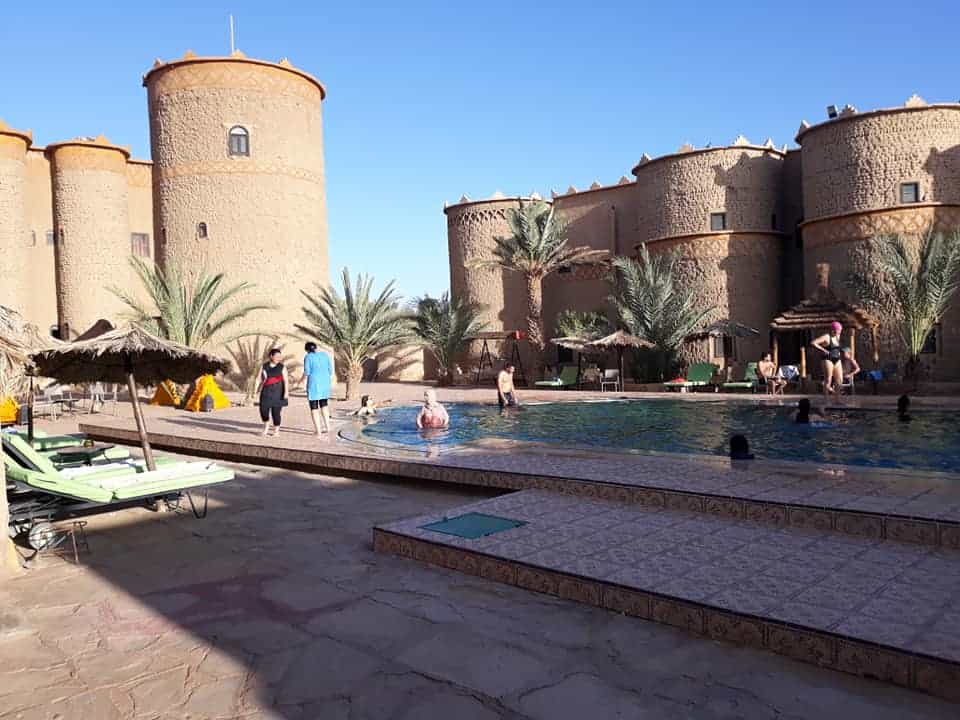 Everything is handcrafted and each part of the compound, including the rooms, the public areas, the pool, gardens, the spa/hammam, and restaurant have been carefully planned and designed with elegant touches and details.
Each room has a minibar, air-conditioning, gorgeous showers with hot running water, Wifi, and a telephone. Some have Plasma tv's and jacuzzis, and a view of the dunes. En suite bathrooms also offer plush terry bathrobes, bath towels, and bath sheets. I was thrilled to find that the oversized robe actually fit me.
The kasbah's spacious air-conditioned dining room can accommodate 200 diners. Moroccan and international cuisine is offered.
The restaurant also provides guests with their choice of a continental breakfast, buffet breakfast or American breakfast.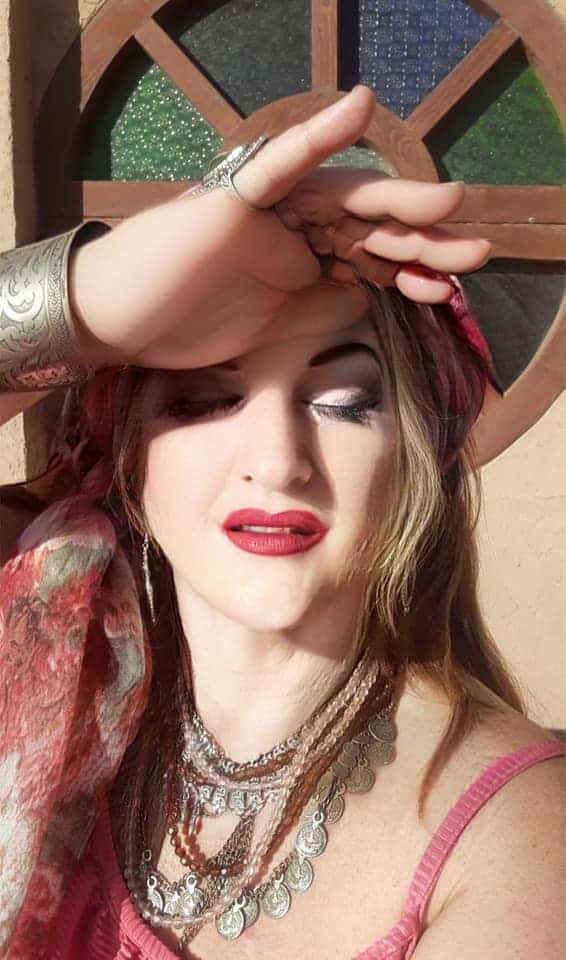 The spa & hammam is absolutely exquisite and offers guests the use of a Turkish steam room, sauna, massage rooms, beauty treatments, full-body scrubs and masks, and other treatments. For guests who do not have a private jacuzzi in their room, there is one available in the spa.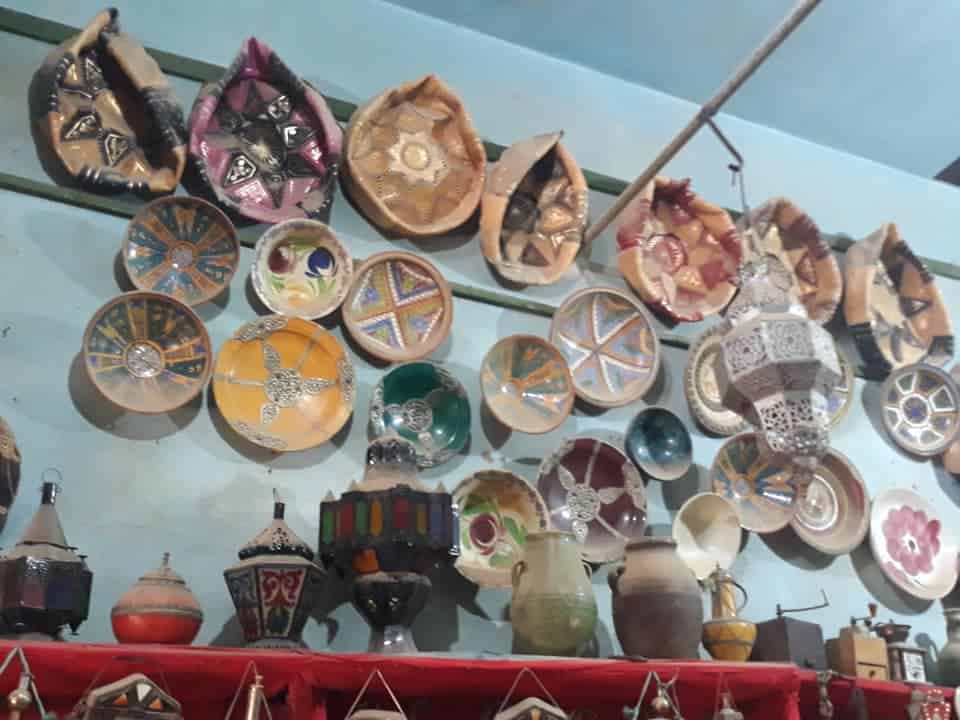 There is also a shop where you can choose from various art and crafts and hand-made Moroccan items including scarves, shoes, jewelry, and antiques.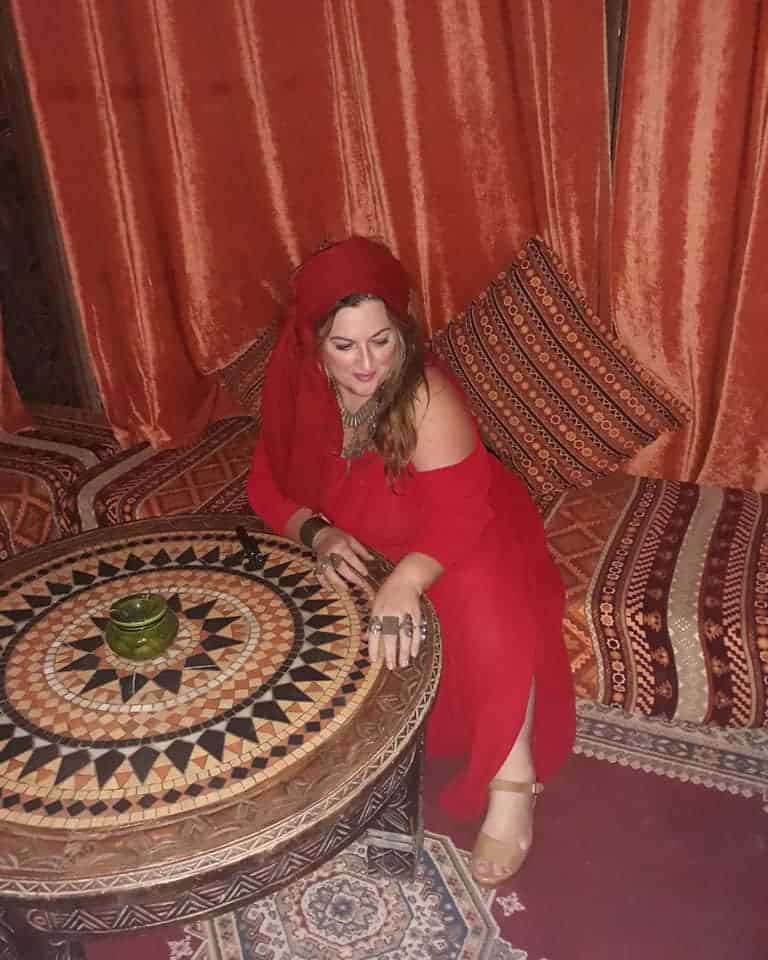 My favorite part of the hotel was not the time I spent at the stunning pool, or the spa, although I absolutely loved my spa treatment (click here to read my review of the exquisite evening I sent at the hammam being pampered)! The most memorable part of my evening here was spent in the bar/ lounge area where local musicians sat in front of the fireplaces playing Gnawa music as guests danced.
Khamlia
I assumed that our time at the luxury camp would be the highlight of the trip. But Ismael had a few other surprises in store for us.
Khamlia is a village just south of Merzouga. For more than a century, Moroccan Berbers, Bedouin Arabs, and various tribes of sub-Saharan origin collectively called Gnaoua or Gnawa, including Bambaras, are residents of this village.
Khamlia is located in the southeastern part of Morocco, less than 5 miles south of Merzouga in the province of Errachida. The town is located at the foot of the Erg Chebbi dunes at the entrance of the Sahara desert. The music of the town's residents has been passed down from their ancestors, preserved from their original homeland, and still played in a traditional manner.
Gnawa music played in Khamlia is a unique form of music that intertwines lyrics from Arabic and Berber languages, as well as the Bambara dialect.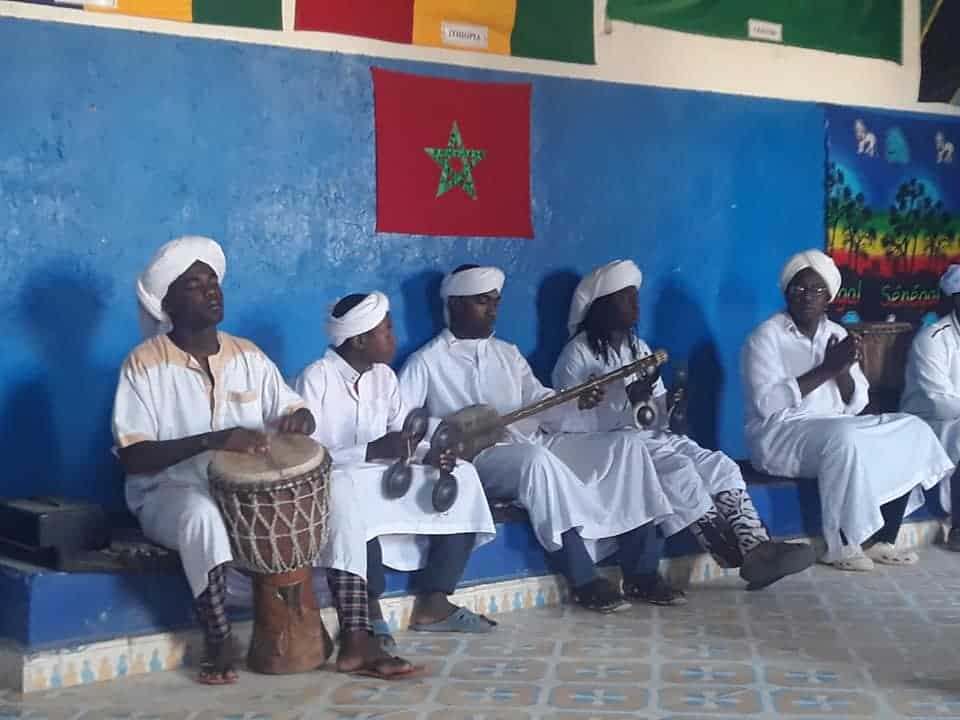 Groupe des Bambaras was started by Hamad Mahjoubi, and visitors are invited to come to listen, watch, and dance to the hypnotic rhythms of Gnawa music by the group in Dar Gnawa Khamlia, a performance venue in Khamlia.
Tour guides and employees from nearby camps and hotels can organize visits in advance, but visitors can stop by to enjoy listening to an impromptu performance. Dar Gnawa Khamlia also offers workshops in drumming and other musical instruments, as well as cooking and weaving classes.
This magical space combines the ethnic, artistic, and historical mix of the South East region of Morocco, deeply rooted in its plural Africanity. The walls of Dar Gnawa Khamlia are decorated with vibrant African colors, musical instruments, and antiques, giving off a partial museum feel while at the same time, as if you're relaxing in the large living room of a friend's home.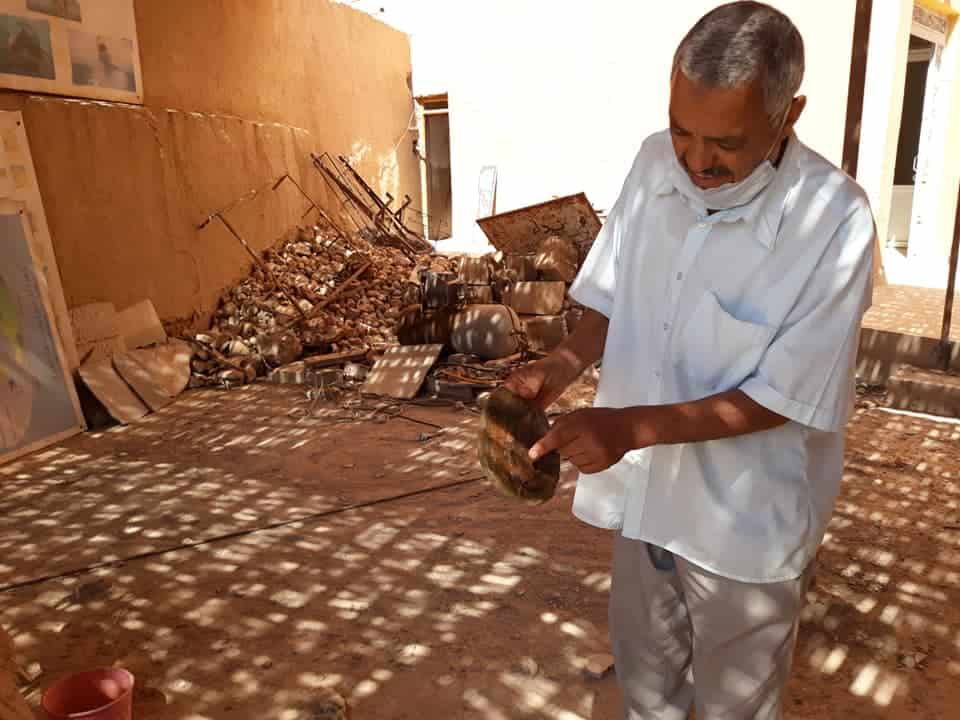 The Fossil Factory
The Fossil Marble Factory was another unexpected surprise, delighting us with a tour and a bit of history about the fossils and sculptures available for us to purchase.
This family business specializes in artisan Sculptures and fossilized stones and is located in Rissani. They offer natural fossils, Ammonites, Orthoceras, Goniatites, and other stones that come polished or in their natural, rough form. You can purchase gorgeous fountains, sinks, dishware, and jewelry made from fossils and crystals.
Hotel Xaluca Dades
I dreamed of staying at Hotel Xaluca Dades long before my luxury desert tour with Ismael.
A few years ago, I lived in Boumalne Dades for a few months. This small village along the route to Merzouga was a quiet, boring place that I needed a few years ago in order to heal and reflect and to be far from the chaos and drama of the big cities like NY and Marrakech that often had me filled with stress.
Boumalne Dades was much too quiet for me to have lived there permanently. It is a simple, peaceful place, and it was perfect temporarily, but although I have a love/ hate relationship with big cities, I do need to eventually be around the cosmopolitan, bourgie hot spots like fancy cafes and elegant restaurants.
Xaluca gave that to me.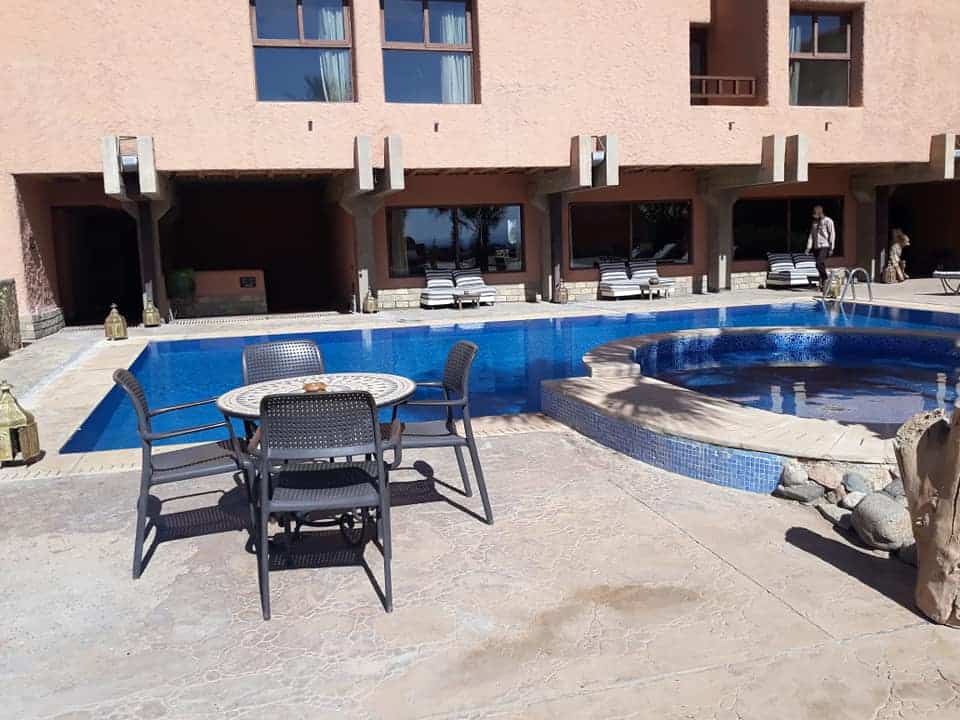 Every time I visited Xaluca I fell in love with it all over again. Oh, how I loved going there, even if it was only to go to the bar where I would sip my tea or coffee, and enjoy being around the exotic African architecture and decor and admire the artwork. Xalucas bohemian, sexy chic vibe was just what I needed when I was missing Marrakech.
When I found out we were going to stop overnight in Boumalne Dades and that I would finally be a guest at Xaluca, I was absolutely thrilled.
Each luxurious room is equipped with air conditioning and has an en suite bathroom, free Wi-Fi, and a minibar. The decor of the rooms, the bar, and especially the restaurant at Xaluca make this hotel one of my favorite places to stay in all of Morocco.
But one of the most appealing things about Xaluca (besides the incredible pool area) is the spectacular view of the valley below in Boumalne Dades.
Since Xaluca is located on the top of the highest peak in the village, you can see for miles, and the sunset here is almost as amazing as in Merzouga.
Why Choose Gateway to Marrakech?
I could write a book on the magnificent tour that Ismael organized for us, sharing the beauty of the landscape, the luxurious accommodations, or the fun that we had on each leg of our journey. And although there are many luxury tour guides and companies to choose from, there was one moment during our trip that had me breathless, and proved to me instantly that I had made the right decision in choosing Ismael as the perfect person to organize our tour.
During the entire trip, Ismael was professional, respectful, knowledgable and on time every day. He was always there when we needed anything, but gave us our space as well. He exhibited all of the qualities you should look for when choosing a guide.
But there is something else you might not know about him by just checking out his website or even his reviews. Something that hands down made him my number one recommendation for anyone eager to visit the desert.
On the way to Merzouga, we stopped in Ourzazate to have lunch. This is common with most tour companies who choose this popular town, partly because they get commission from some of the restaurants for bringing their guests there.
Ismael chose a smaller restaurant that was filled with locals. It wasn't fancy, but the food was amazing, and the prices were damn cheap. I was impressed that each of the days we were under his care, he did the same thing; bypassed the overpriced, touristy spots in order to share with us incredibly inexpensive local cafes where the food was divine.
I knew he was not making even a tiny commission, and after 7 months of the lockdown with not one tourist, I knew he had already given my fellows on the tour a dramatic discount and would not profit from this trip. I knew that he and his family had suffered immensely because of Covid-19 and the abrupt halt to the tourism industry.
But what Ismael did next floored me and brought me to tears.
As my friends and I enjoyed our delicious lunch at the outdoor cafe, I saw Ismael call our waiter over and whispered something to him. A few minutes later, the waiter brought an enormous plate of food. The couple sitting at my table were facing my direction and had no idea what was happening behind them.
Ismael took the food to a group of poor women who had been quietly sitting on the ground nearby. I had been focused on the others at my table, deep in a delightful debate, and Ismael did not know that I had seen what he'd done.
I questioned him later, in private, and he admitted that he had been supporting several poor families in his village food and supplies during the pandemic. He, too had no income since tourism had ceased, but he and his family used their savings not only to survive, but shared what little they had with others.
I insisted that Ismael mention the fact that he gives a good portion of the money he earns from tours to the families, pointing out that clients would especially love to book tours with him if they were aware that a percentage of their money would be used for charity, but he brushed aside my advice, saying that it was simply his duty as a Muslim.
A few people who had passed the women had thrown them a coin or two. Instead, Ismael had given them a huge platter of food, plenty for all of them. This, after he had not had an income for 7 months, and would not make any profit from this trip.
I watched as he leaned over to speak with the strangers for a few minutes. Many people give to homeless people or to charity. But there was something about this interaction that was different. Ismael looked into the women's eyes as they spoke. There was no pity or sympathy, and it was not simply kindness I saw. Ismael genuinely cared for them, treating them with respect.
I fought back tears as I watched Ismael smile and wave goodbye to the women.

For the best accommodations, and more tips & tricks when traveling to Morocco, check out these popular articles below:
For more travel tips and tricks, and to learn about the world's most romantic destinations, check out Love Lust or Bust!
This article was written by April Hope.
To learn more about her and her travels throughout Morocco and around the world, click here.