International Women's Day had me thinking about all of the women who have inspired me in my life, particularly the women who ignited the passion in me to travel. Below are just a few of the women I wanted to give a shout out to.
Lorraine
Of course, I need to start with my mother, Lorraine. For most of my life, my mother was a single parent struggling to make ends meet. She had very little money, but somehow she managed. Often she would surprise us with unexpected road trips, and one time she covered a pickup truck in hay and took my entire class trick or treating, so we had plenty of fun and adventure growing up. But the most amazing thing she ever did for my siblings and I was to charter a plane. It was a small plan with only a few seats, just enough for enough for my family, but I was thrilled.
I had no idea how difficult it was for my mother to save up $100 for the tiny plane's charter fee, or that she was terrified of flying and after that first flight avoided flying for another 30 years. But after years of watching old classic films like Casablanca and The African Queen and other movies where people explored exotic faraway places, my dream of flying in a plane finally happened. That experience fueled my desire to fly again and again, to as many different countries as possible.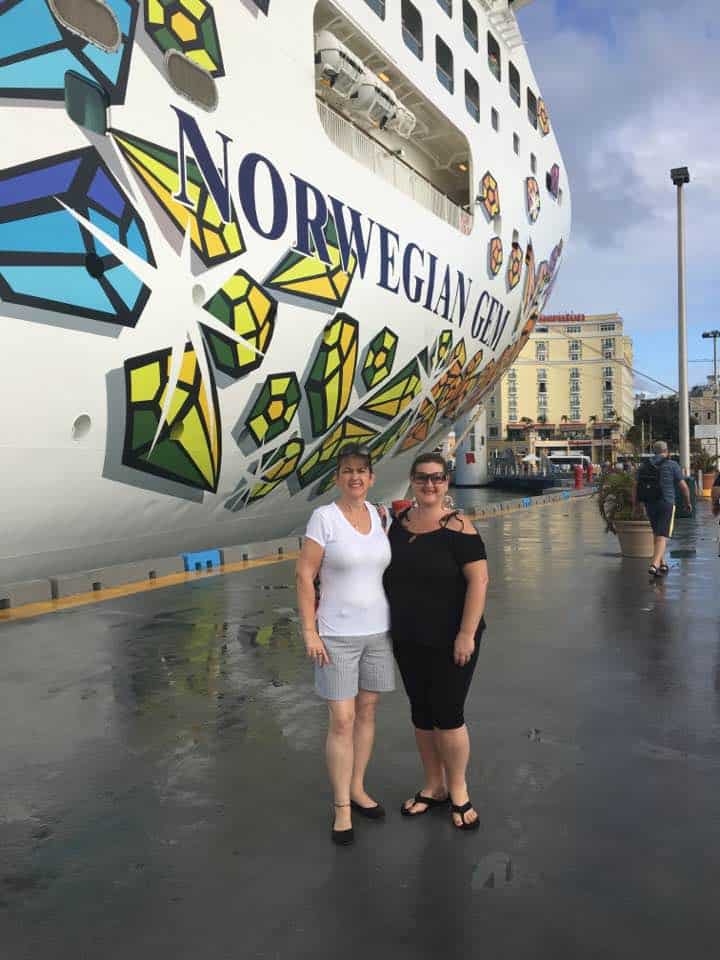 Elizabeth
My sister Elizabeth is also my hero. After marrying a man from Mexico and learning about the hardships and struggle that his family had endured, she flew to his country and brought his two children from a previous relationship back home and raised them as her own sons. She treated them exactly like the five other children she had given birth to.
My sister made sure they got a good education, and that they felt safe and well taken care of, and that they felt loved. Today, even though she's divorced and the boys are adults, they're family.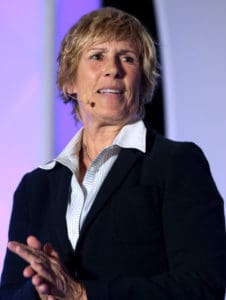 Photo credit:  Gage Skidmore, CC BY-SA 3.0, https://commons.wikimedia.org/w/index.php?curid=51893546
Diana
Diana Nyad failed at achieving her dream of traveling from Havana, Cuba to Key West, Florida. She failed five times in over 35 years.
It isn't very far; just 110 miles away, so why is she my hero?
Because she wasn't trying to fly or to take a boat. She decided to swim, without a shark cage, through shark and jelly infested water, day and night, and in 2013 at age 64, she finally succeeded. I f*ing LOVE this woman.
Brigitte
Brigitte Wyss is a woman I met on a train from Surat Thani on my way to Bangkok. She had the bottom bunk, and my bed was on the top. We sat for awhile talking while waiting for the conductor to finally come and unlock and open the beds for us. I tried listening to her as we got to know each other, but my focus was on trying to convince one of the conductors to let me upgrade to a bottom bunk. I was willing to pay (a lot) to score a bottom bed, but they were sold out. I knew that when I bought my ticket but was hoping that maybe someone would not show up, or that perhaps I could bribe somebody. Because of my food addiction and dramatic weight gain, combined with fibromyalgia, I was struggling with severe pain which made it extremely difficult for me to walk or even stand, so climbing up a flimsy ladder to a top bunk seemed impossible. I felt like crying, feeling sorry for myself, and wondered if I was going to have to sleep on a floor somewhere if I could find space.
But two things happened on that trip that changed everything for me
First, I walked through the cars all the way to the end where the dining car was, even though I'd bought plenty of food and snacks before the trip. I passed through the first and second class cars, but before I reached the dining car I had to pass through the third class section. What I saw cut me in my heart and immediately I felt ashamed. The people in this car had no air conditioning, and although the windows were all open, the air was hot and humid and muggy. Babies and their mothers were lying on cardboard, some on top of scarves or shirts as makeshift beds, and children were eating chips for dinner. The scene reminded me of people I'd seen suffering in the slums of India. How must I have looked begging and pleading with various conductors because I wasn't comfortable with my soft, comfortable bed in my clean, fancy upper-class car?
No one from third-class was seated with the wealthy tourists dining on overpriced meals in the last car. I took a few bites but felt sick as I thought about my sense of entitlement and my almost demanding attitude as I'd insisted that surely, there must be another bed for me. I hung my head in shame and walked back to my upper bunk, past the families that had so little but were quietly sitting or lying there as we continued our long journey to Bankok.
When I got back, the bunks were still not open yet, so I sat with Brigitte, and listened this time. Earlier she had told me her age, but I'd already forgotten what she'd said. I'm pretty sure she'd said she was a widow in her 70's, but she looked much younger. Perhaps it was because she was on her way to meet her boyfriend in Cambodia, or because she had recently spent a few months volunteering in Asia, but she looked amazing. She looked happy, and healthy and much more fit and in shape than me, and as I listened I found out why.
Briggite had just traveled for 900 kilometers on a bicycle throughout Cambodia. By herself. With not just one enormous (bigger than her) backpack, but with two. I stared at the giant bags, and then at this petite, tiny, slender mature woman, and couldn't imagine how in the world she could have accomplished this. Not only did it seem physically impossible, (and for me, even if I had no bags, I doubt I would have been able to pedal for even 9 kilometers) but she did it through the heat and the rain, in a country she'd never been to before, without knowing the language, through villages where no one spoke English.
And I was complaining because I was too overweight to walk comfortably due to my gluttony.
I don't remember all of the facts correctly. When I'm into my food addiction everything is foggy. And I have absolutely no idea how many miles 900 kilometers is, but I'm guessing it's pretty damn far. But I will never forget meeting this woman.
When I got back to NY I immediately got back into FA, (Food Addicts in Recovery Anonymous) got a sponsor, went to the meetings, and started on a healthy food plan. The weight is coming off rapidly and I'm now able to walk almost completely pain-free.
Carol
Carol Cain is one of the bloggers who has inspired me the most. She's a mom, a photographer, a blogger, and traveler. She's funny as hell, and you'll see that immediately if you check out her site Girl Gone Travel. But the first time I heard her speak at a blogging event years ago, it wasn't her humor or jokes about being a Latina who loves food that made me fall in love with her, but a story she told about climbing a mountain as an overweight, mature mom.
Many travel bloggers have become famous by posting hot bikini pics on Instagram, their blond hair and perfect bodies attracting thousands of followers. Carol's story was different. She was honest and raw and vulnerable as she told how impossible it seemed for her to get to the top of that damn mountain. Her story was partly filled with hilarious accounts of what she was thinking, and partly about how painful it was that she didn't think she would be able to make it.
But she did.
She made it to the top and shared her experience as an "other". She said that no matter who you are or what your story is, you are unique, and as long as you are passionate about what you do and have an intense desire to share it with others, you can be successful.
I went into that conference feeling less than, filled with insecurity and not having a helluva' lot of confidence in my ability to become a travel blogger. But after hearing her speak, I knew that I could do it. Climb a mountain, yeah, probably not. But I can write about my journey in a unique way and share that with others.
Kate
Adventurous Kate is one of those gorgeous blond bloggers who looks stunning in a bikini (although you won't find any like that on her Instagram account). And, she was brave enough to share how she got in shape with a lot of hard work, eating healthy and going to the gym every day. And yes, her story has inspired me, but that's not why she's my hero.
Kate doesn't give a damn about losing readers by writing about her opinion about injustice.
Many bloggers shy away from politics and say they think travel blogging should be about travel. Kate's response;
"Frankly, that's bullshit. Are you breathing air in your lungs? Do you earn money and exchange it for goods and services? Do you cross borders and enter other nations? If so, your very existence is political. I urge you to strike I'm not a political person from your vocabulary and replace it with one of the following options:
I don't care about people who aren't as privileged as me.
I do care about other people, but I'm afraid I'll lose followers if I write about politics."
Check out her post which delves deeper into this hot topic where she challenges bloggers to think critically and research in order to be able to examine whether that free trip to North Korea is worth it.
I think one of the most dramatic posts I read by Kate was where she called out TBEX, a huge, popular conference within the travel blogging industry for their decision to host one of their conferences in Zimbabwe. Her article caused quite a stir and sparked plenty of controversy but it made people think. In another post, she talked about meeting a blogger on a press trip who made openly racist remarks.
Over the last few years, Kate has written openly about her thoughts on Trump (let's just say she didn't vote for him), racist and misogynist language in blogging, the Women's March, etcetera. She isn't afraid to be open and honest despite the fact that it might anger many people. She stands up for what's right, and she admits that the travel blogging field is filled with unfairness and white (mostly male) privilege.
Around the time Kate was writing more and more about political issues, I had been planning a trip to Thailand. With a very small budget, I figured I could only afford to pick one place for a short trip, and I had my heart set on going to the annual Full-Moon party in Koh Phangan.
Since I write about romance, dating, sex and love, and travel, I chose this perfect spot because I knew I could get wild, sexy photos of hot singles partying all night on the beach. I'm not normally a peeping Tom type of voyeur (at least, I don't admit it, but I've been known to ask for binoculars for Christmas), but this would be a helluva' lot cheaper than a photo shoot for some great pics for my blog. But after reading some of Kate's posts, I canceled my trip.
I would eventually get to Thailand, but not for the full moon party, and not for New Year's Eve for THE party of the century. Instead, after hearing about a group called Team Action Amed, I headed to Bali to volunteer.
Michele
I arrived in Amed, a small fishing village way to close to Mt. Agung for comfort, and realized that the team that was helping evacuees who were staying in unofficial camps after the volcano erupted in November consisted of one woman, an ex-pat from Australia.
Michele had a few volunteers come and go, but in spite of her personal, financial, and health challenges, she had taken a leave of absence from her job, had left her lovely home in a more posh part of Bali in the touristy area far from the danger zone, and moved into a tiny house in a rice patty in order to help the locals who were about to lose everything. Day and night she worked tirelessly to raise money and get donations of food, medical supplies, clothing, and funds to help the families who were desperate and struggling to survive. Most were farmers, and although the tourism industry had almost completely halted due to the eruption in November, scientists were predicting that the next, much more devastating eruption was inevitable and would happen any day, and they were surely going to lose their homes, livestock, and farms. Not only would they lose the only homes they'd ever known, but they were not allowed to work on their farms since they were located at the base and all around the mountain, so although the "big" eruption hadn't happened yet, they had basically already lost everything.
There wasn't much I could do to help. I sorted clothes and waited for deliveries of donations, but I had very little money, and my flight out was just a few weeks later. I saw others come to help, some for just one day, and a few who were loyal and committed and worked tirelessly. But it was by watching Michele and seeing how she had put her life on hold in order to work from early morning to late each night, neglecting her own health until friends forced her to go to the hospital, that I had to stop and examine my own life. Michele is one of the nicest, most incredible women I've ever met.  She's one of those rare travelers who doesn't just go to a country to take, take, take; she sincerely cares about the local people. She respects and loves them, and will do anything she can to help in whatever way possible.
On the first day, Mike, one of the volunteers who worked with Michele, took me to a program that Team Action Amed helps to organize food shares to be delivered weekly to the camps. When I saw the amount of food that was going to one of the camps, I was devastated. I could eat that amount myself in only one or two days, and yet this was to be stretched out and shared among many families. It was then that I understood the pain that Michele felt, and why she ignored severe injuries, hobbling around the camps after strict orders from her doctor to stay in bed and heal. But even from her bed, she worked nonstop, posting updates online in an effort to be completely transparent, constantly on the phone contacting affluent friends and colleagues, hoping for donations and support, and when someone gave even a small amount, her eyes filled with tears of joy because she would be able to continue helping those in such desperate situations.
I had traveled around the world, but in what ways had I made a difference? I'm no Mother Theresa, that's for sure. But I hoped that if I could at least write about Michele (and the other women in my life who HAVE made a difference), then maybe others might be inspired as well.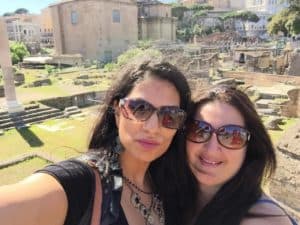 Tanya
Tanya will be surprised if she ever learns that I've added her to this list. She thinks of herself as just another single mom doing the best that she can. But I know better.
Tanya made the decision that most women choose not to make; the decision to take a trip without their children.
Tanya has 6 kids. She's in school full-time. She's had an extremely difficult relationship with her ex and although it was tough raising a family in Germany on her own she worked hard to be a great mom, and still managed to pursue her education.
She needed a vacation.
One of Tanya's dreams was to visit and to live in NY. When her sister offered to get her a ticket to the Big Apple for Tanya's birthday, she was thrilled, but at the last minute, her sister had to cancel. Tanya was devastated. She desperately wanted to take the trip, but she struggled with the decision. What about the children, who would watch them, where would she stay, what about the money, shouldn't she spend it on her kids?
So many women I meet say the same thing; they wish they could travel, they long to see the world, but because they have children, they just swallow that dream, believing that they must choose their children over their desire to travel, burying it deep down inside, hoping that maybe someday…but usually that day never comes.
Tanya battled with herself for weeks, but in the end, she got up the courage to travel.
It was one of the best things (and perhaps the only thing) she ever did for herself. After a life of giving absolutely everything to her family, she had finally given herself permission to give herself the one dream she'd had forever. Of course, she bought nothing for herself once she arrived in NY; but her suitcase was packed with candy, toys, and treats for the kids. She is one of the most loving, sweet, generous people I've ever met.
Since then, Tanya has taken several mini-trips; to Italy, Prague, and London and her children are just fine. In fact, her travels helped her to recharge and to reignite the passion she needed to give her the energy to work hard at achieving her goals, which of course affects her family in many positive ways.
There's a saying, "If you're on a plane and the oxygen mask comes down, put it over your own mouth first, then over your child's." Sometimes travel is giving yourself enough air so that you can survive and be there for others.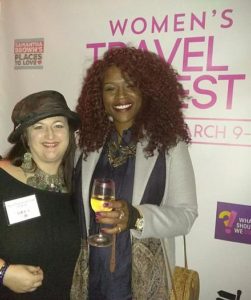 Glo
The list of bloggers I admire is long, so it's almost impossible to choose which ones to include in this post, but since it's already far too long, I'll just pick one more. Gloria Atanmo (The Blog Abroad) has been inspiring me to travel for years. Her photography is stunning, and her constant smile makes me want to watch her Youtube videos all day, but lots of bloggers have cool personalities. Gloria impresses me because not only has she traveled around the world as a solo female traveler, she's a black woman. I'm sure it must be damn hard to deal with the stares, the rude comments, and the crassness of people trying to touch her hair or her skin, ogling her like she's from another planet. But what really makes me love her is the way she responds to people who write f*ed up comments on her blog. When she writes about going to African countries people judge her and call her entitled and privileged. When she writes about European countries people say she should "go back to Africa". When she writes anything that criticizes The U.S. people say she's unpatriotic. And the misogynist and racial slurs that people attack her with would have me in jail after I whooped somebody's ass for that.
But the way Gloria handles it all is classic.
She's brilliant AND witty, so her replies to them have me rolling on the floor, dying! She lets their comments roll off her voluptuous backside like they're little insignificant non-mutha'f*ing factors. The barbs that she throws back, especially in her yearly "Top 10 Hate Comments" posts are HILARIOUS! She will make a grown ass KKK member drop to his knees crying for his mama in 2 seconds flat. Cris Rock has got nothing on her, seriously. Check out one of my favorite replies from her after an unknown wanna-be blogger named Alex B. writes a snarky comment, adding *yawn* to the end of it;
"She couldn't blow the janitor for a sponsored stay in a 20-bedroom hostel if she tried — and that's being generous."
She kills me!
I wish I could go on, because there are so many women I have met in my travels who have inspired me to do better, be better, and travel more.
Who are the women in your life that have inspired you?