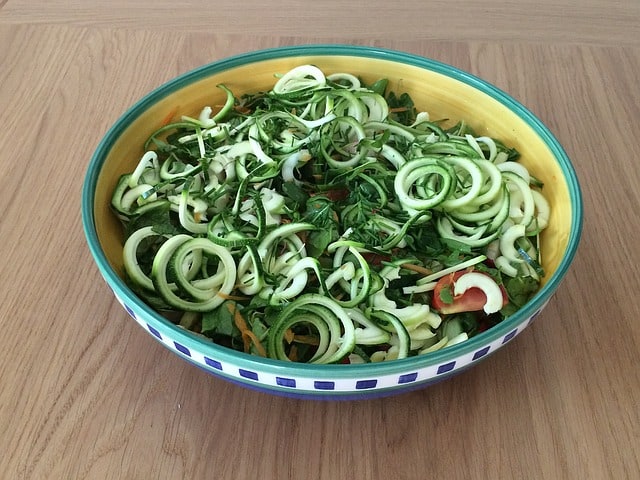 If you love Italian food, but don't love the weight gain that's almost guaranteed from eating pasta, you're going to absolutely love this dish!
This zucchini pasta with a special homemade sauce is so delicious you won't believe it can actually help you to shed some of those extra pounds. The secret ingredient? Replacing regular white flour or whole wheat pasta.
It sounds crazy, but once you try zucchini pasta you won't miss the regular stuff that's so unhealthy. Pasta is full of gluten and high in carbs which transforms into sugar that increases blood sugar levels in our body, causing so much damage.
If you struggle with obesity, diabetes, high cholesterol or food addiction, this could become a favorite staple for you. This miracle meal will make your mouth water the minute you taste the first bite.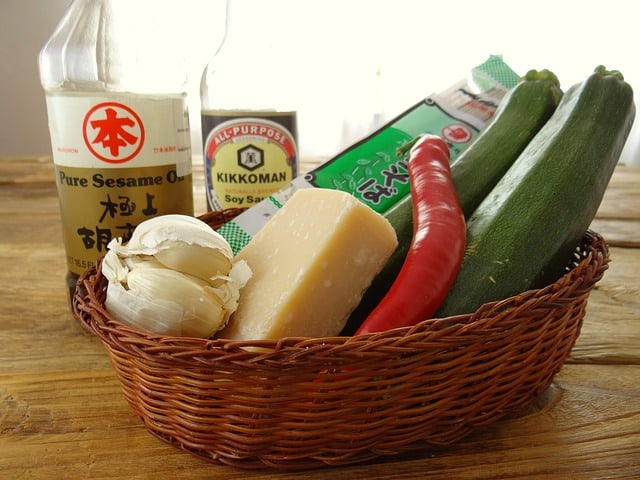 Feel free to change the recipe by adding different ingredients. If you're a red meat lover, try mixing hamburger with chicken or turkey burger, or add more mushrooms for a thicker sauce. If you're not a fan of red tomato spaghetti sauce, you can use an Alfredo or vegan cheese sauce instead.
When making meals I almost never go by the exact recipe list. You can always add more of your favorite items, or delete something that doesn't sound good to you. If the recipe calls for 5 tomatoes and I've only got 3 or 4, I'll just use what I have. Experimenting as a cook can be a good thing.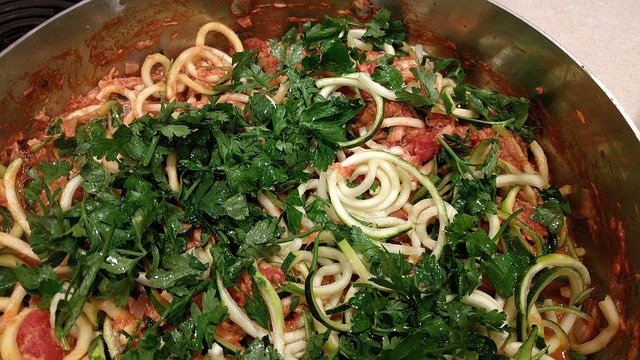 Ingredients: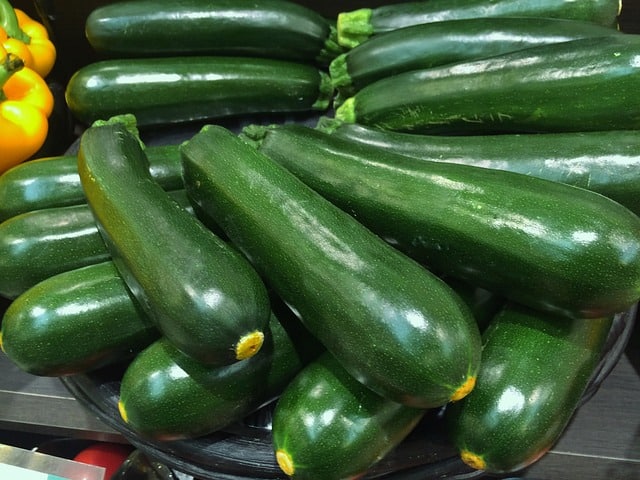 1 or 2 Zucchinis for each person
Crushed Tomatoes
It depends on how much sauce you want to make, but about 2 for each person.
Start the sauce by adding 1/4 cup of water. If your sauce seems thick, add a little more water. As it ooks the sauce will thicken alot.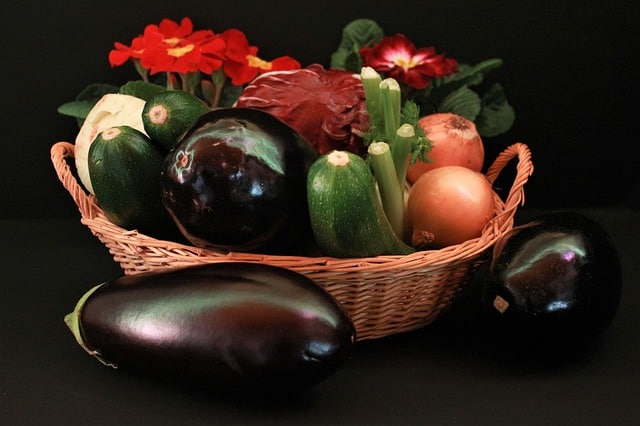 Other Veggies
I like to add eggplant, peppers, and carrots to my sauce, but they aren't a necessity. Basically, tomatoes onions and garlic will do the trick.
Meat (or Not)
You can add hamburger, turkey burger, or "Beyond Meat" or "Impossible Burger" if you like, but you can also replace meat by adding a bunch of mushrooms.
1 Medium Onions
I love onions, so I use 2 large, but you can get by with 1 medium onion.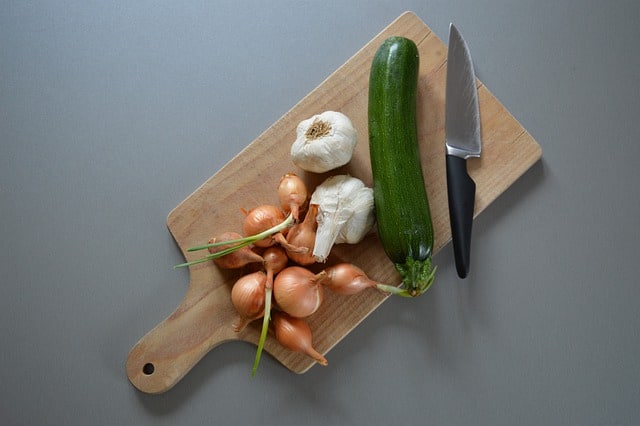 3-5 Cloves of Garlic
Onions and garlic are key ingredients for a delicious, Italian pasta sauce.
Butter or Oil
If you're trying to lose weight you can skip the butter, or save it to melt over the zucchini pasta, but oh, butter added to the sauce makes it so incredible! If you prefer, you can use virgin olive or other oil.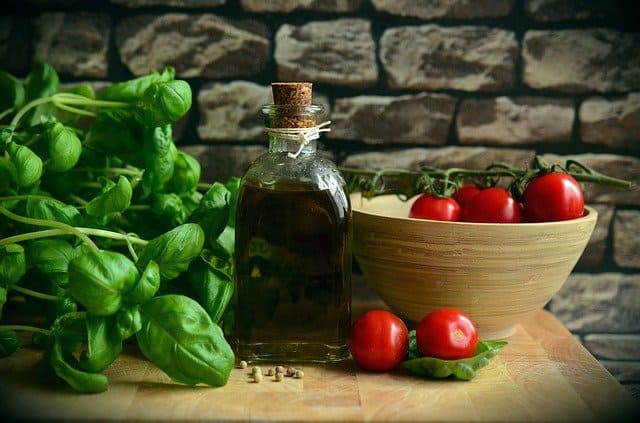 A Bunch of Basil and Oregano
Fresh is best, but of course, it can get expensive when it's not in season. If you're able to grow it at home, lucky you! Basil smells and adds so much flavor to so many dishes. If you don't have any, dried basil will still season your pot.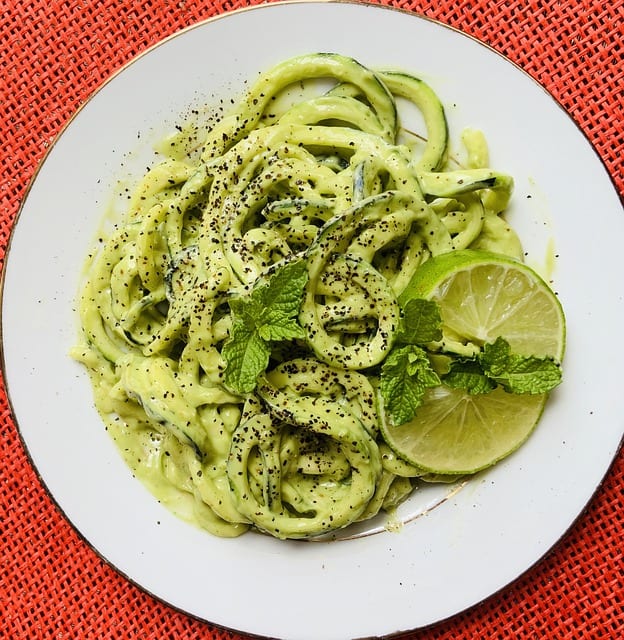 Salt, Pepper & Other Secret Seasonings & Spices
I usually add much more than just salt and pepper to my food (or you can eliminate both if you like). You can add fresh or dried thyme, red pepper flakes, grated Parmesan cheese, or even fresh hot pepper.
But my main secret ingredient is a sweetener. I used to add sugar, but one of the main reasons I began making my own sauce is to avoid all of that unhealthy crap that comes in many jars. Now, I substitute by using a bit of Agave or Stevia.
And my final secret spice? Cinnamon. I only use a pinch, but it adds a kick that people can't usually identify, but it just makes it so good, plus Cinnamon is crazy good for you.
Directions
Basically, you saute the onions, then sauce only requires 10- 15 minutes of simmering if you're hungry. But good cooks know the longer you cook it, the better it is. You can keep it simmering for an hour or so if you've got time. Just keep an eye on it and add water because sauce thickens as you cook it.
The "Pasta"
The zucchini should take only a few minutes, so save it until right before you're ready to eat once the sauce is finished.
To make the zucchini into pasta, you can use an electric spiralizer (I paid $25 on Amazon for mine) or, you can use a manual one and do it by hand. Walmart, Target and Family Dollar have them for about $10, but sometimes you can find cheap ones at Dollar Store. However, if you don't have a spiralizer, you can easily use a cheese grater.
I leave the skin on because it's even better for you than the inside of the zucchini. Just cut the top and bottom off the zucchini and twist away. I don't usually cook my "pasta", I just pour the hot spaghetti sauce over the noodles and its perfect. However, most people saute their noodles in butter or olive oil for 30 seconds to 2 minutes maximum.
Enjoy your Italian meal!