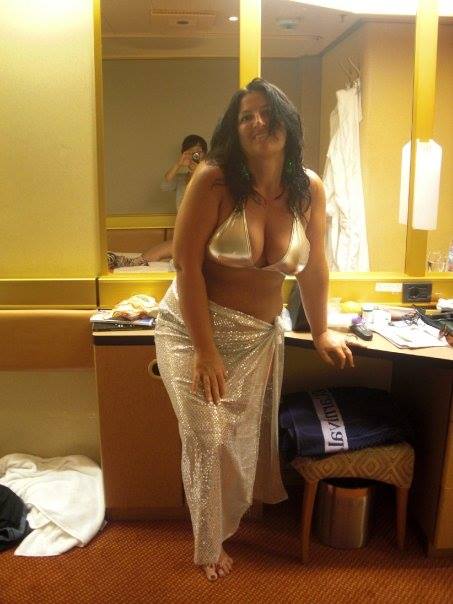 "What the heck is Love Lust or Bust? Sounds like a porno site to me!"
I've heard that more than once from people who ask what I do, and although I'd love to get as many clicks as some of the more scandalous sites on the web, this is almost, but not quite as exciting.
You won't find any nekkid photos of me, nor will you see any of the vast amount of (unrequested, unappreciated) dick pics I've received over the years through the online world of love.
What you will find are stories and articles from me (and my friends) who have found love (and lust) while globe-trotting.
So is Love Lust or Bust Promoting Sex Tourism?
No!
Hell, no.
Sex Tourism
"Sex tourism" (according to Centers for Disease Control,) is defined as:
Travel planned specifically for the purpose of sex, generally to a country where sex work is legal. Sex tourism supports human trafficking (slavery), one of the largest criminal industries in the world. Even if prostitution is legal in a country, human trafficking, sex with a minor, and child pornography are ALWAYS crimes.
Sex tourism promotes human trafficking, violence against women, and sexually transmitted diseases.
Sex tourism is completely unethical, and in many cases, not consensual. We at Love Lust or Bust are strongly opposed to sex tourism.
But is Love Lust or Bust Scandalous?
Yeah. I mean, you may find photos of April Hope hugging a 15-foot statue of a penis at a sex museum in Amsterdam, or articles on sexting your long-distance lover. But how else can you spice up the rather "unsexy" topic of safety?
What We DO Promote
What we do promote here on Love Lust or Bust are ways solo female travelers can meet other travelers or locals and form safe, sane, consensual short or long term relationships where both (or all) parties are mutually respected and safe.
We have gone on trips with partners, maintained long-distance relationships, and navigated the crazy territory of romance and travel.
We share advice and tips on how to meet an online lover while having a Plan B, staying safe, and keeping the flames going when your partner lives thousands of miles away.
At a time when so many people are using online dating apps & sites to meet potential soulmates, a blog that tells women how to stay safe when hooking up, having fun, and falling in love while having foreign flings is super hot.
Based on the engagement and shares by loyal fans, the amount of Love Lust or Bust readers is rising rapidly; even during the coronavirus pandemic and world lockdown which has halted travel indefinitely.
Love Lust or Bust has a rapidly growing following of readers who are loyal fans from around the world who are dedicated and excited to read, & share her posts. They trust April's suggestions and eagerly ask for her advice on where to go, what to do, and what to buy.
Because of this, April is incredibly committed to only partnering with brands her followers can benefit from & takes brand partnerships & destination promotion very seriously.
It's not the traffic itself that matters. It's the influence & relationship that April has with her readers that really maximizes your ROI.
With the passion and excitement April shares with her readers about your destination, product or company, you will soon see her readers become your loyal customers.
What is Love Lust or Bust?
Love Lust or Bust is an online magazine focusing on romance & travel…with a bit of scandal.
Love Lust or Bust- Mission
Love Lust or Bust focuses on helping solo female travelers hang out, have fun, hook up, and fall in love while staying safe.
Love Lust or Bust is a global community founded on these principles:
to encourage solo female travelers to embrace their sexuality and to combine love and wanderlust
to help those who are seeking or who have found love stay safe while traveling
to offer the most helpful travel tips and relationship advice on a free platform
to connect and share romantic & sexy stories
to be free of judgment and to support all women's romantic and sexual choices, regardless of sexual preference, gender, orientation, and/or amount of sexual and romantic activities and partners
Love Lust or Bust stories and articles educate, inform and entertain, but our mission is to have a platform for travel industry insiders who believe that love conquers all, even when the ultimate challenge is to create and maintain a lasting, loving relationship across thousands of miles.
Why We're Here 
Love Lust or Bust readers do have fun (a hella' lotta' fun) while traveling the world. But many are seeking a loving, long-term relationship. Even the ones who are not seeking a commitment sometimes unexpectedly find their nomadic soul mates while abroad.
We help women stay safe and to avoid being harmed physically, sexually, financially, and emotionally.
We help those travelers who want to have fun, but when they do find love, how to navigate the cultural differences to be able to develop and maintain a long-distance relationship.
With the recent huge increase in online dating and relationships, particularly with the extraordinary increase in digital nomads and remote workers, many people are in long-distance relationships now more than ever before.
Whether you and your partner are separated due to the military or an overseas job, you're students away at college, or, you have family or business ties that keep you from being able to be with the one you love full time, it can be done.
Love Lust or Bust is a place where you can share stories of adventure, love, and passion. The site is filled with travel tips, advice on maintaining long-distance relationships, great date ideas, and wedding traditions and cultures around the world.
We also share stories by those who have been "catfished" or scammed by online posers, fakes, and predators.
Our priority is to give readers the tools to protect themselves and to be prepared for unexpected outcomes. Being armed with suggestions on how to avoid being tricked can save lots of time; precious time better utilized for planning a trip that will light (or reignite) the explosive fire between you and your partner.
April Hope created Love, Lust or Bust, a guide to romance & travel for those with insatiable wanderlust, to inspire others to follow their dreams & passions while exploring the world. When not inspiring (cajoling) women to share their travel stories & sexy secrets, she's busy singing karaoke naked at nudist resorts to get free press trips and writing about fleeing frigid New York winters to explore the most romantic places in the world.
Whether a couple has managed to stay together without killing each other after a 3-week road trip, a solo traveler has hopped on a flight to meet the person they've never met but believed they're finally meeting their potential soul mate who turned out to be a "catfish" who tricked them, or someone struggling with Trump's ban which resulted in them not being able to be with their fiance, on Love Lust or Bust we open our hearts and share our most secret, heart wrenching, and sometimes heartbreaking stories or romance, dating, love, and passion while giving you tips on how to do it on a budget.
We want you to be able to find, and keep your love alive, whether that means you have to get to the other side of the world to do it, or you simply take a weekend road trip to ignite the flames.
We want to hear your stories, too! Contact us if you'd like your travel romance story (good, bad, or ugly!) published (anonymously or not).
We're really glad you've joined us on Love, Lust or Bust, and we wish you the best in your search for romance.
How to Find Us (This Is For You, Stalkers!)
Official Love Lust or Bust Accounts
Twitter- twitter.com/lovelustorbust
Facebook- facebook.com/lovelustorbust
Instagram- instagram.com/lovelustorbust
Youtube- youtube.com/lovelustorbust
LinkedIn- linkedin.com/lovelustorbust
Pinterest- pinterest.com/lovelustorbust
If you are a journalist, editor, or sponsor and would like more information please contact us at travelriter (at) gmail (dot) com.
If you would like to donate a vast, obscene amount of money, please let us know and we will reply immediately with our office, cell, and personal home numbers, and an invite for a home-cooked meal.
For media contact please contact travelriter (at) gmail (dot) com