I never bought souvenirs when I traveled. At least, I didn't think I did. I prided myself on not being a typical tourist. I shun major cities whenever possible to explore small towns and fishing villages. I've slept in a cave on a mountain in Kingston, in a Bedouin gypsy tent in the desert at Mt. Sinai, a Lord of the Rings hostel in Ireland. I like to think I'm so different, that I'm a "superior" traveler because I sneer at miniature "Made in China" pyramids sold at stalls in the Kahn el Khalili market in Cairo, and mock tourists who bargain for knick-knacks in Chinatown. But my unexpected love affair in Athens last year began with a souvenir, and this weekend I realized that not only have I indeed purchased souvenirs from every country I've been to but just how important they are to me.
After leaving the NY Travel Festival in Manhattan last Saturday, I walked with travel blogger friends to the subway and we parted ways to catch our trains. The weather was strange; it was wet and rainy in the morning, the afternoon was hot and sunny, and our sailboat trip was windy, so I decided to not wear my favorite hat, and I clipped it by the strong on it to the side of my purse. By the time I got home, it was gone. I have a large collection of vintage and unusual hats, but I have worn this particular hat every day for the past year since I got it in Athens.
I was thrilled to include Greece on my itinerary, but it was part of a journey that included 15 countries in Europe, plus Morocco, and by the time I arrived there I had very little money so shopping was not on my agenda. However, the day after I arrived I found myself wandering in Monastiraki, the heart of the city center in Athens, and a shopping mecca.
I absolutely loved this area, even though I was dying inside because I passed hundreds of vendors and stalls offering the most beautiful clothes and I knew that I could not justify buying anything. These were the type of clothes that I'd been wanting to buy for years.  Most of my friends are avid travelers, and they would often return from foreign countries with the gorgeous travel wardrobes; items made from light, breezy, gauzy fabrics that do well in various climates. I looked everywhere in NY for clothes I could roll up in a ball and stuff in my carry on, but that would not wrinkle. Sure, there are t-shirts and jeans, but I wanted pretty feminine shirts and dresses. And finally, I found them. There were hundreds of long, layered, gypsy-like skirts, tops, and dresses in white, tan, and cream. I found pale blue shades that were perfect for my eyes, and browns in a burlap shade that would match everything, and an unusual, faded shade of green that I've only seen on fairie outfits at Renaissance Faires.
I was dying to buy something, and the prices were pretty incredible, but I needed to stick to my budget.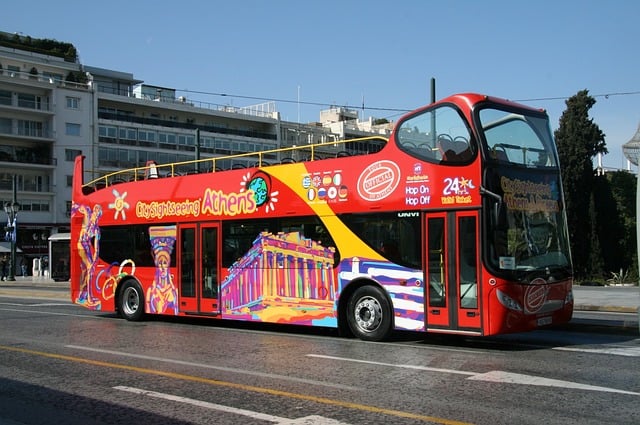 I decided to leave the area so I wouldn't be tempted to shop and bought my ticket for a Hop on-Hop off bus tour. I rode the bus around the city past the usual tourist attractions, snapping photos of charming, old buildings and ruins and ancient churches. I loved the Balkan-style medina that was filled with modern and old shops, famous fancy hotels next to smaller boutique hotels and inns, and Ottoman type buildings that transport you back in time.
I marveled at the Parthenon, admired the Acropolis Museum, and wondered about the people who would have worshipped at the Temple of Hephaestus. I felt lucky to be driving by the Acropolis and all of these wonderful, famous, historic sites. But secretly, I could not wait to get the medina.
I was thrilled when the bus dropped me off back near the shops. I was surrounded by vendors attempting to entice me into their shops to see, touch and smell their wares. I quickly walked by the most notable monuments in the main square, surrounded by those who love learning about the rich history and culture of a place. But I pushed aside my shame and guilt at being so unrefined and at having no desire to enter museums or temples where thousands (millions) of intellectuals and deep thinkers had marveled at humanity and the beauty of ancient artifacts.
No; I wanted things.
I lied to myself all these years when I said I disliked souvenirs. I wanted, needed to have a physical, tangible reminder of the places I've been. I longed to hear the words, "How lovely…where did you get that," and to reply, "Oh, this? Well, I got this in _, let me tell you about my trip."
I absolutely love waking up after returning from a trip and serving my guests Moroccan mint tea in a gorgeous silver teapot with turquoise jewels, and eggs and toast served in tiny, clay dishes that tagine meals are eaten from in Marrakech. Spices and seasonings are poured from curved, antique glass and silver bottles; one for salt, one for pepper, another for cinnamon. Condiments like mustard, date butter, and blueberry and strawberry fruit preserves and orange marmalade are placed in little jars from art collectives where local artists create exotic, handmade dishes and bottles and paintings.
I love my Guatemalan bags, and the torn, ivory lace tablecloth I bought from Saint-Ouen, an antique market in Paris. An old pewter container with the image of a medieval couple dancing from Berlin sits on my fridge. My bachelor's degree is framed by an ornate, carved wooden frame from Tibet. And a hanging candleholder that looks like it is from Turkey or Morocco (but that I bought in Jamaica) hangs near the stairs to my bedroom.
I may not have little snowglobes that say "I Love NY" with tiny twin towers replicas inside, and I never buy trinkets or keychains (except for the penis covered in hand-painted orchids that I got in Bali), but I do indeed have souvenirs. I realized that fact yesterday when I lost my hat.
I bought that hat that evening in Athens when I ignored the historically significant sites that Athenian citizens take pride in, skipped the famous beaches, and walked toward my drug; antiques.
I walked right past the street peddlers selling fruit, past the stalls with t-shirts and postcards, ignored the smell of roasted lamb from the souvlaki cafes, toward Avyssinias Square.
I wasn't sure at the time what they called this place, but I sighed with joy as I wandered around what I immediately recognized as a flea market.
There were used clothes, shoes, books, and records. Sunday is the busiest day, and sellers offer old and odd treasures around the square and into the surrounding streets (down Astigos, onto a part of Ermou and to the start of Leokoriou), attracting huge crowds of people.
You can find treasures if you're willing to sift through the junk and bric-a-brac. Traditional Greek embroidery and hand-woven rugs, Ottoman glassware, pottery from the Aegean, silverware, books, and furniture mingle with dusty old paintings and African art.
I could barely breathe as I stared at the objects, wishing I had stopped in Athens at the beginning of my journey, rather than at the end when I very little money left except for food and other necessities. I resigned myself to the fact that I did not need anything and that I was lucky enough to have the opportunity to just be there in the city.
But suddenly, I stopped in front of a special shop.
It was a thrift store, but what made it unlike other second-hand stores I'd been to, this store had a collection of vintage hats. The clothes were beautiful, but I barely stopped to inhale the common thrift store essence as I made a path to the hats.
The old hats were all beautiful, but one, in particular, stood out. It was sitting there on top of a heap. They were all lovely, but this hat was different. I certainly did not need another black hat; almost my entire wardrobe and several hats I owned were black. But there was something very special about this one.
Unlike some hats that you can only wear in winter because they're too hot, this one was perfect. I held my breath as I picked it up and looked at the price tag. It was 36 euros. I suck at money conversion but I vaguely knew that it was over $40. I placed it on my head and looked in the mirror. It was meant to be worn at an angle, and as I tilted it I saw the small row of classic pearls that were only visible once it moved to one side properly.
I felt like Grace Kelly or Lana Turner, a dangerous film noir femme fatale in that hat. I had to have it.
I pleaded, begged, and shared the story of how I had been a victim of credit card fraud the night before my trip. I bonded with the salesgirl who was also a native New Yorker-turned-ex-pat now living in Greece and explained that I was celebrating my birthday by taking this trip. I charmed the pants off her, but nothing worked. She was unable to offer me a discount.
I bought the hat. I had fallen absolutely, completely, madly in love with it. Wearing it made me feel powerful. Sexy.
I wore that old hat all over the world. When I saw gray hairs or didn't feel like wearing makeup, when my hair was frizzy, when I felt insecure, or old or ugly, I would put on that hat like a Superman cape and immediately felt confident and powerful once again. Whatever else I packed in my carry-on didn't matter, as long as I took that hat on trips all would be good.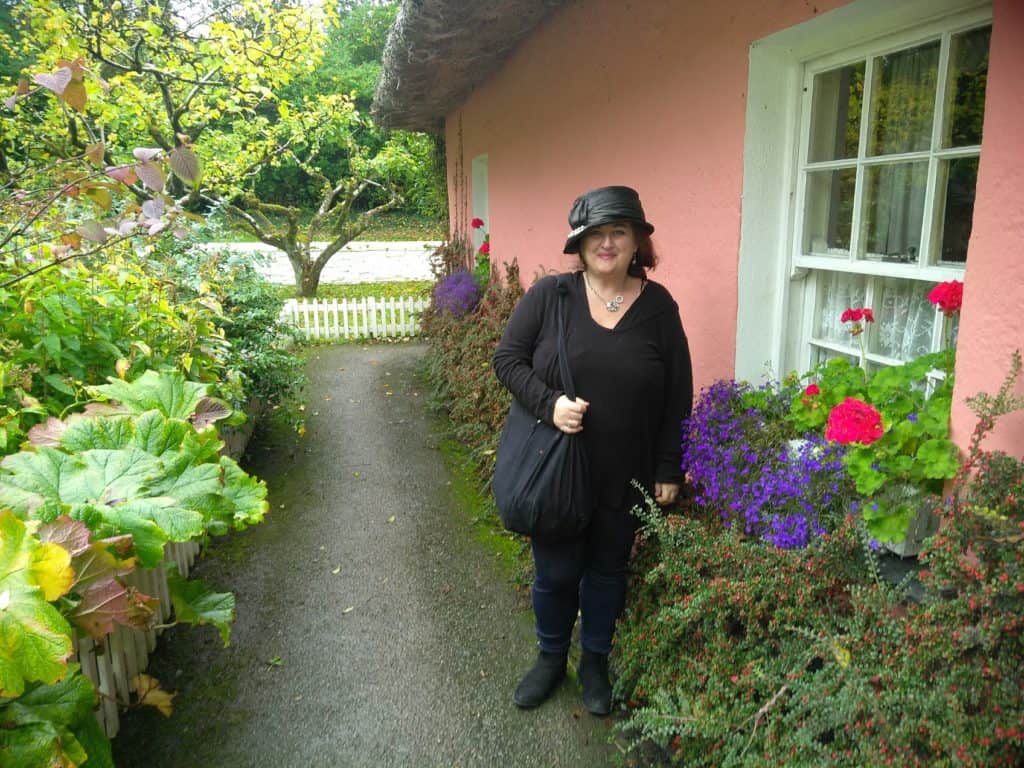 I felt powerful and dominant in that hat. I commanded attention every time I walked into a room. I was sure no one noticed that I was overweight, or that my hair was frizzy, or that I now had lines around my eyes and was no longer in my 20's. You couldn't tell me I wasn't a fierce, ravishing, stunning vision of a strong, sexy woman when I wore that hat.
Strangers stopped me daily when I wore that hat, which was every day for the past year.
No longer was I a promiscuous player with my collection of fun, casual, playful hats. I was a changed woman, and I had fallen madly, passionately in love. I no longer stood in front of the mirror for hours, changing clothes, changing hats. I didn't give a damn that I had that other, really cute red hat that would match my red bag and shoes, or that my pheasant feather 1940's hat made me look chic. I didn't care that I wore too much black and other colors were much softer and more feminine on me. I could not have committed to any of them because I had always felt too fat or ugly or old. I  had never felt good enough, no matter what I wore.
This was different;  I was in love, only it wasn't the hat I had fallen in love with; it was me.
Losing my lover yesterday was pretty devastating, but I'm trying to see the lessons in this. I know a hat doesn't give you magical powers and it can't change your personality.
I will never lose the memories that I have from my time in Athens or any other country. I don't need a souvenir to prove I was there. And I know that sometimes change has to happen for us to move forward. Perhaps I needed to be shaken up a bit to make some changes in my life. I was stuck in a pattern of eating unhealthy food for a while, and I want to shed some weight. Maybe this is the jolt I needed to remember that nothing stays the same, that if I do things differently, I can get different results.
I'm single and have been alone for many years, but maybe it's time for me to consider dating again.
I will miss that hat. Maybe one day I will find another one, or have fun wearing the ones I already have. Or not wear any at all for a while. We'll see.
Perhaps it's time for me to find a new love.
Do you buy souvenirs or other special things when you travel? Have you ever lost something special you got while traveling?