I like to think of myself as someone who doesn't tolerate bullshit when I'm dating. I have standards and I expect to be treated with respect. I've read Why Men Love Bitches, The Rules, and Date Like a Man. I know this shit.
And usually, I'm pretty tough. If a man blows me off, stands me up, tries to show up an hour late, or if I think he's just looking for some "pun pun" because he paid for dinner, my motto is "Next." There are nine million people in NY. Never settle.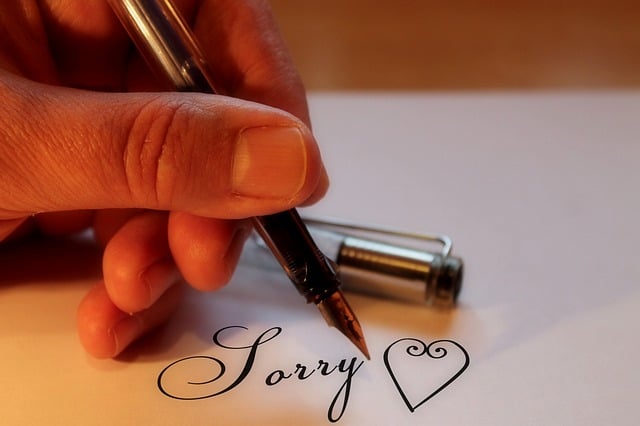 But, there have been a few times when I allowed a scandalous mofo to creep back in.
I admit it; I'm easy. At least, when it comes to travel and fine dining.
Anytime a man messes up with me, all he has to do is to tell me he wants to take me to a fancy restaurant to apologize (especially if it's in Paris or on some paradise island in the Caribbean) and I'm there.
I can't help it; the food addict in me gets weak at the mention of Restaurant Week.
Take me someplace where a jacket and tie are required and I'll listen to you go on and on about how your dog unexpectedly got sick at the very moment your phone fell in the toilet and you had no way to call me to explain. I'll sit quietly and simply smile as I inhale a dish of sauteed Foie Gras simmered in a strawberry sauce, and stuffed in a caramelized spring onion crepe with toasted pistachios. My eyes might close as my tongue enjoys an orgy of flavors and textures, but keep talking. I'll forgive you by the end of the meal, especially if it's six courses and there's enough silverware to confuse Miss Manners.
Below are three places men have taken me to apologize for screwing up. They were given absolution…but only after saying a few Hail Marys when the bill was presented.
Fushimi Modern Japanese Cuisine & Lounge
Fushimi is a stunning place visually. From the moment you enter the circular door surrounded by LED lights and walk into the enormous bar at the entrance, you're transported to another land at another time. You expect the food to be good, but until you taste the rock lobster or absolutely any of the sushi rolls, you'll agree that the pricey menu is worth it. There's no way I could stay mad at a man who brings me here. Even the damn bathroom is amazing. You'll feel like you've arrived on the Japanese Star Ship Enterprise. Huge orchids, bold red and black decor, and magnificent lighting make you forget the past as you sit back to enjoy the scrumptious delicacies that make anyone who is lucky enough to dine here have temporary amnesia.
Fushimi Modern Japanese Cuisine & Lounge
475 Driggs Ave, Brooklyn, New York
(718) 963-2555
River Cafe
My favorite restaurant on the planet has been voted one of the top 10 most romantic restaurants in the world, and if you dine here once, you'll agree. Diners at River Cafe under the Brooklyn Bridge in DUMBO will always be seated at "the best table." It's impossible to get a bad table here since every seat here has a view of the Manhattan skyline through floor to ceiling windows that line the entire side of the building. It's stunning. If I was ever tempted to put out for a meal, this would be it.
I said tempted; I would never actually be a hooker for a perfect, butter soft tender steak with a delicate hint of wine sauce with whipped mushroom marmalade <sigh>. Don't question my integrity. Remember a certain blond stripper/ reality show celebrity who fell madly in love with a billionaire who was 89? So before you raise your eyebrows at me, remember this old fairy tale.
Once the first, tiny morsel of any item on this menu touches your tongue, you'll see why it's easy to become a fallen woman here. Or at least a sucker for an apology.
The seduction actually begins before you step inside and get fawned all over by waiters who know damn well 20% of astronomical is a lovely tip. But it's the lush greenery and gardens full of tiny, flickering fairy lights that get a girl excited. Taking selfies outside is almost as delightful as enjoying the decadent meal.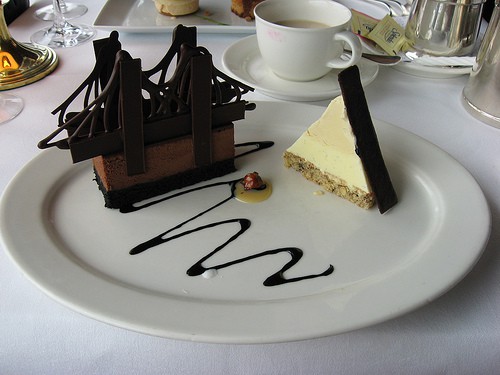 Whatever you order, you must have the sculpted, sinful, chocolate Brooklyn Bridge replica for desert. The sweet, tangy raspberry sauce makes it a perfect work of art, and you almost can't eat it it's so pretty. But just take a picture and you'll get over your hesitation real quick.
River Cafe
1 Water Street, Brooklyn, New York, NY
718-522-5200
www.rivercafe.com
Okay, if you're a broke bastard and you sincerely want to win a woman back but can't afford to shell out the big bucks at these places, take your lady to The Chocolate Room. There are two locations in Brooklyn but my favorite is Park Slope simply because it's down the street from me. The menu here isn't cheap either, but at $10 or so for an unbelievably good dessert, it's still an incredibly romantic place to say you're sorry (and you're pretty sure to be forgiven). What woman can resist a thick, creamy black bottom butterscotch pudding, with bittersweet chocolate layered between creamy butterscotch custard, and topped with fresh coconut whipped cream? Skip the flowers.
The Chocolate Room
51 5th Ave, New York, NY
(718) 783-290
The Chocolate Room
http://www.thechocolateroombrooklyn.com/
Okay, because I'm in a good mood now remembering the delicious meals I've had at these places, I'll give you a bonus hot spot. Le Boudoir, a sexy lounge modeled after Marie Antoinette's bedroom is the perfect place to loosen up someone seriously pissed off. Crushed red velvet, soft candlelight, gilded mirrors, and erotic paintings of nude women lounging around could help. But make sure you request the secret, sunken room in the rear. It's private so if you need to shed a few tears to show how sorry you are, there won't be any witnesses.
le Boudoir
135 Atlantic Avenue, Brooklyn, New York, NY
(downstairs)
347-227-8337
http://www.chezmoiny.com/
Where have you melted after an apology? Have you ever caved in after a decadent duck dinner? (Oh, right, it's just me. I'm the only one.)
Those of you who are honest about being weak and vulnerable, or just those fellow food addicts who can abstain from dick but not from duck, comment below.