Hey there, solo travel sisters!
Who says romance if for couples only? Buckle up as I take you on a journey to one of the most unforgettable, romantic experiences I've had in the Dominican Republic.
No, sadly my incredibly romantic day was not spent frolicking with one of the sexy island boys that are more plentiful than sand here; but by myself!
If you're dreaming of a tropical escape that's all about crystal-clear waters, vibrant marine life, and a dash of fiesta with or without a hot man, then keep reading – because my day trip excursion to Catalina Island with Juanel Excursions was an absolute dream come true.
Picture this: the sun gently kissing my skin, a refreshing ocean breeze tugging at my hair, and the promise of an adventure that was about to unfold.
The day started early, with a sense of excitement bubbling within me as I boarded the boat that would take us to Catalina Island.
As we set sail, the infectious rhythm of lively Spanish music immediately lifted our spirits, and the party boat atmosphere had us dancing and singing along in no time.
The boat ride itself was an adventure, a prelude to the stunning sights that awaited us. With every passing wave, the turquoise waters seemed to beckon us closer. And boy, did Catalina Island deliver!
The first part of the adventure was about to begin, long before we anchored near the island's shores.
In what felt like the middle of the ocean, we stopped in what must be the most perfect place on earth.
The water revealed a mesmerizing underwater world that was just begging to be explored.
Snorkeling and scuba diving became our passports to a realm of vibrant corals and an array of fish that dazzled with their colors.
I saw A few stingrays, too, but they left us alone and I was able to marvel in their beauty safely.
The underwater ballet of marine life left me breathless, and I couldn't believe how fortunate I was to witness such beauty up close.
The moment I dipped beneath the surface, time seemed to stand still, and all that mattered was the magical world beneath the waves.
And for those who preferred to stay dry, the spectacle from the boat was just as awe-inspiring.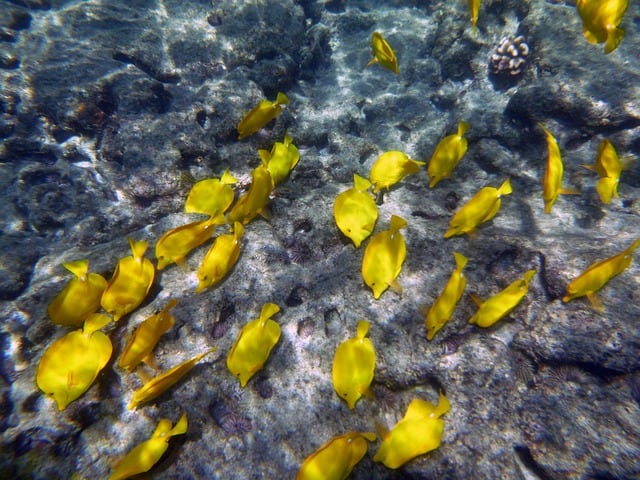 After our underwater escapades, we continued for yet another seemingly endless boat journey where I napped and basked in the sun imagining myself to be Beyonce on her private yacht.
Finally, in the afternoon we reached Catalina, and it did not disappoint.
At first I was a bit concerned about the other boats and how crowded the island appeared.
But when I saw how many gorgeous men there were serving us endless drinks and food and pina coladas inside pineapple shells, oh, what a dream come true.
I pinched myself, asking, how is this my life?
It was time for a feast that rivaled the sights we had just witnessed.
A long buffet lunch was spread out on the beach, offering a tantalizing spread of local delicacies and international favorites.
As I savored each bite while feeling the soft sand between my toes, it dawned on me that this was what pure happiness felt like – the perfect fusion of nature's wonders and the joy of savoring a hearty meal.
But the adventure didn't stop there. As the sun began its descent, the party boat came alive once again.
The upbeat Spanish music filled the air, and the energy was infectious.
The dancing, the laughter, and the camaraderie with fellow travelers created a magical atmosphere that seemed to encapsulate the spirit of the Dominican Republic itself.
We danced till we dropped, and as the stars appeared overhead, I couldn't help but reflect on how a single day had woven together so many unforgettable moments.
So, my fellow adventurers, if you're looking to embark on a journey that blends natural wonders with a sprinkle of fiesta, I wholeheartedly recommend reaching out to Juanel Excursions.
Their team ensured every detail was taken care of, allowing me to lose myself in the enchanting beauty of Catalina Island and the infectious joy of its party boat vibe.
Whether you're a snorkeling enthusiast, a scuba diving aficionado, or simply a lover of good times, trust me – this day trip is a slice of paradise you won't want to miss. Don't just take my word for it; let Juanel Excursions be your guide to crafting your very own Dominican Republic dream.
For tips on solo travel and safety, click here to learn more about my best selling Amazon e-book; The Love Lust or Bust Ultimate Guide to Safe Solo Travel!
**For booking and more information, visit [Juanel Excursions](https://www.juanelexcursions.com) and get ready to set sail on an adventure that will leave you with memories to cherish for a lifetime.**