I am always looking for new dating apps and sites for you readers to try, and today I am so excited to share a site that will change the way you date!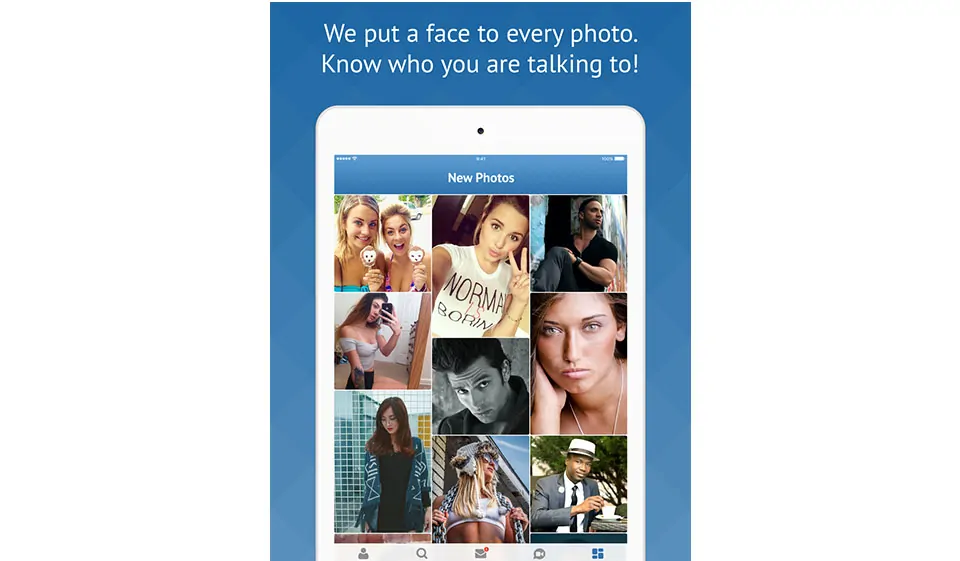 What is the number one complaint pretty much everybody who has ever used a dating site agree on?
CATFISH!
In case you're from the dark ages and have never heard of it, the word "catfish" (and I don't mean the ugly but delicious edible aquatic kind) comes from the 2010 movie "Catfish", and the hugely popular MTV reality show by the same name where daters are stunned, shocked and tricked by their online lovers who often turn out to be very, very different in person than they present themselves to be online through photos and phone calls.
Even for those of us who have not been shocked to find that the 28 year old, gorgeous, 6'4″ model we thought we were talking to turned out to be a 4'11", 48 year old, living in his mother's basement, many of us have still been surprised to find that the photos on a profile are often extremely old, photo shopped or filtered pics that simply do not at all look like the present reality.
I met an Italian model once who lured me with the sexiest pic of himself lying on a beach, the ocean lapping at his ankles, long, dark hair flipped over one eye. I drooled, and immediately jumped at his invitation to meet for a date.
Yes, it was the same guy. But, I'm not sure what kind of lens the photographer used to hide his severe acne or to make his greasy hair look wet instead, but I fully own up to the fact that I was so into his muscley beach body (yes, shallow me, sue me,) that I completely overlooked the fact that he had no teeth.
I mean, he had a few, but in his beach body pic he was doing that slightly simpering, snarling thing models do, lips closed (or slightly open as if they're about to give a blow job or eat a hot dog) so in my defense, I didn't know that the few teeth he had looked remarkably like the brownish yellowish shade of spots on an overripe banana.
Hence, my excitement at finding out about the coolest, anti-catfish dating site called Fruzo. On this site, you can immediately meet cool people you can actually video chat with to know exactly if, and how many teeth they have. And what color they are. Etcetera, you know what I mean.
Below I'll share The Good, The Bad, & The Ugly.
The Good
There is a free trial period, so you'll get to check out the site to see if you actually like it.
The site is fairly easy to use, and it seems simple enough to attract hotties.
Fruzo links up with Facebook, so again, you are far less likely to get "catfished".
I've found that men are a lot less likely to simply ghost you after you've looked them in the eyes. Maybe you appear more human to them and their shit behavior doesn't fly as well if they cannot easily move on anonymously. Who knows.
Free Trial Offer
The Fruzo site offers a 30-day free trial. Fruzi features:
Register using either a desktop or a phone application.
Build a profile.
Use the video communication feature.
Filter people by country.
Send & receive texts.
Look for partners by location, age, sex, or marital status.
See other members' pictures.
Add people as friends.
Interact with people anonymously.
The Bad
You have to sync your Facebook profile, and I dislike not having an option.
There are nowhere near the number of users on some other, more popular dating sites. But that may change once people get tired of being "catfished" and endlessly swiping.
Female members need to pay as well. One of the huge benefits of being a woman in the world of dating is that many of the cool dating sites and apps are free for us. But of course, the better the dating site, the more likely we need to pay as well. At least there's a free trial to check it out.
The Ugly
Well, kinda' hard to find anything ugly about a dating site where you can actually choose who you want to video chat with, so there's that.
Some guys might be just looking for cyber sexting/ video sex and not actually looking to meet up in person. But guys like that could just go on a paid nude cam girl site if that's what they're seeking. Anyway, you might just meet a guy who is looking for phone fun. But if you're into that…
Anyway, the Fruzo site seems to be marketing those seeking a more srious relationship, so maybe you won't run into that. According to Fruzo, "The new site focuses on individuals that need serious marriage partners."
Whatever you're looking for, if there really is a free trial, why not check it out?
Let us know in the comments whether you've used Fruzo (or any dating site or app) and what you think!
*For a list of the best dating sites and apps for travelers, check out this post!