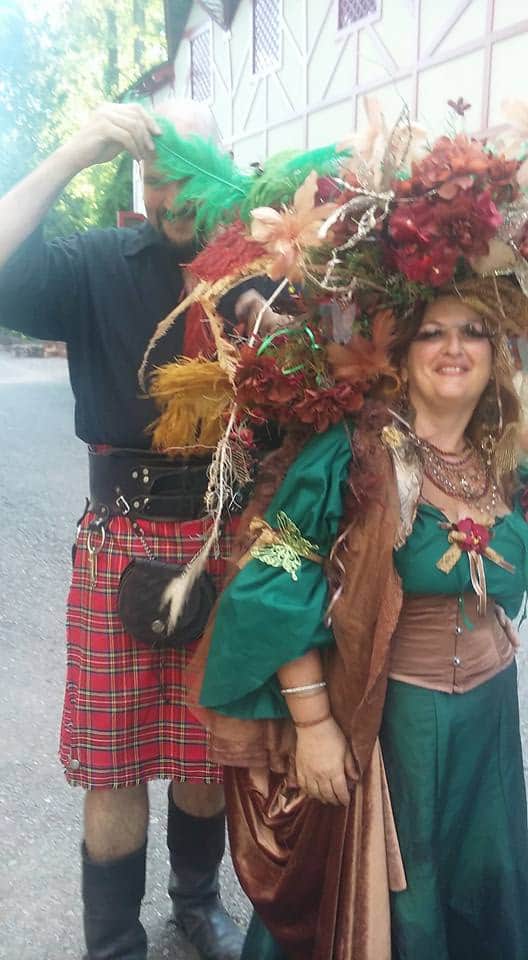 Whether you're on a first date hoping for a romantic spark or in a long term relationship and want to explore being a bit naughty with your partner, renaissance faires are the perfect place for a date. However, with the extra expense of travel costs for couples in long distance relationships, finding ways to save money while still having fun can be a challenge, especially if you want to dress up to add some drama to your relationship in a good way. Below are 20 tips on ways to create sexy renfaire costumes for couples.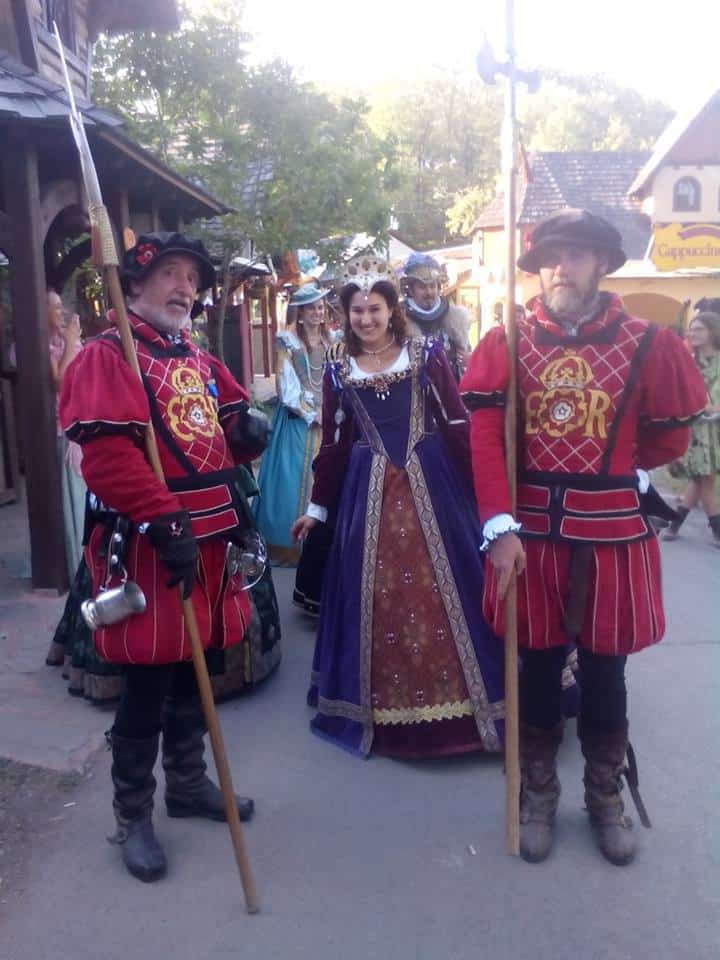 It's not easy to look this fabulous without having the Queen's fashion budget, even if you do have adoring subjects who are expert seamstresses who know a bit of magic. But renfair lovers can find ways to create cute costumes that won't break the bank, which means more money for your next trip!
Lindsey, who works at NY Renaissance Faire loves it so much she attends on her days off. Of course, there is this handsome rose peddler she wanders around the fairgrounds with. She admits that while well-made corsets can be pricey, they're worth the investment.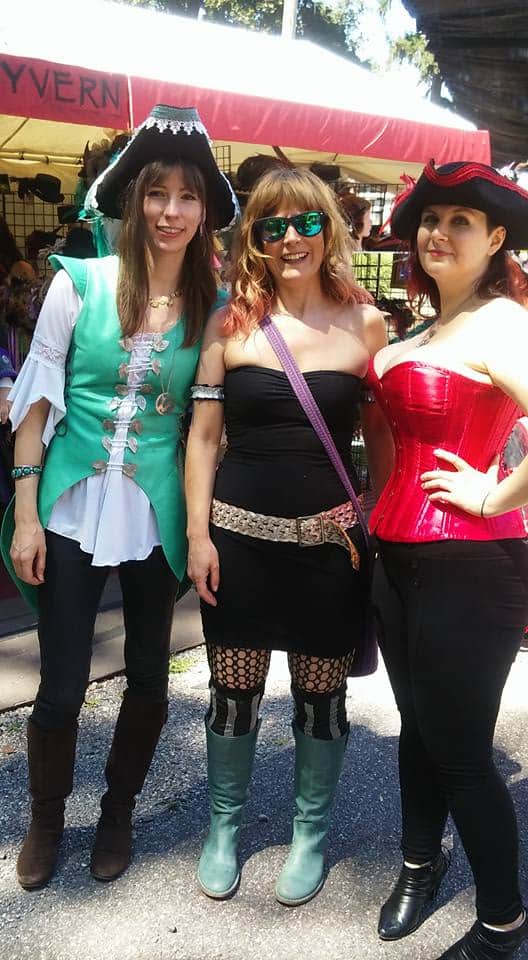 As you can see, she's not the only one who knows the secret to being irresistible to men; be they noble knights or bad boy pirates with less than chivalrous intentions.
For ladies with lovers who think they're too machismo to step back in time into a fantasy world by donning a pair of tights, try a peasant top during negotiations.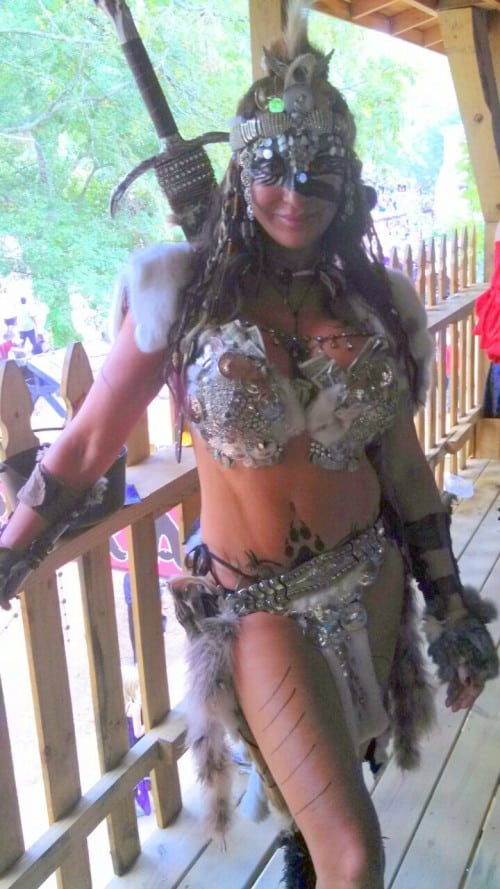 2. The barbarian look also adds appeal and can be quite persuasive in bringing out the inner beast in your man.
A few faux fur pieces strategically placed, and perhaps a weapon from Party City, Halloween Adventure or a toy store could entice him into being more open-minded. And semi-naked. Check thrift and fabric stores for scraps of leather and fur, plastic swords, daggers and old costumes.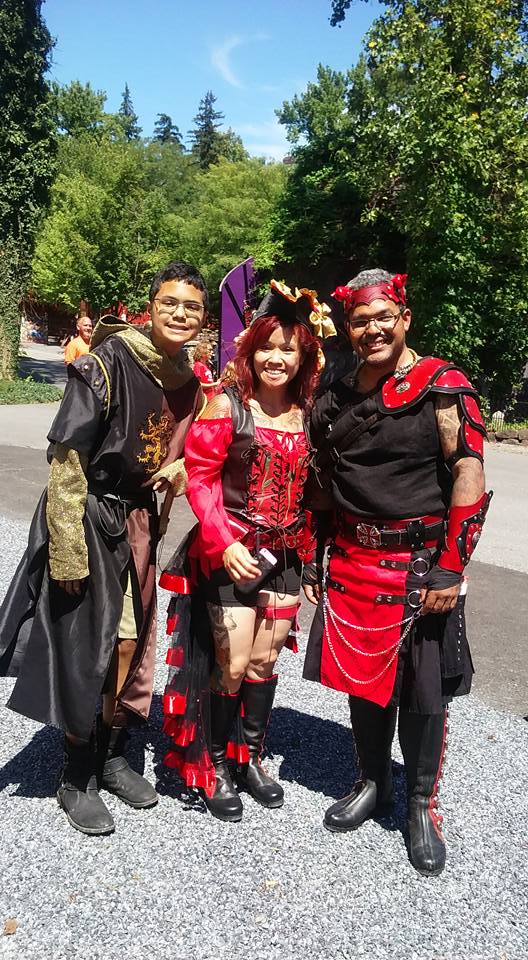 3. Angel Torres, a regular faire-goer and member of the meetup.com group Gotham Rennies, and his family frequently attend faires and offered some great advice. "As a couple, you want to coordinate a matching or contrasting color scheme so you complement each other. Once a simple, inexpensive base is set you can accessorize your costume. This can be done slowly over time. Find pieces to add to your costume within the color pallet you have established with your partner. Stick to the pallet so that as you collect more items you will be able to mix and match create interesting combinations. With simple modifications, you can achieve even more looks. For example, a pair of warrior bracers with a little fur added suddenly become Barbarian ones. In time you can then upgrade your base to something more extravagant to add to your overall look. So keep it simple to start, expand your options via accessories and most important be creative and have fun!"
4. Some gentleman are eager to surprise their ladies with a pair of stunning boots or costume once they realize how sexy their lady looks! And be sure to remind him how much he'll save on undergarments if he wears a kilt. And then there's the role-playing.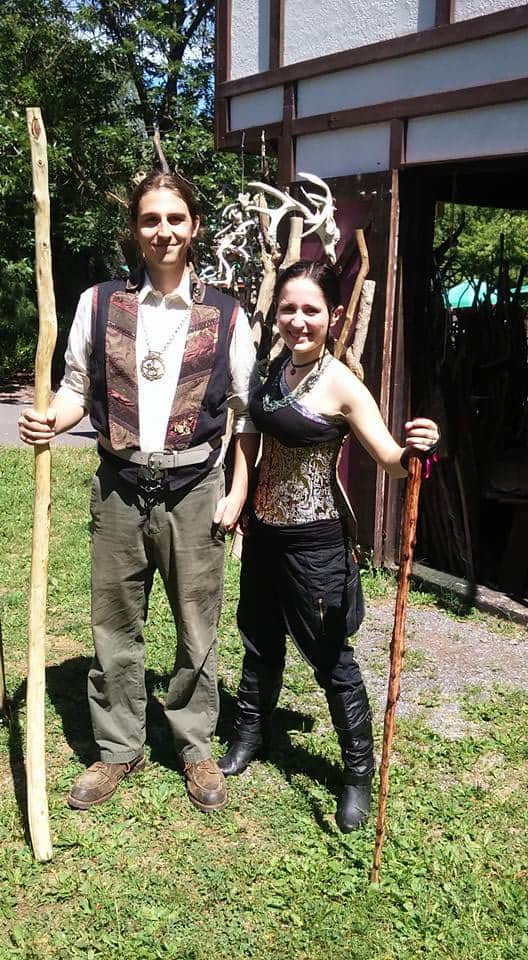 5. Cedar wood, which doesn't doesn't rot like other wood can, instantly adds to a costume and can be found free.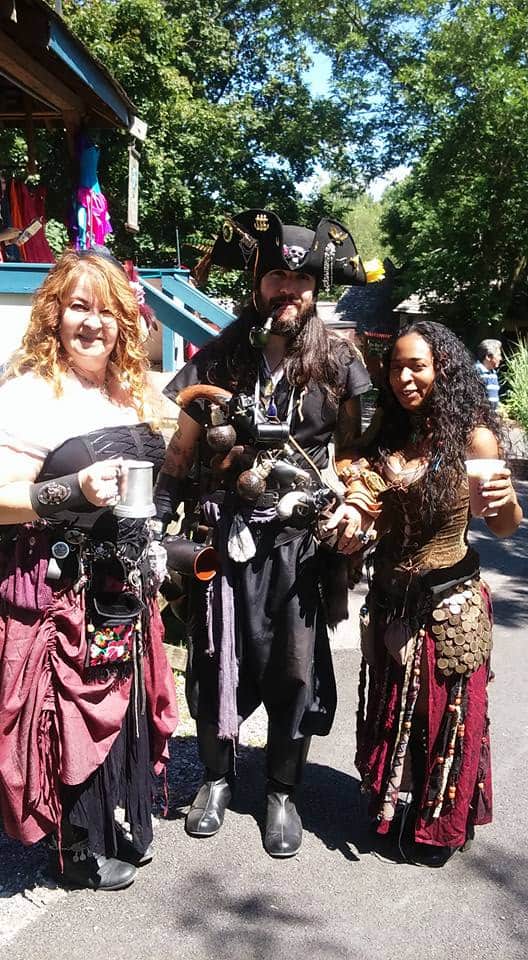 6. "Etsy, Etsy, Etsy,' is this trio's motto.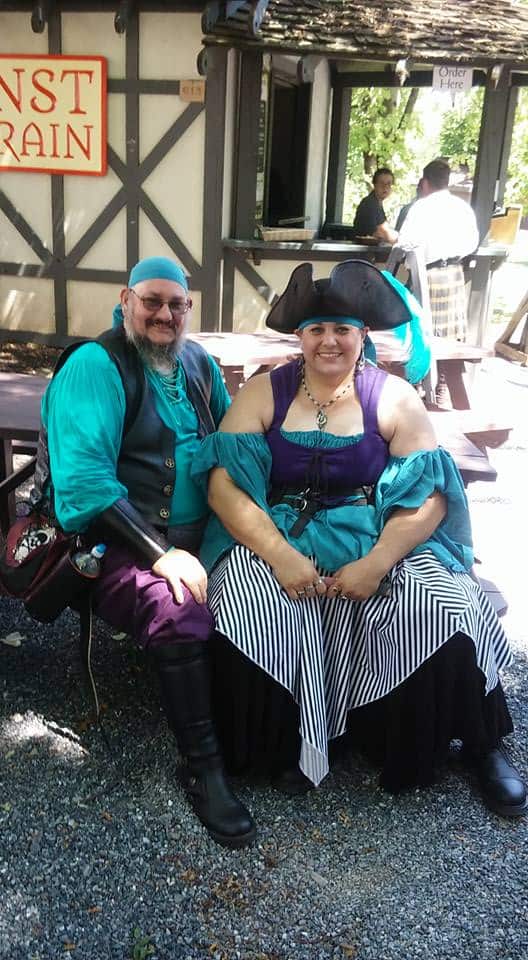 7. This couple loves creating new looks together. They begin by searching on Amazon for cheap fabrics in bold, stunning colors and stress the benefits of a Serger sewing machine, but insist that safety pins work for non-tailor types. They've found many tricks for making unique, matching outfit, such as, always buy extra fabric to use for headscarves, sashes and pouches. Adding lace to any item immediately transforms it, and using old buttons, or creating your own from polymore clay not only gives you a great outfit for the faire, but making costumes together can also be a fun date. They also emphasize patronizing the silversmiths, craftsmen and artists who work at the faire. It might be cheaper than you think to have a special broach made into a  pendant, pin or necklace. Find broken pieces at stoop sales or antique markets and have artisans make unique, custom made jewelry that are special for you as a couple.  And one other tip is to use elastic trimmings to make pants or sleeves convertible. When the hot summer season turns chilly in the fall, adjustable clothes can change along with the weather. Newbies can watch youtube videos for more ideas.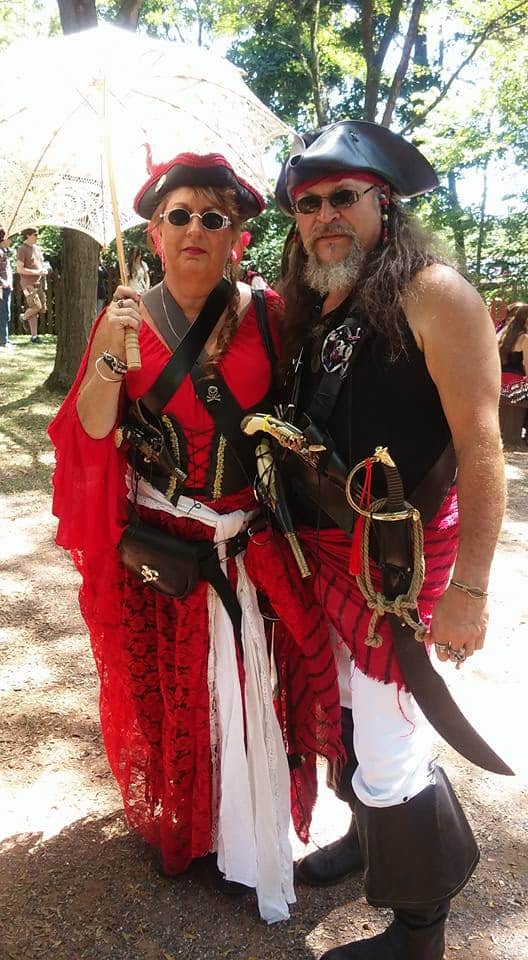 8. A lace umbrella and fabric makes this couple stand out. Her whispered tip, "I buy from Payless and flea markets!"
9. "I had no idea we were coming until last night, so my advice; recycle!" This clever lady used old leather shoe-laces and buttons, and cut up a skirt that didn't fit to make this beautiful green and brown outfit, and still had time to make her friend's costume, too.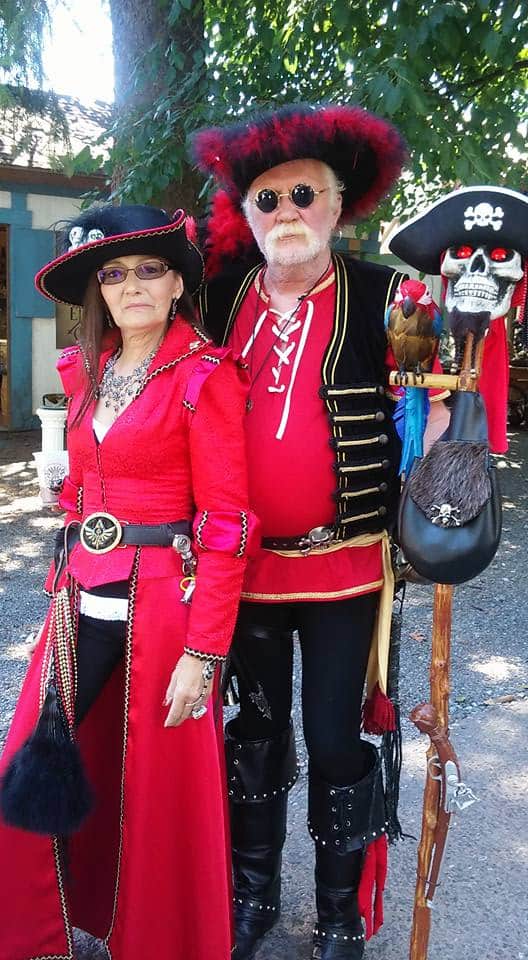 10. Young 19 year olds strutting around in short shorts have nothing on this couple who prove that when you take your time and have pride in your outfits, you ooze sex appeal. Seriously, these two are hot.
11. You don't have to match to look cute. But these faire lovers warn you to stay away from leather! Leather pieces can break the  bank, but fur pieces like this electric green capelet, even faux fur, make a dramatic addition to any outfit.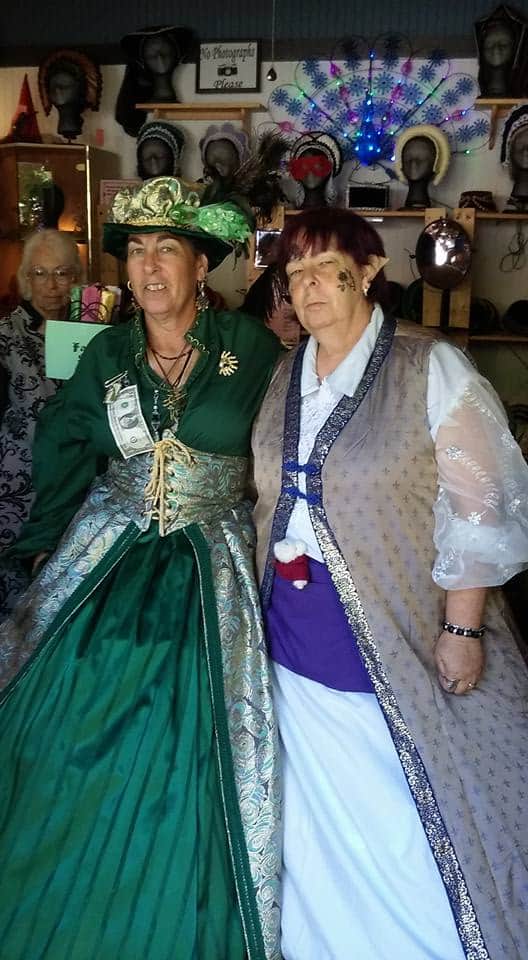 12. If you do want to purchase items, check out Noble's Costumes for things no one else will have. Their capes, coats and dresses may have a similar period style, but each fabric is unique and authentic looking, unlike the boring, plain cotton fabrics sold at many typical faire shops. "You can come into our shop dressed like a peasant and leave a princess.  Accessorizing is the key, so consider one of their exquisite headpieces or crowns.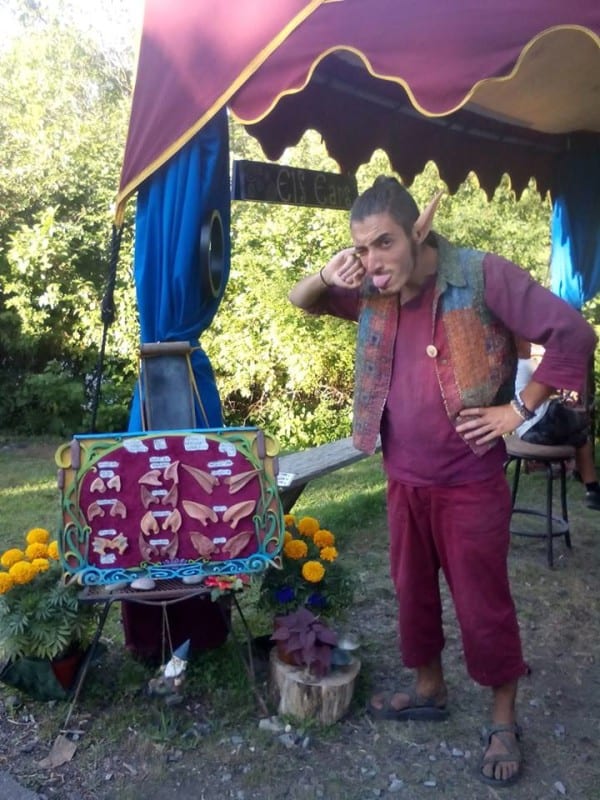 13. This vendor insists that all you need is a pair of ears to immediately transform into a cool character from the past. Even if you or your partner aren't interested in going all out or being historically accurate, simply adding these pointy, lifelike ears can add fun to your day. The employees at Elf Ears promise your ears will last for years, and they will fit them on you properly and show you how to keep them attached.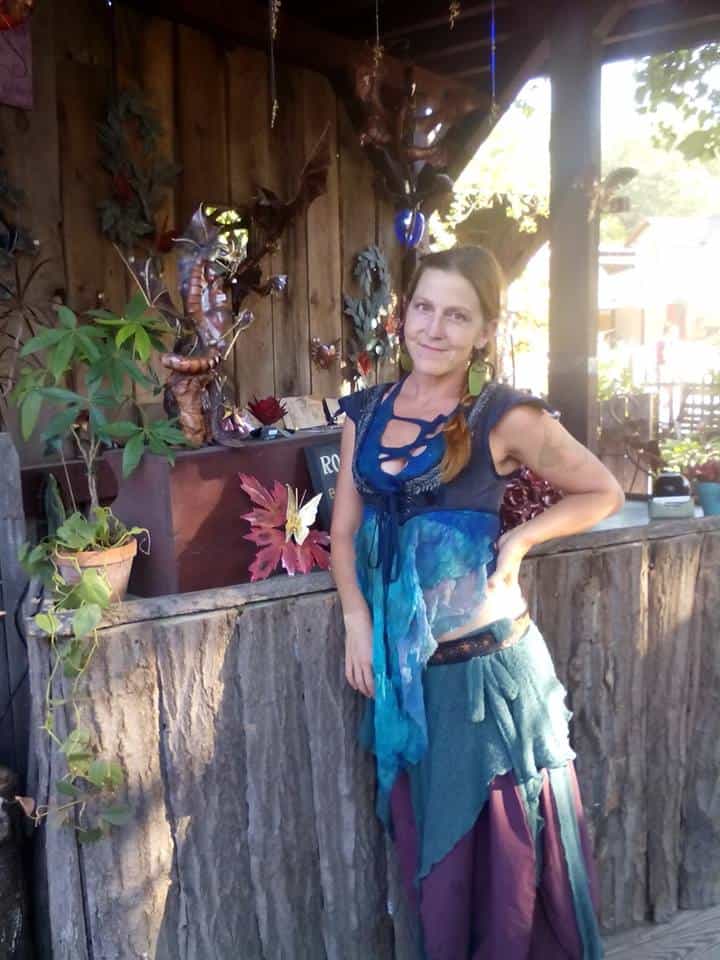 14. Kristin Thorson, an artist who owns a stunning garden shop at The NY Renaissance Faire ([email protected]), looks fabulous in her soft, shimmery attire. "Gypsies. You can never go wrong with gypsies," she insists. It's easy to find old fabrics and skirts to throw together a sexy, gypsy outfit since this look has become popular recently. Add a colorful bandana for men, and it will be hard to keep your hands off each other.
15. Leigh Ann, the owner of several stands at The NY Renaissance Faire (www.elan-pottery.com), suggests starting with fairy wings. Not the typical, cheap, nylon pantyhose type of wings you find at Party City; Leigh Ann's wings are made from stunning fabrics that instantly transport you back to a time of enchanted forests filled with fairy dust, magic and the possibility of finding true love. Add a soft, sheer dress or tunic and matching headpiece and your costume is complete.These wings aren't just for children. At the NY Renaissance Faire, you'll find women and men dressed in colorful fabrics, flowers and feathers.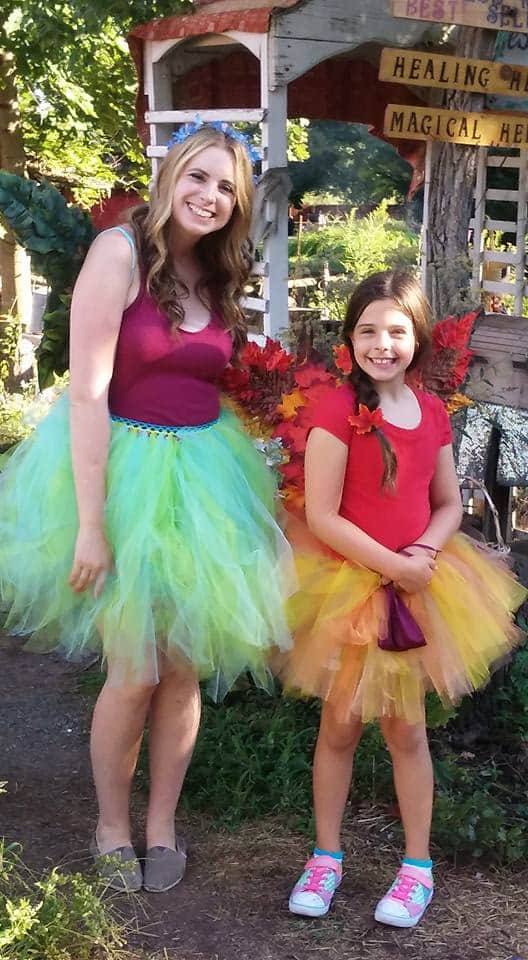 These creative girls used some fabric and artificial leaves to create their own fairy wings and tutus.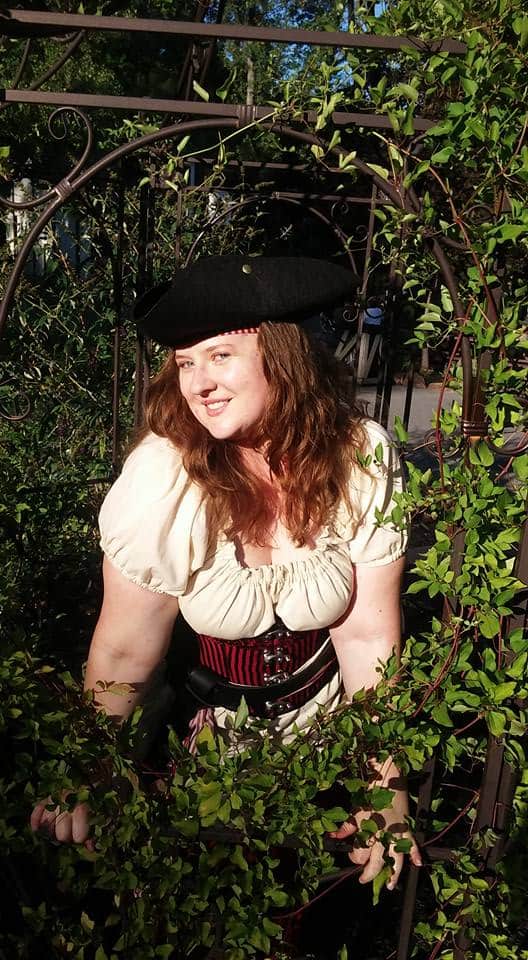 16. Sarah, one of the organizers for Gotham Rennies, recently bought me a dress pattern (for $1.00) so I can copy the beautiful fairy dress she made. Her secret for making this pirate outfit the perfect antique shade; dyeing it with tea bags. Her latest creation emphasizes her sexy curves in all the right places.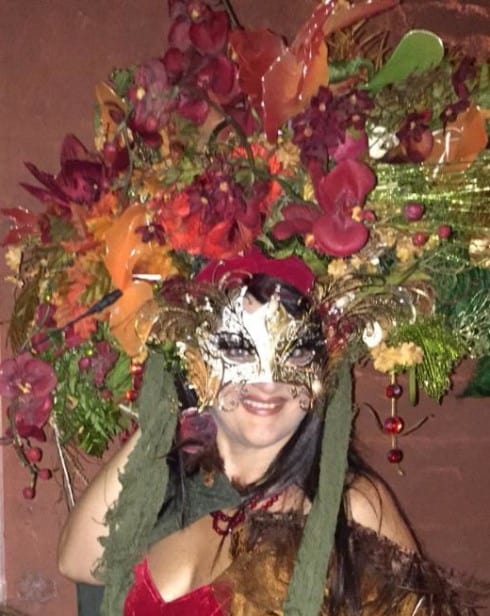 17. I love thrift stores. For a dollar or two, you can almost always find bouquets of artificial flowers that can easily be added to an old prom gown, a cape, or made into a wood nymph/ fairy headpiece. I wore this mask with many different outfits, so check on ebay or right after Halloween when costumes are on sale to get great deals.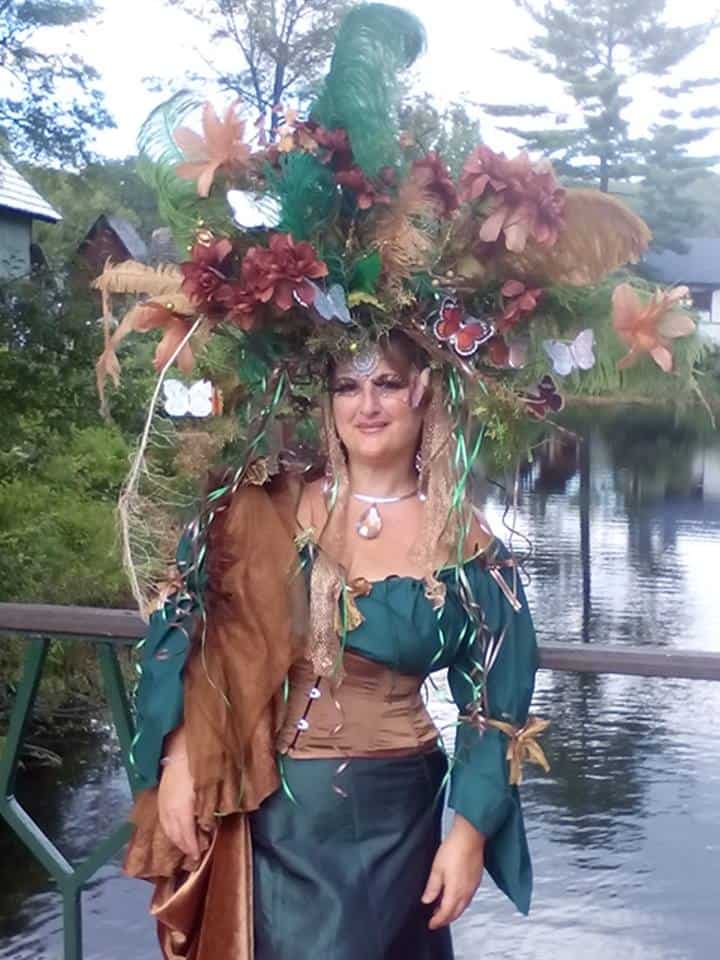 18. Mother Nature/ Forest Goddess outfits are my favorite…but so far I've attracted more butterflies than dashing knights. Goodwill prom gowns make great skirts. And don't forget dollar stores. I found these sparkly butterflies and a few spools of curling ribbons and taped them to an old flower wreath. I added fake flowers, feathers and some sticks from my garden to make an unusual wood nymph hat.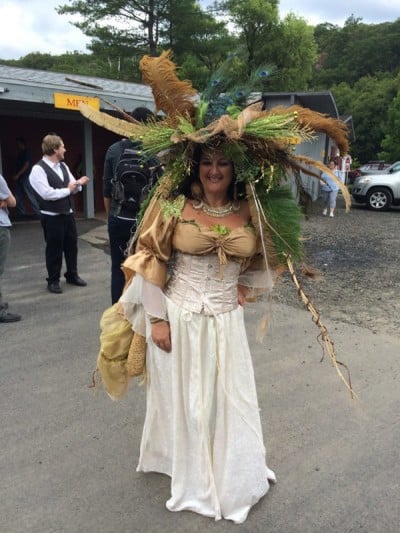 19. Although I get all of my skirts and costume pieces from thrift stores, I love corsets but rarely ever find them used. If you're willing to pay a few hundred dollars for a steel or whalebone corset, plenty of faire vendors have exquisite leather or fabric corsets that will make your waist appear abnormally small while pushing your breasts up to your chin. But since I love creating a new costume for each faire I tend to buy multiple corsets and waist cinchers. You can find them on Ebay for $10-20, but be aware that these cheap waist cinchers and corsets are usually from China and can often take a month or two to arrive. Also, unlike the better quality corsets from faire vendors or Etsy, the cheap ones will not make you instantly slimmer. A well-made corset is the one item I'd suggest every woman invest in, regardless of whether you'll attend the Renfair more than once. You'll fall in love with the way your body looks once you wear one, no matter what size you are.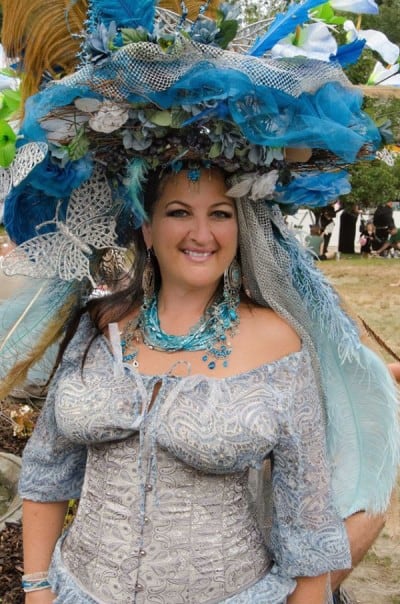 This $14 brocade corset does nothing for my shape, but makes my thrift store costume look pretty awesome. And my braless boobs aren't so bad here, either.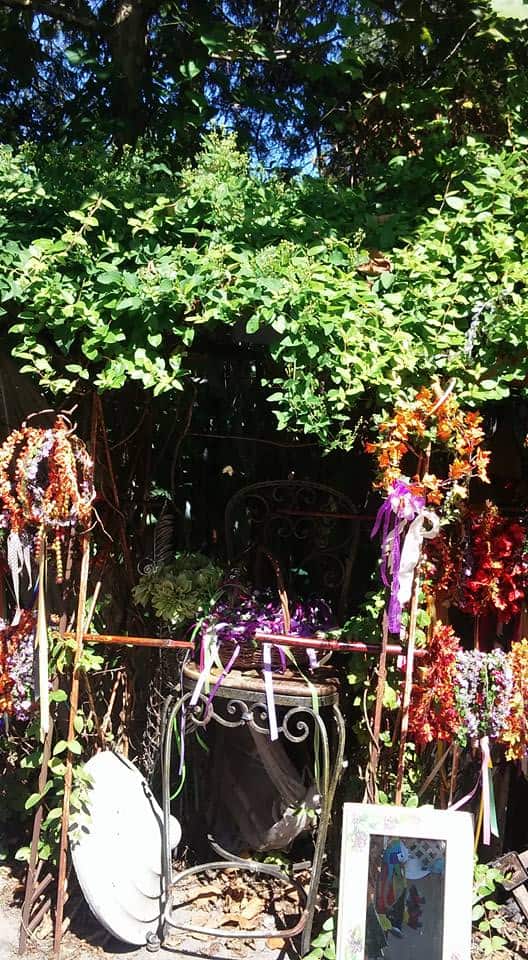 20. Judy Johnson, who has owned The Delighted Eye (a lovely fairy garden shop at the Pennsylvania Renaissance Faire since the faire opened 35 years ago,) suggests that couples look out for 2 for 1 sales and special discounts like the one for fairgoers who come in costume.
And I learned a one final secret about the best way to get the coolest costumes for free; join the Guardians of Sterling at NY RenFaire. Not only is it a fantastic way of being more than just a spectator, if you become a member and volunteer at the faire a few hours there are many perks, and once a year the Guardians get together for a costume and accessories swap. Contact Karen at guardi[email protected] for more information and an application.
Do you have any suggestions for making cool costumes? Please share your pictures and ideas below.