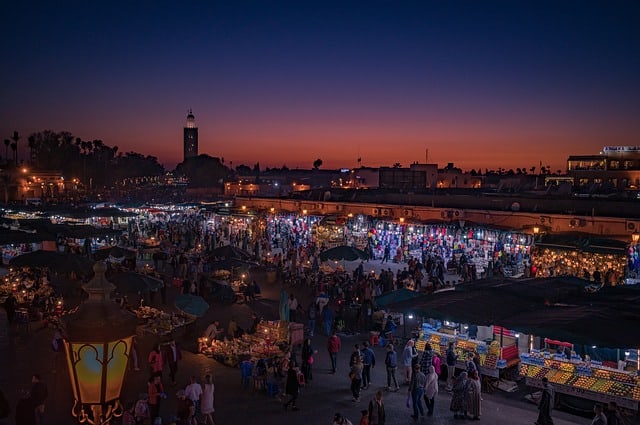 Morocco has a reputation for not being safe for solo female travelers.
Personally, I regret the fact that for many years I believed the negative things I'd heard and waited such a long time before my first visit.
Hearing reports about men harassing women had me imagining that women traveling alone might be beaten, raped, robbed or even killed.
The truth is, that can, (and does) happen to women all over the world. And yes, I do find that the men catcall and pursue women more aggressively than most of the other countries I've been to.
Let's face it, travel can be more dangerous for solo females. But it is also just as, if not more dangerous, for those of us who live in metropolitan cities like NYC.
We women need to be cautious and take precautions wherever we go.
But do I think Morocco is more dangerous for solo female travelers than other countries? No, I don't.
A few years ago two backpackers were murdered in a small village called Imlil at the same time I was there. It was a horrific tragedy., and sadly occurred when two young backpackers camped alone without a guide.
That is something I would not advise women to do anywhere, no matter how safe I've always felt in Morocco.
It's heartbreaking to see statistics in America (and around the world) where women are beaten, raped and murdered every day. This is a huge part of the reason I started this website. I love to travel, but I have found myself in many situations that could have ended in a tragedy, similar to what happened to the young women in Imlil.
As for the rumors about Moroccan men harassing women, I admit, it is extremely annoying to be constantly catcalled and pursued by men even after I've politely declined their advances. But in all of the years I have been there, I did not feel I was in danger.
And yet, in spite of the annoying, almost constant harassment from men, I absolutely love Morocco and hope to one day own a home there.
I don't believe women are "safe" in any country. But, there are a few things to consider that may help you stay "safer".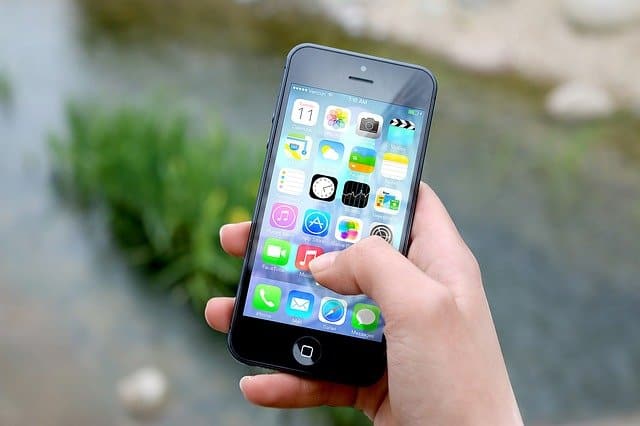 Maps.Me
Some cities, like Marrakech and Fez, have many winding alleys. If you get lost here, it is important to stay calm. Some men, once they realize that you are lost, will insist on "helping" you find your way, only to aggressively demand to be paid once you arrive. Simply decline their offer to help. Remember, while you may have been taught to be sweet and polite in your country, you need to be loud and forceful when you clearly say, "No, thank you" to these guys.
Offline maps like maps.me can sometimes help. Wifi and Google maps often do not work in the medinas.
Try asking store owners or women for directions. They are more likely to assist you without ulterior motives.
Catcalling

Some people use headphones and listen to music while strolling through alleys, but that doesn't work for me. I want to see and hear clearly everything that is going on around me. Plus, I don't want to advertise the fact that I've got a fancy phone that might attract thieves. I simply ignore them.
Be aware that the guys who are catcalling are often using their well-rehearsed lines on hundreds of women every day, so they can be unexpectedly funny at times. It's tempting to laugh and chat, especially when the guy is cute and you're tired of being lonely. Just remember the "medina guys" have a reputation for a reason. Just like New Yorkers rarely hang out in Times Square, the best local guys are rarely ever just wandering around the souks. The "Medina men" there are often looking for sex, money, or a green card, in no certain order.
*Just a note; I absolutely LOVE Moroccan men. I find most of them to be charming, sweet, extremely intelligent, and funny af.
Morocco earned its reputation as a sex tourism spot. The guys are also damn fine, with a gorgeous mixture of African, Arabic, French, Spanish and all kinds of European blood, so there's basically a type for almost everybody.
So while there are many guys looking to hook up, hang out and have fun (on your dime), there are many, many more men who are decent, loving men more interested in a serious relationship and not at all looking to use you.
If you're only looking for a fling, go ahead, do your thang (but please be honest).
But if you're looking for love, remember to think and behave the same way you would with guys at home. Take what they say with a grain of sale. And do not think all Moroccan men are looking to use you. Most Moroccan men are amazing, wonderful, sincere guys. But men are men, so take it slow, and you should be fine.
Pickpockets/ Thieves
Pickpockets and scooter thieves are popular here. To avoid being robbed, try to use a waist belt instead of a bag. However, if you do use a bag, choose a shoulder bag that is small but with a thick strap. One that wraps around your body is best. Leave your passport at the hotel (most offer a safe) and do not carry large sums of cash around with you. Keep your camera and cell phone in inside pockets if possible and not in your pants.
Attire
I HATE that I need to write this section. I seriously love dressing sexy. The sluttier the better for this hootchie; but only in places I feel safe enough, like a beach, nightclub, or party where others will be dressed similarly.
I really, really hate that women are judged, victim-blamed, and are not given the freedom to dress as we choose to. But the reality is, Morocco is still a very conservative country, and many women walk around with "hijabs" covering their heads.
Many tourists and locals in places like Marrakech and Casablanca dress in super short, tight, revealing clothes.
But I tend to save those clothes for when I get home and make a little effort to cover up, not really because I think there is anything wrong with showing a little skin, but because I know damn well how much attention I'm already going to get just by being my charming lil' self walking down the street. I don't need to be annoyed af and having my day ruined because of the additional harassment from men drooling over my breasts.
What I do is to always carry a scarf. That way, when I'm at a trendy cafe in Guilliez and the girls are coming in looking like Julia Roberts in "Pretty Woman", I can take it off and compete as I like. But in the medina, or outside of the city, my scarf helps to blend in more.
Make Friends With Locals
Taking a language or cooking class, joining Couchsurfing Meetups, or specifically requesting a female tour guide can help. Check out the group Girls Love Travel on Facebook and see if you can find a local buddy, or another traveler to meet up with.
You can also visit a local hammam but be prepared with Google translate as many Moroccan women outside of cities don't speak English.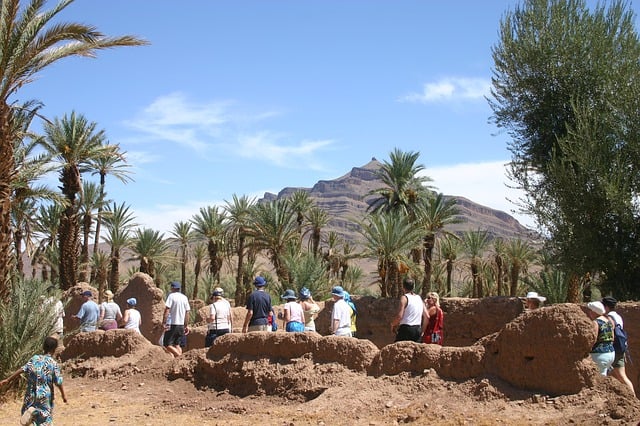 Join a Tour
While many (many) tour guides have hit on me, usually the men I write about in my articles here are decent guys and won't harass you. Joining a group tour (or even splurging for a private tour) can change everything and help you to have the most rewarding, memorable experience in Morocco.
Scams
Sadly, there are many scams to watch out for.
People may invite you inside of their shop for tea (and they can actually be nice people with good motives) to try to get you to buy something that is way overpriced. Others will give you a "free gift" like a homemade bracelet they put around your wrist as you're walking by.
Others will try to get you to give up sex, money or a green card. Click on the links below to find out more about popular scams, including romance and green card scams.
Travel Insurance
Pickpockets and other incidents happen a lot in cities like Marrakech. You may be pretty savvy, but these guys are experienced. You don't want to find out how much more skilled they are than you are at avoiding being their victim when its too late.
Believe me, having travel insurance for almost anything that can go wrong (especially when you've been robbed) will give you some kind of peace of mind.
World Nomads is very popular with travelers. Check out this article here to find out which insurance is best for you.
Cafes
When I first heard a warning to avoid "male cafes" I was annoyed. It sounded ridiculous and sexist. I can (and have) gone to any damn cafe I wanted to, whenever I wanted.
However, there are cafes that are well known for men looking for "prostitutes" or women who are considered easier to sleep with. I once went to one of these cafes (which are more like bars) and thought nothing of it. However, a week later, a friend of a friend told me he overheard the guy I was sitting next to in the cafe that day tell his friends he had slept with me.
I was livid.
Normally I would ignore something like this, but I was furious because in my profession I need to be extremely careful about who I deal with, particularly in Muslim countries. I work damn hard to have a good reputation as a hard-working professional. In an instant that years of hard work could be completely destroyed.
Also, men labeling you as easy or as a prostitute places you as a target for other men and it's just better to avoid these situations and be aware of the type of establishment you're in.
Overall, I feel safer in Morocco than I do at home, but just remember to be vigilant at all times. I've had such an amazing time every time I've visited Morocco that one day, I hope to own a home there. I hope you enjoy it as much as I have.
There are plenty of places around the world where solo female travelers can venture alone and feel fairly safe, as long as they take precautions. One of the safest countries in the world for women traveling alone is New Zealand. Click here to read more about this amazing place to visit and for things to watch out for.
Have you ever been to Morocco? Are you a solo female traveler? What are some of the things you do to stay safe?
Tell us by leaving a comment below!
BEFORE YOU GO:
Book your flight: My absolute favorite sites for cheap flights are Skiplagged and Kiwi.com. I also find really great deals on Skyscanner, Google Flights, and Momondo. The reason I've been able to get dirt cheap flights around the world is that I'm flexible, not only with travel dates but also with airlines, baggage, seat choices, etc.
Book your accommodation: I always use Airbnb and Booking.com. If you're on a budget, consider using Hostelworld. If you click on the Airbnb link and you don't have an account yet – you'll get a $30 discount on your first booking.
Protect yourself: Yes, I mean condoms, girl. But also, travel insurance. Travel insurance is a must, especially in a post coronavirus pandemic world. World Nomads and SafetyWing offer the best rates.
Do you need a visa? If you aren't sure if you need a visa, it would be a smart idea to take a quick look before you go. You can use iVisa – it's super useful and easy to use.
SUPPORT US
Subscribe to the Tribe
If you think Love Lust or Bust is scandalous, you should join our Patraeon tribe. For those of you who really love getting great dating and travel advice but want more, like the juicy, personal stories I don't share here, you can subscribe for as little as $1 a month.
Your subscriptions mean I can keep my integrity and not have to fill up ad space here with all the shit people try to get me to post, like ads for Russian brides and female blow-up dolls.
Ok, let me be honest, I would consider taking their money, but 1. Google hates that so it's "illegal" and 2. The heffers only offer me between $25-100, and these hookers can afford so much more, so I just quote them "$22,222 per sponsored post.
Anyway, for all you guys from Morocco, Egypt, India and all you Nigerian Princes who tell me you love me and want to marry me before you even learn my name, y'all can pay for the $20 a month membership.
*If I get enough of you subscribing at that tier, I might even post some of my more scandalous photos. I'll even reply back to you once in a while.
**And any Zaddies in the house, yes, I am open to getting free flights. My Paypal is @travelriter.
Subscribe to the Newsletter
I rarely send newsletters. I'll be honest, I'm a lazy f*ck.
Alright, that's not really true. Actually, I don't send many emails (yet…I will one day) for the same reason I'm not good at being a "Fatal Attraction" type of stalker. I just do not have the damn time.
I prefer focusing on writing content rather than sending emails, but in the future, I intend to make more time, both for emails and stalking men who have ghosted me.
For now, I will send the rare email when there's such a damn good deal that I HAVE to let you guys know about it (like one penny flights, seriously)! So subscribe now and I promise; no spam shitty emails.
You can also follow us on Facebook 'cause that's where I rant about unsolicited dick pics and shit.
Disclaimer: This post may include affiliate links. If you click one of them, we may receive a small commission at no extra cost to you. It's a great way to show your support. Thank you!

For the best accommodations, and more tips & tricks when traveling to Morocco, check out these popular articles below:
For more travel tips and tricks, and to learn about the world's most romantic destinations, check out Love Lust or Bust!
This article was written by April Hope.
To learn more about her and her travels throughout Morocco and around the world, click here.
Disclaimer: This post may include affiliate links. If you click one of them, we may receive a small commission at no extra cost to you. It's a great way to show your support. Thank you!