The world is starting to become somewhat "normal" again, and people are excited about the possibility of planning their dream trips. But a big part of whether your trip will end up being that once in a lifetime experiences you've fantasized about for so long is to choose the best tour guide.
But there are so many; how do you go about finding the right one?
There are hundreds of thousands of tour companies and guides to choose from on Tripadvisor, Facebook, Get Your Guide, WanderLusty Tours, and millions through a Google Search.
As the founder of Love Lust or Bust I often go on tours around the world. I know it can be really overwhelming trying to choose the best guides. Over the years, I have gone on many, many tours, and I have come up with a few traits that I look for in order to choose the right one.
I spoke to Iziyi Iddir, a friend who is a guide and operator from Epic Zagora Tours in Morocco, and asked his advice on how to choose the best tour guide.
Here are some of the qualities you should look for when deciding on the best guide for you.
What to Look For in a Guide
Passion
Look for a tour guide who is passionate about his country, his hometown, his favorite places to go, including secret spots only locals know. When you speak to or meet the guide, the person should be thrilled to be able to share their country with you. If the guide's mission in life seems to be to want you to fall in love with their country or city as much as they have, you'll know you've found the right one.
You should leave the tour feeling not only as if you have experienced the most amazing parts of a place, but that you have made a new friend. In fact, the best guide will make you feel as if you've become a part of their family.
Experience
An great tour guide is able to manage a group made up of a variety of people with different interests and needs. S/he will know when people want to be on a strict schedule to see as much as possible, and when the group is tired or prefers a more leisurely pace. They will know when to break for food, rest and shopping, and most importantly, the best guide will know exactly how to fix emergencies or changes when necessary, and always have a "Plan B".
Patience
I'm always amazed at people who are asked the same questions over and over, day after day, and yet they answer in a relaxed, respectful way without ever losing their patience. Patience is an excellent quality for a tour guide to have, especially with a client like me who wants to ditch all of their hard work and itinerary and simply go shopping.
Knowledgeable
The perfect tour guide listens to what you want (and can figure it out even if you don't know what that is) to create the perfect itinerary for you. For example, do you prefer shopping for antiques, are you a foodie, do you love art, or would you go crazy over fossil hunting?
Epic Zagora Tours guides are passionate about geological and paleontological tours for fossils collectors, hunters, geologists, paleontologists etc. But they can also arrange photography, bird watching, and many other specialized tours depending on your interests.
Calm
Of course, traveling can be amazing. But fear and anxiety can often crop up when dealing with the unknown. If your tour guide is calm and chill not only when unexpected situations occur, but when dealing with irritating, obnoxious or annoying people, it can make your trip much more enjoyable and put everyone at ease, knowing you are in good capable hands.
Funny
While having a comedian as your guide may not be a requirement (especially if you're mostly interested in historical tidbits, or your biggest concern is your safety) having a guide with a great sense of humor can really make the tour much more memorable.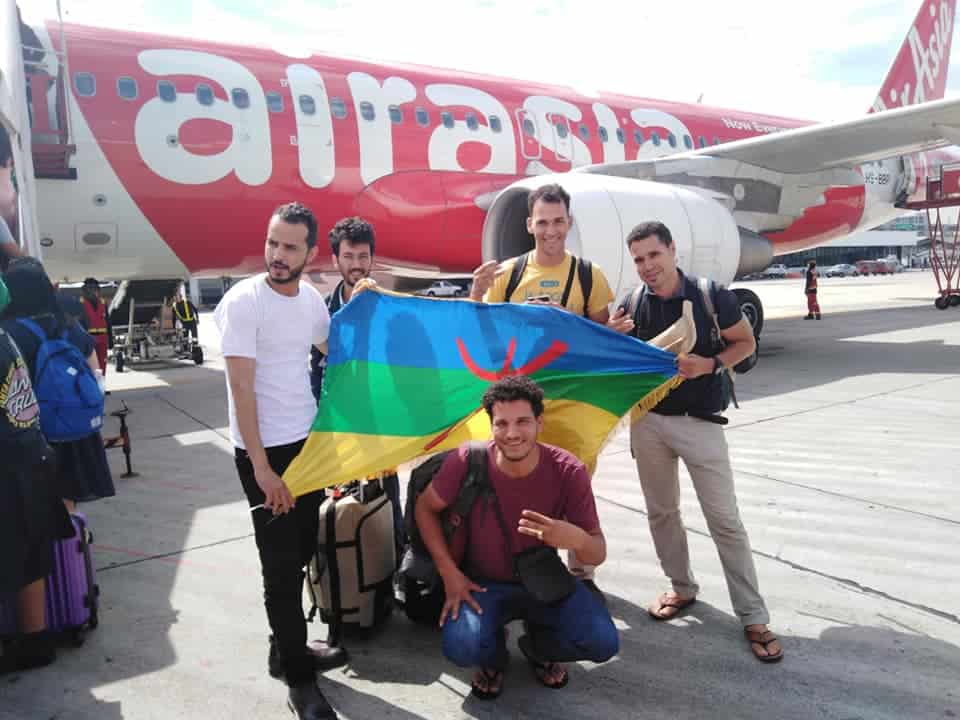 Enthusiastic
High energy is needed when you're bouncing around from place to place, from one activity to the next. Someone sluggish and tired will not improve the overall energy and positive, good vibes in the group.
Often tours begin at the crack of dawn and don't end until wee hours of the morning.
Someone with a lot of vitality, both mentally and physically, is probably going to be the best guide for you.
Punctual
Reliability is an absolute must for tour guides. If your guide is not punctual, it can throw off your entire schedule, ruining your trip.
Organized
Your day should feel completely effortless, regardless of how much time and effort went into the pre-planning. Having a smooth, seamless day makes for the ideal trip.
Giving
Does any portion of the fee you are charged for your tour go toward a local charity or organization to help the community?
Ask your tour operator. If you're interested, you may even get invited to a special sustainable farm oasis in the desert, or an orphanage or school for Berber children, or a collective run by and for women artists, weavers or carpet makers.
Safety
Any time I take a tour that I intend to feature on my website, my main priority is to find out whether the guide, and the company, cares as much about the safety of their clients as I do for my readers who are mostly solo female travelers.
If a guide or the employees at the hotel or camp we visit harass me or make me feel uncomfortable in any way, I let y readrs know.
Don't get me wrong; I am a big flirt, and often I break all "the rules" many bloggers warn you about; don't smile at men in foreign countries, don't dress too provocatively, wear a wedding ring, and so on. I enjoy and sometimes encourage men to flirt back, when it's appropriate, for example, when I am at a market bargaining for the best price, you can be damn sure I'm going to flirt and call the salesman "habibi".
But I know where to draw the line, and I know when to be professional. And regardless of whether I like the silly comments medina boys make or not, I do not tolerate it from tour guides I recommend to my readers.
Ask the tour company owner you are interviewing how they handle misconduct and whether women will be protected and safe while under their care, and be sure to read the reviews on Tripadvisor, and check their client's comments on Facebook.
Be sure to try to actually chat with a previous client, or at least pay attention to the reviews to make sure they are not fake reviews written by the guide himself.

Iddir
Don't be shy about asking for references from other solo female travelers who have taken a tour with the company you're deciding on so you can feel more confident that you're making the right choice.
Use these tips to find the best tour guide for you and your family, and walk away not only with great memories of spectacular buildings and art and stunning Instagram photos, but ideally after your trip ends, you walk away feeling as if you've got a new family member.
Click here to contact Iziyi Iddir, if you have any more questions, or if you'd like to book one of his tours at Epic Zagora Tours.
*Use the code Wanderlustytours20 and he will give you a discount!
Do you have any tips or advice on how to choose the best tour guide? Do you have any favorites? Share in the comment section below.
April Hope is the founder of Love, Lust or Bust for travelers who want to combine romance, love, adventure, and travel while staying safe as they explore the world.

For the best accommodations, and more tips & tricks when traveling to Morocco, check out these popular articles below:
For more travel tips and tricks, and to learn about the world's most romantic destinations, check out Love Lust or Bust!
This article was written by April Hope.
To learn more about her and her travels throughout Morocco and around the world, click here.