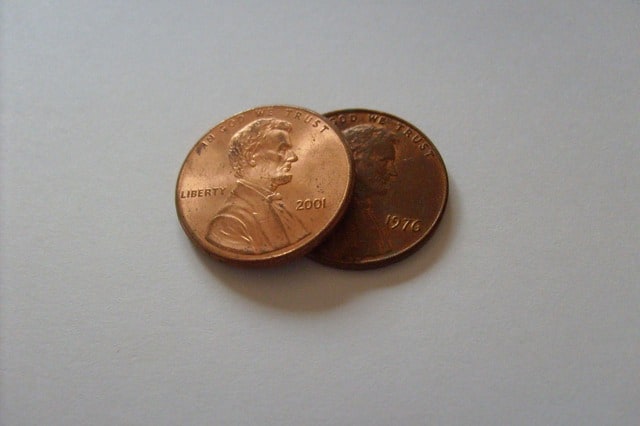 Google "budget travel tips" and you'll get plenty of articles to choose from. But the word "budget" is relative. I remember reading Lonely Planet and Budget Travel as a child and realizing that my family was poor because our definition of "budget travel" was buying a five cent popsicle with a one dollar food stamp and using the change for bus fare.
Reading about how you can "Travel on $50 a Day!" does not inspire me to plan my next trip, especially when that doesn't include your flight. Below are some of my best secrets which have helped me to travel on what I call my "Nolo Budget Trips".
A nolo (nonexistent, or extremely low) budget means the only way you can afford to go to Egypt is if you're splitting the $5.00 a night hostel room with another traveler to save money, you've Googled which airports are best to sleep in, and you're carrying tuna fish and peanut butter in your backpack to save on meals.
If you're on a "Nolo Budget" have no fear. I've got your back if you've got your backpack.
One penny flights from Spirit.
I know, people hate Spirit Airlines. But once you score a flight to Mexico or Guatemala or Trinidad for one penny, I guarantee you'll fall in love faster than a Jamaican "Rent-a-Dread" falls for a middle-aged divorcee on holiday in Negril.
Yes, there are conditions. You pay extra for bags and seats are small and you have to fly out of LaGuardia- and they even charge for water. But hell, for one penny flights I learned fast how to pack light, especially when I'm going to a beach destination.
If you're really on a Nolo Budget and can't afford to shell out a few bucks for a bottle of water, bring an empty bottle in your carry-on and fill it up at the water fountain in the terminal.
As for the "one personal item only" rule with Spirit's Bare Fares, the fine print states that you are allowed to bring an extra bag with food and medicine. So they may raise their eyebrows at the amount of food I'm supposedly going to consume on the plane and think I must be quite the drug addict, but no one has ever asked me to open my second bag to see what's in there.
If you're really gansta', bring a light windbreaker or jacket with a few extra, deep pockets sewn in, and put all your toiletries, makeup, books, jewelry, chargers, etcetera in the pockets, and just carry your jacket. I'm telling you I get away with it all the time.
Note that Spirit's hub is in Ft. Lauderdale so most of the time when I've gotten one penny flights (to place like Mexico, Guatemala, Jamaica, Trinidad), I had to buy a cheap flight to Ft. Lauderdale first. However, I've found cheap flights from NYC to Florida many times. Once there, I hung out in hostels (or as a Couchsurfer; see below) for a few days before or after my connecting flight, depending on the flight fares and dates.
It is often cheaper (and more fun to chill in South Beach) since round trip tickets to Ft. Lauderdale can be around $40, but only if I was willing to fly in a day earlier than my one penny flight to Mexico. At $14 a night, which included breakfast and lunch, a hostel a few blocks from South Beach gave me two vacations instead of one for an amazing price.
How are they able to offer one penny flights? It's a brilliant marketing scheme. Most flights have one or two empty seats (especially on 5:00 am flights), and most people travel in pairs so it isn't as easy to score two of these deals. It's great for a solo traveler, but even couples can save.
The traffic Spirit's website gets during these crazy advertised fares brings them plenty of business since their regular fares are pretty cheap already.
Of course, there are taxes and fees, so the total cost for a two penny round trip flight to Guatemala was around $48. If I wanted to pay one penny for the return flight as well, I could only stay for two nights and three days, so that's another condition. Most people want to go on vacation for a week or two, and Spirit knows they'll usually get the difference in the return fare. For example, I saw a one penny sale to Jamaica, but there was no way I was going to return after just one or two days, so I booked the one penny flight there, but decided oto purchase the "full return fare" a week later for $100. My total round trip cost was about $160.
Megabus Rules
Megabus has a similar marketing campaign. They offer bus tickets from NYC to DC, Philly, Boston and around the country for $1.00. I haven't met too many people who actually get those deals, but I've taken many, many $1.00 trips on Megabus. Most people aren't willing to take a 2:00 am bus and don't think to buy bus tickets a month or two in advance. I actually scored a ticket from NYC to Canada for $1.00. Their buses are like huge billboards as they drive all over the country; you can see the $1.00 sign with the strange little man painted on the sides of buses everywhere but since their regular prices are around $15-$20 customers are still getting amazing deals. Trains are more comfortable for long trips, but since most of the buses on Megabus have two large tables, free wifi, and electrical outlets, it's not so bad.
Flixbus My New Love
I just got an incredible deal for my trip to Europe. I know there are insanely cheap flights in Europe, but Flixbus (actually Megabus, which is huge in Europe) has a deal where you can get choose five destinations in Europe for $109. I was hesitant, thinking that the destinations on their routes would suck but they actually go to Paris, Amsterdam, Berlin, Milan, and most of the places I want to go to.
You have to use your 5 bus vouchers within 3 months and you can't do direct round trips, but it's perfect for backpackers (or those who can't afford fancy backpacks).
Plus, unlike Ryan Air or EasyJet who have severe luggage restrictions, Flibus has a generous allowance.
Ryan Air/ EasyJet
These airlines are similar to Spirit but offer cheap flights around Europe. You can often find $10 or $20 flights from London to Paris or Italy. They do have severe restrictions on bags and they mostly fly to smaller, lesser known airports away from the big cities, so be sure to check how much it will cost you (in time and money) to actually get to your final destination.
Norwegian Air/ Wow Air
If you're going to Europe, you have to check Norwegian or Wow Air first. I had a $69 fare from New Jersey to Iceland in January. I wanted to go to Morocco and Europe, but I've only been to Paris in the winter so I chose to take my trip in May.The prices are better than during the summer months, it isn't as hot and muggy, and locals will still be around. Prices to Morocco weren't that great, but I booked on Wow to London round trip from NYC (actually, NJ, so it drives me crazy when they say it's NYC!) for $298, then from London I got a cheap flight on RyanAir for about $60. However, I was limited for time. If I had been able to visit Morocco for more than four days, I would have gotten a cheap flight (or bus) to Spain, then taken a cheap ferry to Tangier.
From Marrakech I'll go to Rome for three days, then to Athens. I bought cheap flights to these countries but chose to use Flixbus for the last two weeks of my journey.
Skyscanner
I love this site. I can search fares for the entire month to see which dates and airlines have the lowest fares.
Airfare Spot
If you're looking for flights to Cancun for Spring Break, or to Trinidad for Carnival, you might be able to get a deal if you book during Carnival- a year in advance.
If you've got a bucket list filled with different dream destinations and you're more concerned with the price, check out Airfare Spot. If you're willing to be spontaneous (or call in sick) and you can be flexible, you can find some amazing fares here. Some are airline errors or glitches so you have to act fast, but others are just damn good deals. You won't believe me if I tell you how cheap these prices are, so just check it out for yourself.
Time Shares
If you're on a Nolo Budget you might not actually have a credit card, but if you have a friend or partner you can travel with who does, persuade/ convince/ bribe/ beg them to consider doing a time share with you. I don't mean to buy into one. I mean agree to listen to a time share spiel. As long as you make the decision beforehand to not purchase a timeshare (ever), you can get really cool things like free accommodations, all you can eat lobster and seafood buffets, tickets to amazing places like Xcaret, an eco-archaeological amusement park in Mexico, and sometimes even free flights.
When you are approached in touristy destinations like Cancun (and you will be), act like you're curious and mildly interested but that you could take it or leave it. If you show enough interest, they'll start their hard sell with you. Just keep saying, "Well, I'll think about it, maybe later," they will then begin adding incentives to sweeten the deal.
Timeshare hustlers (and I say that lovingly; I'm from Brooklyn) usually offer you something you have to pay for but at a "bargain" price.
Make sure you keep stringing them along and not the other way around. I absolutely love exchanging an hour and a half of my time for the freebies timeshare hustlers give. Just stick to your guns and don't let them keep you longer than the time you negotiated (usually an hour and a half), and don't give in and buy!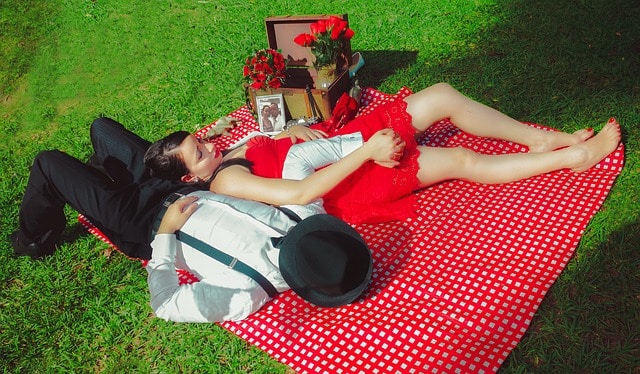 SNAP/ EBT Food Stamps
Yup, you can use your card when you travel to many places, including St. Thomas, USVI, South Beach, and Puerto Rico. Go to a supermarket, buy some lunch meat, a fresh, crusty loaf of Italian bread or a Baguette, some fruit, cheese and crackers, and some drinks, and have a romantic picnic on the beach or at a park. "If you're really on a budget bring food from home. Tuna, shredded wheat, Trader Joe's Indian eggplant, spinach and lentils packs are perfect meals to carry. Stop by 7-Eleven and pick up some free mayonnaise, mustard and salt and pepper packages you get when you buy hot dogs, and take them when you travel.
If you're on the nonexistent end of your budget go to a Hare Krishna temple for a vegetarian feast.
Seriously, their free meals are off the hook, even if you're a meat lover.
Become a Monk
Okay, you don't have to become celibate or take any vows to travel, but you can stay at a monastery for free. Many monasteries around the world offer free accommodations for a few hours of volunteer work in exchange. Or, you can pay a small fee if you choose not to work and just need a cheap place to crash.
Join the Hare Krishnas
Join the Hare Krishnas and do gardening, general maintenance, work with computers, or different duties in exchange for a place to stay. No drugs, drinking or smoking, and definitely no eating meat, fish or eggs while you're there because this is a vegetarian, faith-based community. I believe couples are welcome but men and women sleep separately, so no hanky-panky either.
Work at a Hostel
Hostels are already good deals in many places like India (I paid $1.74 a night), or Egypt (I split the $5.00 per night room with another girl), and in South Beach you can find great hostels for $14-20 a night, including meals. But I've seen crazy prices for dorm rooms in that cost $40-50 per person, per night! Many hostels offer a work exchange for long-term travelers who are willing to check people in, do some cleaning, and help with light desk duties.
Work Exchange
This could be an entire article, the possibilities for work exchange are endless. Check out this extensive list of possibilities on the Penny Hoarder. https://www.thepennyhoarder.com/smart-money/work-exchanges/
Couchsurfing
Since Airbnb, couch surfing is not as easy to do as it used to be. Many former hosts on Couchsurfing.com still get the benefit of meeting cool travelers, sharing information about their cities and hanging out with new friends, but they get paid through Airbnb. However, you can still find quite a few members who will offer to host you in their home (for free), or who will meet up for coffee and show you around.
Don't freak out about staying in a stranger's home. Many people will easily plop down cash for an Airbnb room and have no idea that these same hosts have been hosting people for free on Couchsurfing for years. Also, you don't need to have a place to host people to become a member. You can just be a guest, or just want to meet new people in a strange new city.
There are tons of Couchsurfing groups for specific cities that host meetups and events throughout the year, so join them and see how much easier it is to take travel more.
Be an A Star
Many tv shows (The Bill Cunningham Show, The People's Court, cooking shows, etcetera) will secretly pay people to be audience members. It's not a lot of money but you can make between $40 and $100 cash for the day plus breakfast and lunch, and you'll get to see a show.
I've been an audience extra in NYC and in several countries like India where all travel expenses (transportation, accommodations, food, clothes) were paid for in addition to a small amount of cash, for being an extra in a Bollywood film. It was time-consuming so if you're on a short trip it probably isn't worth it, but if you're backpacking for a few months, look for listings on craigslist, or ask hostel employees. They often get kickbacks for helping casting directors.
I've been an audience extra in NYC and in several countries like India where all travel expenses (transportation, accommodations, food, clothes) were paid for in addition to a small amount of cash, for being an extra in a Bollywood film. It was time-consuming so if you're on a short trip it probably isn't worth it, but if you're backpacking for a few months, look for listings on craigslist, or ask hostel employees. They often get kickbacks for helping casting directors.
Also, if you're in NY or California, create a profile on Onset Productions. They always state up front whether the gig is paid or now and exactly what is expected from you.

Attend NYTF
New York Travel Fest is an amazing yearly event that offers lectures, seminars, workshops and networking opportunities for anyone interested in travel. You can learn how to save money for, (and during) a trip as well as how to get into the travel industry. You'll see performances, meet some well-known travel gurus, and get to sample some free wine and food. You'll also get some fantastic tips on how to travel.
Join Miss Travel
I just heard about this travel dating app recently and I'm not sure if it's focus is more for travel lovers to meet up or a place where rich married dudes can find escorts. I'm going to do some more research, but supposedly it's an app where you can state clearly whether you're seeking a partner who lives in, or will be visiting the same city you're traveling to. Next, you select from three options; whether you will pay all expenses, you expect the other person to foot the entire bill, or you prefer going dutch.
I'm just not sold on this one yet. The members from this site that I saw interviewed on tv swear they don't exchange sex for trips and that they're serious about finding love with fellow travelers. Who knows what people's motives are? Regardless, an app for travel lovers is pretty cool.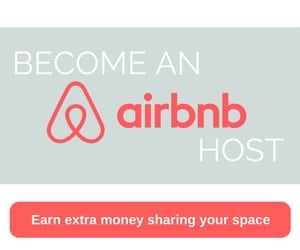 Airbnb
So many people have heard about Airbnb but are reluctant to try it. I think it's amazing!
Whether you're a guest or considering becoming a host; do it! It will change travel for you. You'll feel like a local instead of a tourist, you'll meet new friends, and you'll save money.
And, it's a great way to make money to be able to travel more.
Kinkbnb
Yes, this is a thing. If you're looking for low-cost accommodations, don't check the box for dungeon space; prices can be as steep as $2-4,000 a night. But that includes the use of all handcuffs, whips, crosses and cages in these secret dungeon basements tucked away in suburban homes and buildings around the world.
You can leave your toys at home- they're usually included in your room fee (like the free shampoo and soap you get at the Hilton). But you won't get hit at a Hilton.
So if fuzzy cuffs, ropes, and floggers (and quite possibly the services of a professional dominatrix) are amenities you wish were offered at your favorite bed and breakfast, sign up today.
There won't be any sex included and each host has their own special rules but those on a budget can find like minded people who open up their homes to you for a fraction of the price of a hotel.
For those of you who are open minded and looking for ways to make extra money for your own travel adventures (kinky or not), you needn't own a tricked out dungeon or sawhorse for spankings. If you have a spare room or couch, you're also welcome to list it, as long as you don't mind semi-naked, collared guests drinking water from a dog bowl in the middle of your kitchen floor.
Just check out the listings. Go ahead. You know you wanna'.
Misterbnb
See above listing, only this is for gay men.
Museums for a Dollar
Many tourists who visit NY get excited about buying passes that will save them money at places like The Statue of Liberty, or museum entrance fees. What they don't know is that many of the museums post their prices in huge, bold numbers but the tiny fine print at the bottom of brochures and signs say, "Suggested Donation Only".
For museums that do have a set price, often they have special nights or offer Pay What You Can Fridays that are open to the public. Do a Google search before you travel to see how to get discounted or free tickets.
The Cheap Bastard's Guides
I am filled with envy over "The Cheap Bastard's Guide to NYC". I absolutely love this book and wish I'd written it.
I have to admit, although I am quite frugal (never cheap, darling) and love sharing tips on saving money, this guy did a damn good job with this book. It's amazing and contains a few (okay, more than a few) things I didn't know, like which happy hours in Manhattan give the best free food, and maps of the richest NYC neighborhoods and their trash night schedules for dumpster divers. He has charts of all of the free outdoor movies, and which nights museums are free, and when.
I also got paid as a hair model for many years because of these New York secrets, I found free reiki and massage sessions, and free flea markets where you shop, but everything's free. People would bring old clothes, knick knacks and small appliances they don't use anymore, and you just took whatever you needed.
I tried copying some of the tips in this book down in a notebook (to save money, of course) but this book is so amazing I had to buy it. He also published Cheap Bastard's Guides to Seattle, Chicago, and San Fransisco.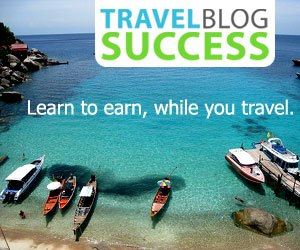 Be a Blogger
My biggest tip for those who love to travel but have a small budget is to become a blogger. You may not get rich, but if you're dedicated and have a passion for it, this is an amazing career that will enable you to travel around the world and eventually quit your boring 9-5 day job. But don't just start a free hobby blog. If you're serious about making money as a travel blogger, you can accelerate your journey by joining Travel Blog Success. It's an investment but think of it as starting a business, because if you want to make money at it you'll find the tools and resources, and the mentors you need at Travel Blog Success.
My latest super low budget trip is two weeks in Paris and London for less than $500. That includes flights, accommodations, food, entertainment, and local transportation. For more details on how I was able to score such an amazing deal and cheap tickets, click here.
What are some of the ways that you travel with a small or nonexistent travel budget? Please share your tips below!
BEFORE YOU GO:
☑ Book your flight: My absolute favorite sites for cheap flights are Skiplagged and Kiwi.com. I also find really great deals on Skyscanner, Google Flights, and Momondo. The reason I've been able to get dirt cheap flights around the world is that I'm flexible, not only with travel dates but also with airlines, baggage, seat choices, etc.
☑ Book your accommodation: I always use Airbnb and Booking.com. If you're on a budget, consider using Hostelworld. If you click on the Airbnb link and you don't have an account yet – you'll get a $30 discount on your first booking.
☑ Protect yourself: Yes, I mean condoms, girl. But also, travel insurance. Travel insurance is a must, especially in a post coronavirus pandemic world. World Nomads and SafetyWing offer the best rates.
☑ Do you need a visa? If you aren't sure if you need a visa, it would be a smart idea to take a quick look before you go. You can use iVisa – it's super useful and easy to use.
SUPPORT US
Subscribe to the Tribe
If you think Love Lust or Bust is scandalous, you should join our Patraeon tribe. For those of you who really love getting great dating and travel advice but want more, like the juicy, personal stories I don't share here, you can subscribe for as little as $1 a month.
Your subscriptions mean I can keep my integrity and not have to fill up ad space here with all the shit people try to get me to post, like ads for Russian brides and female blow-up dolls.
Ok, let me be honest, I would consider taking their money, but 1. Google hates that so it's "illegal" and 2. The heffers only offer me between $25-100, and these hookers can afford so much more, so I just quote them "$22,222 per sponsored post.
Anyway, for all you guys from Morocco, Egypt, India and all you Nigerian Princes who tell me you love me and want to marry me before you even learn my name, y'all can pay for the $20 a month membership.
*If I get enough of you subscribing at that tier, I might even post some of my more scandalous photos. I'll even reply back to you once in a while.
**And any Zaddies in the house, yes, I am open to getting free flights. My Paypal is @travelriter.
Subscribe to the Newsletter
I rarely send newsletters. I'll be honest, I'm a lazy f*ck.
Alright, that's not really true. Actually, I don't send many emails (yet…I will one day) for the same reason I'm not good at being a "Fatal Attraction" type of stalker. I just do not have the damn time.
I prefer focusing on writing content rather than sending emails, but in the future, I intend to make more time, both for emails and stalking men who have ghosted me.
For now, I will send the rare email when there's such a damn good deal that I HAVE to let you guys know about it (like one penny flights, seriously)! So subscribe now and I promise; no spam shitty emails.
You can also follow us on Facebook 'cause that's where I rant about unsolicited dick pics and shit.
Disclaimer: This post may include affiliate links. If you click one of them, we may receive a small commission at no extra cost to you. It's a great way to show your support. Thank you!

For the best accommodations, and more tips & tricks when traveling to Morocco, check out these popular articles below:
For more travel tips and tricks, and to learn about the world's most romantic destinations, check out Love Lust or Bust!
This article was written by April Hope.
To learn more about her and her travels throughout Morocco and around the world, click here.
Disclaimer: This post may include affiliate links. If you click one of them, we may receive a small commission at no extra cost to you. It's a great way to show your support. Thank you!