The Good the Bad the Ugly (& more)
The Good
I have stayed in some of the most romantic hotels, riads and bed and breakfasts in the world. I love luxury hotels with heated pools and decadent fine dining options, especially when they're located in popular tourist spots.
However, since I travel so frequently, I often need to find accommodations on a budget. I usually expect to find one or the other; a gorgeous place with a big price tag, or, budget accommodations at a cheap, chain motel or hotel that turns out to be boring and soul-less.
Rarely do I find a place so incredibly romantic that is affordable, so I was absolutely thrilled to find Hotel Chellal d'Ouzoud in a tiny Berber village a few hours away from Marrakech.
Initially, I intended to simply visit Ouzoud on a day trip, which is what most people do. Travel agents, tour companies and touts in the medina make their money on transportation to and from the chaotic, crazy city of Marrakech. Most tourists find themselves herded onto a mini-van with a bunch of strangers early in the morning, given a group tour around the magnificent Ouzoud Waterfalls, and after lunch, crammed back onto the mini-van for the two and a half hour tour back to the city in time for dinner.
Big mistake.
It's surprising to me how many tourists miss out on the real beauty of this charming, traditional Berber village by not staying at least one night.
There are several options for transportation and tours of Ouzoud.
Click here for more information.
I needed to heal and decided to spend some time meditating and writing in this small town, and ended up staying a week. It was one of the most peaceful, relaxing, serene vacations I've ever taken.
Before I fell in love with the hotel, I walked into the garden cafe and felt as if I'd been transported back in time to a magical, fairy-tale garden. It's actually still under construction because the owner is making some major changes, like adding a swimming pool and parking lot to the facilities, but so far the garden space is gorgeous.
A nice variety of flowers, native plants, ivy, and a few lemon and orange trees surround you as you sit and enjoy local dishes like tagine, or specially made meals like spaghetti bolognese.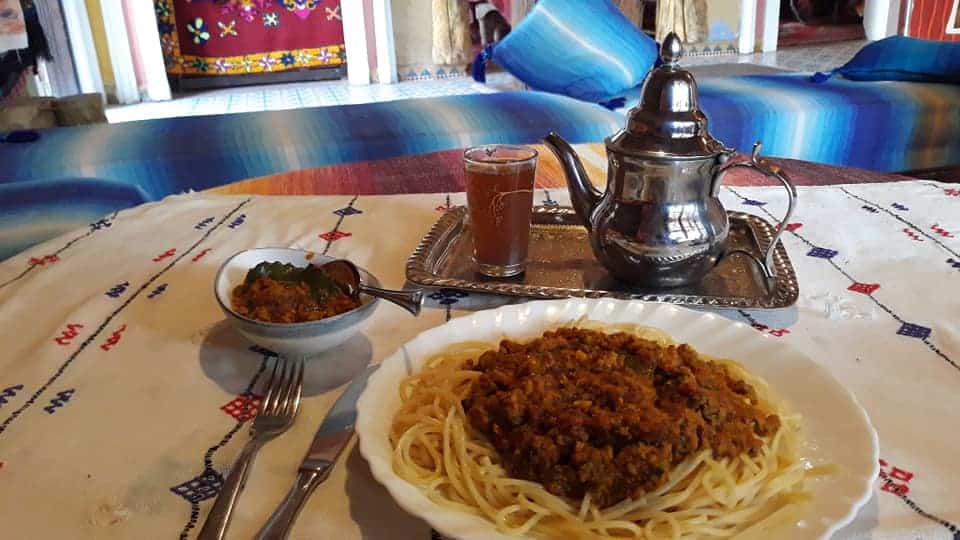 I loved writing at my favorite wrought iron table under the shade of the orange tree where antique Moroccan lanterns hung.
Unlike outdoor cafes in Marrakech where I'm harassed nonstop by peddlers trying to sell me sunglasses, jewelry and Argan oil, there's a fence around the garden, allowing you to people watch but without the constant interruptions you find in the larger cities.
At night, couples will be enchanted by the soft lights and candles in the garden, and you can request traditional Moroccan, or Western music. I loved listening to old classics like Sade and Tracy Chapman.
On the rare evening when it rains since Morroco's weather is nearly perfect more than 300 days of the year, you'll be delighted as I was because the hotel staff usually light a fire in the fireplace every night, and one of the guys played drums as the other guests and I sat on the cushions and fat pillows around the lobby, talking and admiring the paintings, antiques and crafts that decorate the lobby salons.
The Bad
Aside from the bees that attempt to steal my apricot jelly and orange juice in the morning as I enjoyed my (free, included) breakfast each day, there aren't too many drawbacks to this lovely place, especially when you consider the price; $25 for one person, $35 for a couple. Seriously, you cannot find another hotel as romantic as Chellal at this price!
The only less than perfect thing about Chellal is that one of the employees did not speak English, but she was so delightful and smiling all the time that it really didn't matter. Besides, the other staff members, and Abdoul the owner spoke English fluently, so it was fine.
The Ugly
This is tricky; I wouldn't say anything was "ugly" about Hotel Chellal, but I do try to include this section in all of my hotel reviews so people can be prepared for anything less than 5 stars. If I was forced to pick something, I would say that some people might find the room a bit plain, but that depends on what you expect, especially at this price.
The Room
I loved the simple, plain walls and bed in my room, especially because the room cannot possibly compete with the stunning beauty of the nature of the trees and gardens and of course, the waterfall outside.
My room had two windows. I kept one window locked because it opened over the roof where anyone could have access and simply climb into my room, so as a single woman that is something to be aware of. But the crime in this town is almost non-existent and everybody knows everybody, so I felt really safe. But the other window had large green shutters that opened up to give me the perfect view of the garden.
The room was spotless and the large, Queen bed was really comfortable. There was a Moroccan style mirror and a few candle holders and a gorgeous lantern in the middle of the ceiling. Otherwise, there was no dresser or closet, only two small end tables and an outlet.
The bathroom was also simple but beautiful. Make sure you bring your own soap and toiletries. However, I always rave about hotels with large towels because I am a voluptuous woman, so I am not a fan of regular-sized towels, and I was thrilled to see how huge the clean, white towels were at Chellal.
The Amenities
There's no pool (yet), or gym, but you can swim under the waterfall, which is less than a 10 minute walk away. And believe me, you won't need a gym after walking back up from the base of the waterfall. Hotel Challal is located near the top of the cascades, less than a 5 minute walk away.
There was no blow dryer or safe box in the room, and there's no television, but I didn't realize that until I sat down to write this because there were so many things to keep me occupied. There was pretty good complimentary wifi though.
The Location
The location for Hotel Chellal d'Ouzoud could not be more perfect. The hotel is just a 2 minute walk from where the taxis, minivans and buses drop tourists off for their tours in the center of town, however, soon there will be a private parking lot for Chellal guests.
There are plenty of restaurants and cafes and lots of cute shops where you can buy souvenirs, bags, leather goods, gifts and jewelry.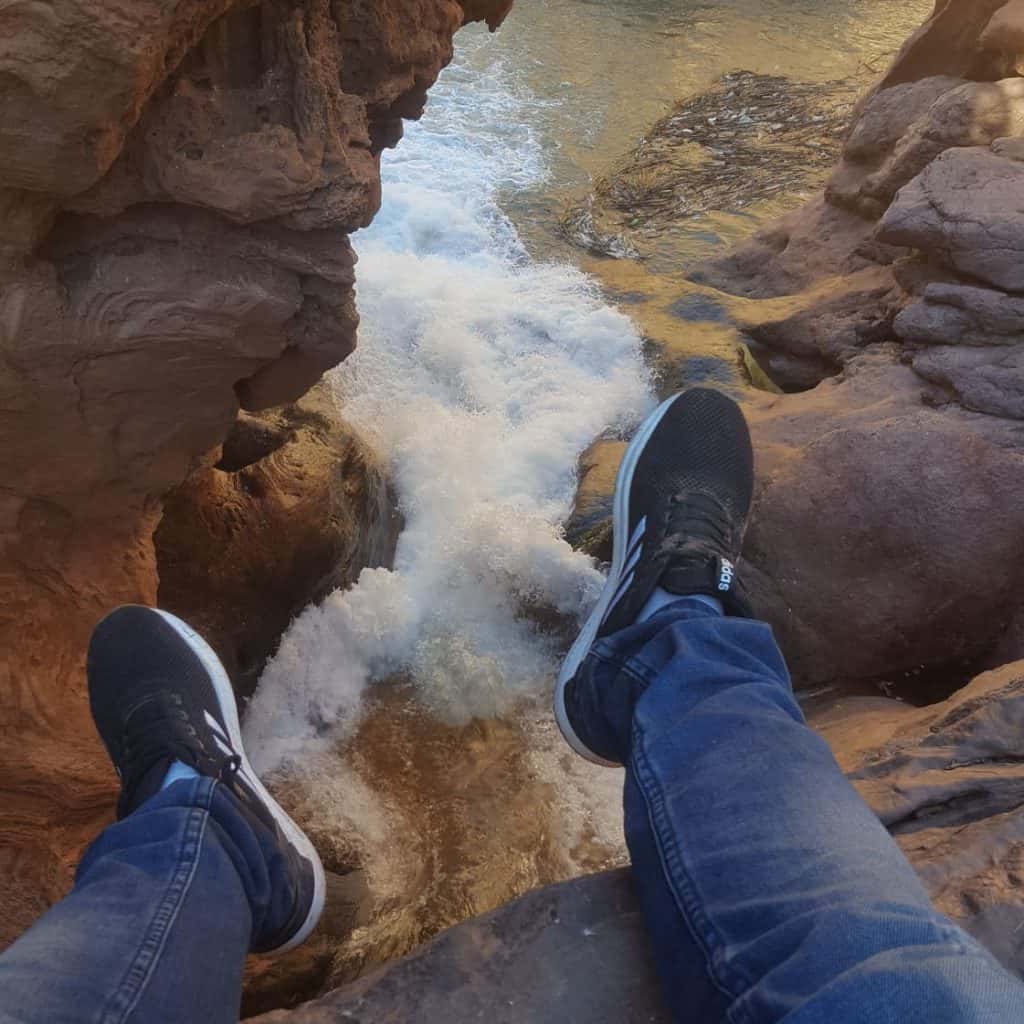 You can hear the waterfall from Chellal, so from noon until about 3:00 pm when groups of tourists are walking by you will hear people laughing and talking, and sometimes children on field trips from nearby schools play music as they walk down the path to the waterfall, but the silence in the evenings and early mornings is amazing for people looking to relax and sleep late, or to spend some time alone in or out of the room.
A for getting there, click here to read more about transportation options and things to know before you go to Ouzoud.
Summary
I fell in love with Hotel Chellal d'Ouzoud, and with the town of Ouzoud in general. For those of you who know me, you know that I'm a city girl I am not one who often suggests small villages or quiet country towns as romantic places to go. Let's be honest, I love the excitement and the hustle and bustle of the big cities, and I especially love to shop. So if I'm recommending a place like Ouzoud and Hotel Chellal d'Ouzoud, you know I'm crazy about it for a reason.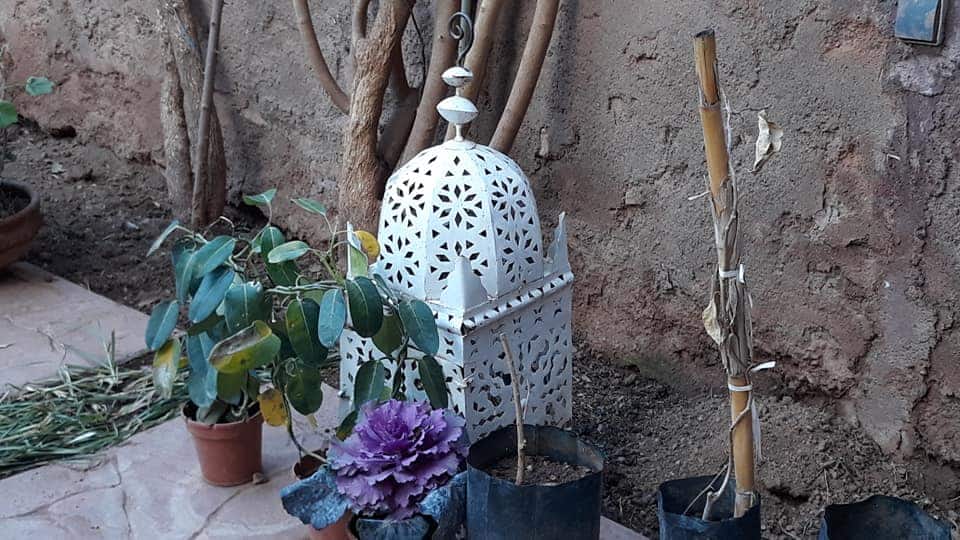 Take a trip to Ouzoud and you'll find out why I cannot wait to visit this enchanting place again.
BEFORE YOU GO:
☑ Book your flight: My absolute favorite sites for cheap flights are Skiplagged and Kiwi.com. I also find really great deals on Skyscanner, Google Flights, and Momondo. The reason I've been able to get dirt cheap flights around the world is that I'm flexible, not only with travel dates but also with airlines, baggage, seat choices, etc.
☑ Book your accommodation: I always use Airbnb and Booking.com. If you're on a budget, consider using Hostelworld. If you click on the Airbnb link and you don't have an account yet – you'll get a $30 discount on your first booking.
☑ Protect yourself: Yes, I mean condoms, girl. But also, travel insurance. Travel insurance is a must, especially in a post coronavirus pandemic world. World Nomads and SafetyWing offer the best rates.
☑ Do you need a visa? If you aren't sure if you need a visa, it would be a smart idea to take a quick look before you go. You can use iVisa – it's super useful and easy to use.
SUPPORT US
Subscribe to the Tribe
If you think Love Lust or Bust is scandalous, you should join our Patraeon tribe. For those of you who really love getting great dating and travel advice but want more, like the juicy, personal stories I don't share here, you can subscribe for as little as $1 a month.
Your subscriptions mean I can keep my integrity and not have to fill up ad space here with all the shit people try to get me to post, like ads for Russian brides and female blow-up dolls.
Ok, let me be honest, I would consider taking their money, but 1. Google hates that so it's "illegal" and 2. The heffers only offer me between $25-100, and these hookers can afford so much more, so I just quote them "$22,222 per sponsored post.
Anyway, for all you guys from Morocco, Egypt, India and all you Nigerian Princes who tell me you love me and want to marry me before you even learn my name, y'all can pay for the $20 a month membership.
*If I get enough of you subscribing at that tier, I might even post some of my more scandalous photos. I'll even reply back to you once in a while.
**And any Zaddies in the house, yes, I am open to getting free flights. My Paypal is @travelriter.
Subscribe to the Newsletter
I rarely send newsletters. I'll be honest, I'm a lazy f*ck.
Alright, that's not really true. Actually, I don't send many emails (yet…I will one day) for the same reason I'm not good at being a "Fatal Attraction" type of stalker. I just do not have the damn time.
I prefer focusing on writing content rather than sending emails, but in the future, I intend to make more time, both for emails and stalking men who have ghosted me.
For now, I will send the rare email when there's such a damn good deal that I HAVE to let you guys know about it (like one penny flights, seriously)! So subscribe now and I promise; no spam shitty emails.
You can also follow us on Facebook 'cause that's where I rant about unsolicited dick pics and shit.
Disclaimer: This post may include affiliate links. If you click one of them, we may receive a small commission at no extra cost to you. It's a great way to show your support. Thank you!

For the best accommodations, and more tips & tricks when traveling to Morocco, check out these popular articles below:
For more travel tips and tricks, and to learn about the world's most romantic destinations, check out Love Lust or Bust!
This article was written by April Hope.
To learn more about her and her travels throughout Morocco and around the world, click here.
Disclaimer: This post may include affiliate links. If you click one of them, we may receive a small commission at no extra cost to you. It's a great way to show your support. Thank you!